Papakura Marae is set to host its first Nōu Te Ao: The world is yours employment expo, with hopes to connect whānau Māori to potential employers in a 'safe space'.
Published: Tuesday, 6 September 2022 | Rātū, 06 Mahuru, 2022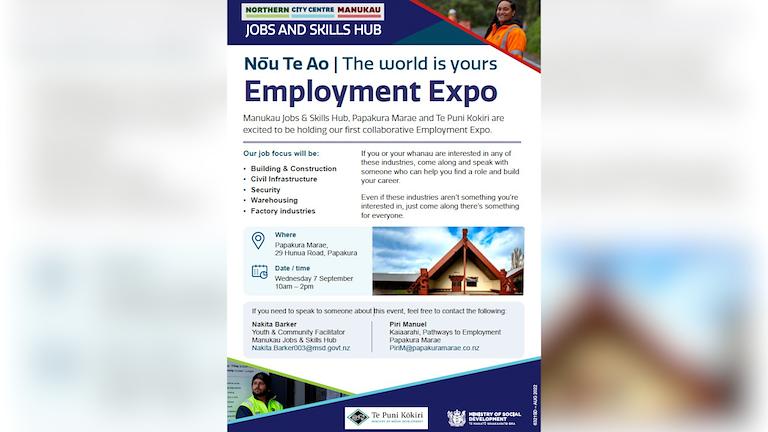 The expo is taking a wholistic approach, understanding that to be successful in getting people into jobs, other aspects of life must also be cared for. With this in mind, the Marae provides wrap-around support with over 48 different services ranging from a food bank, well-child tamariki ora services, community dinners, training programmes, and a comprehensive health clinic.
"Our Marae has deep connections to our community," said Tony Kake, CEO of Papakura Marae.
"Nōu Te Ao is an opportunity for jobseekers to come into a space they're familiar with, and seek out employment opportunities without feeling whakamā," added Tony.
The Marae led-kaupapa has been supported by Manukau Jobs and Skills Hub, a Ministry of Social Development initiative and Te Puni Kōkiri.
"Here in South Auckland, COVID-19 has affected our young people, and many don't have jobs," said Nakita Barker, Youth & Community Facilitator at Manukau Jobs & Skills Hub.
"We're looking for ways to be proactive and show our rangatahi clearer career pathways they can grow into. Offering these opportunities at our marae is a great place to start," she added.
Te Puni Kōkiri is the Government's principal policy advisor on Māori wellbeing and development and works closely with iwi, hapū and marae across the motu.
"Our job is to see whānau thriving, but they can't do that when they're in survival mode. We know that having a job can change the lives of people and whanau in a positive way," said Rāwiri Te Hurinui- Haumaha, Te Puni Kōkiri Senior Advisor.
"We want to be part of the solution alongside communities and for Nōu Te Ao to be held as an exemplar of how government agencies, marae, employers and kura can come together and showcase clear career pathways and help people get jobs," they added.
Nōu Te Ao will run from 10am-2pm on Wednesday 7th September 2022 at 29 Hunua Road at Papakura Marae. Attendees are encouraged to pre-register their attendance here.