iTraffic is a proudly 100% Māori and Pacific owned business based in Auckland that has been taking the traffic management industry by storm. 
Published: Thursday, 22 June 2023 | Rāpare, 22 Pipiri, 2023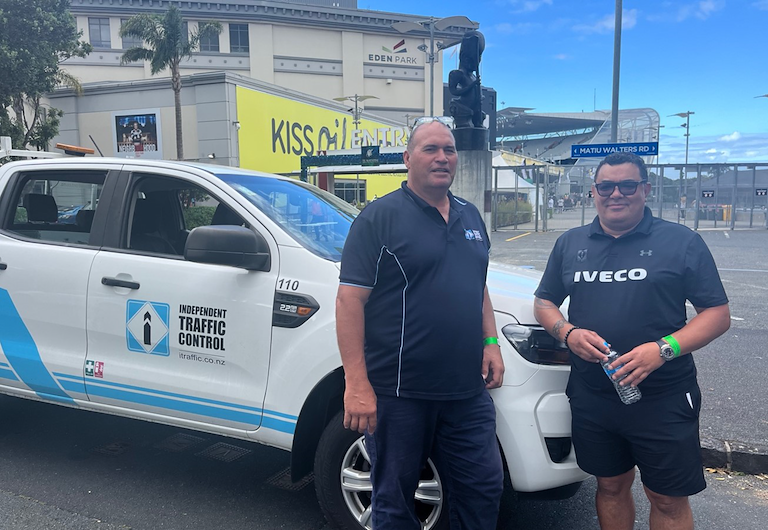 Starting in a garage with just one truck and two employees, they now have just over 400 staff. Of which 88% are Māori or Pacific, and 20% are women in construction.
"We celebrate successes for our people, and we have a team that does the pastoral care and makes sure people are progressing. And if not, we ask why not as it's all about supporting our whānau. We feel success when they do," says owner Glen Ruma.
Through Te Puni Kōkiri's Progressive Procurement Capability Uplift Programme iTraffic bid and won a four-year contract at Eden Park.
"From the Women's Rugby World Cup to Te Matatini to Ed Sheeran, when you think about Eden Park you think of the best. For us that's ensuring an efficient traffic management plan is in place to
keep everyone safe at these large events. Our biggest event yet will be the Women's Football World Cup coming up in July," says Glen. 
An important arm of iTraffic's business is training employees with life changing skills through running evening classes to help them with things like getting a driver's license.
"A lot of people in our business have left school early. They often fall into it, and we are picking up the pieces where education has failed them so they can make a better living for themselves. Not just skills but behavioural. We go straight to schools as well, like Otahuhu College, and offer employment opportunities to kids who don't want to be there and aren't attending anymore," says iTraffic's Lee Lidgard. 
"One of our successes is the Te Pono whānau – seven of them are all now earning when they previously were unemployed. It was eight but sadly they lost their Dad, which was a big loss. The first boy started on the Te Puni Kōkiri cadetship programme at entry level and now he's at the highest-level running Eden Park."
"They turned their lives around. Father, brothers, sisters, niece – three generations of whānau," Glen says.  
Photo caption: iTraffic owner Glen Ruma with employee Lee Lidguard at Eden Park. Glen is one of the two Māori and two Cook Island owners running the successful traffic management business.