Prince Charles and the Duchess of Cornwall were welcomed onto Tūrangawaewae Marae in Ngāruawāhia in early November. The event attracted a crowd of nearly 3,000 people. Māori Wardens from across the motu came to help and assist on the day.
Published: Wednesday, 16 December 2015 | Rāapa, 16 Hakihea, 2015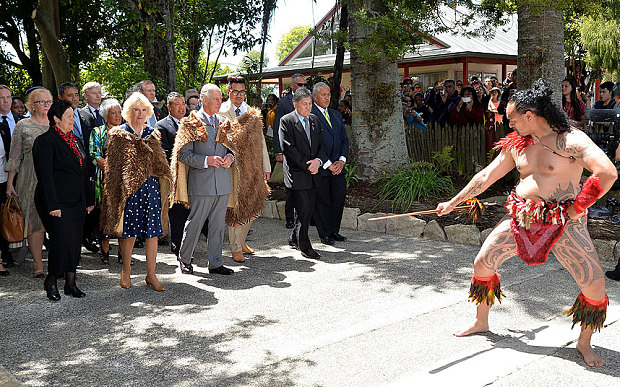 The pōwhiri began with three Māori toa blowing a pūkāea, heralding a full traditional welcome reserved for distinguished guests.
It was the second visit by Charles and the first for Camilla to the famous marae, the headquarters of the Māori King Movement.
Price Charles said he cherishes the relationship between the Royal Houses, since the days of King George the 5th.
"I am greatly honoured to be returning again to the embrace of this place. The people of Waikato Tainui have extended your care, compassion and hospitality to my family on many occasions."
Prince Charles went on to commend Treaty settlements in the area.
He said the last time he was in the Waikato in 1993, Tainui was poised to take a bold step by being the first iwi to settle through the Waitangi Tribunal.
"Now as I return here more than 20 years later, I am so heartened to see and hear of all that you have grown from those new beginnings, in putting aside the hurts of the past and forging a future on the firm foundations of your culture, traditions and history."
Māori Wardens across Waikato were involved in the planning of the Royal Visit which attracted a crowd of nearly 3,000 people gathering within the marae vicinity.
The Wardens were given the responsibility of logistics and crowd control for the duration of the visit.
Parehikairo Faatalau, a Waikato rūruhi and Māori warden of the Kirikiriroa Sub Branch remembers when Queen Elizabeth visited in 1953.
She said that this event was very similar to the inaugural visit of the British monarchy all those years ago.