New and contemporary Māori goods and fashion pop-up store Ono has found a home in the multi-cultural Casabella Lane in Hamilton giving retailers additional options to choose from this year.
Published: Monday, 25 November 2019 | Rāhina, 25 Whiringa ā-rangi, 2019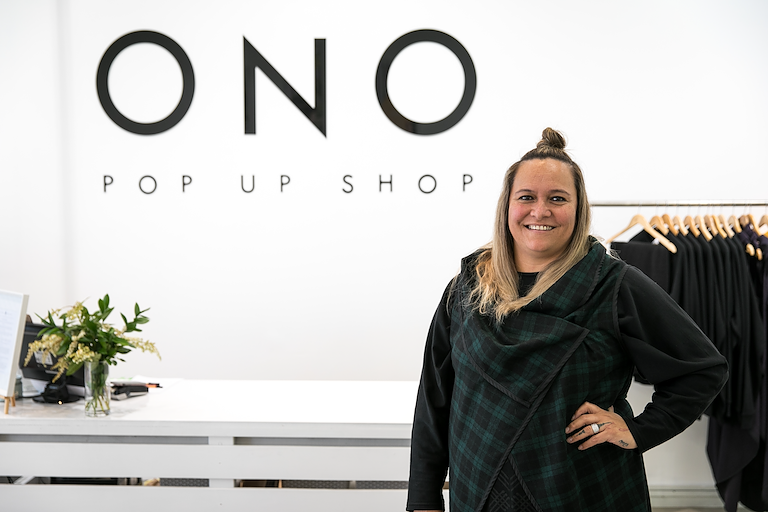 Three different Māori businesses Nichola Te Kiri, Mitchell Vincent Collection and Hine Collection have joined up together to bring the retail vision to life. Nichola Te Kiri, Kultured Clothing and Taputapu Design are among the first three Māori owned and operated businesses to enter the shop space with the other two (and more) planning to join soon.
Hamilton City Council estimates that the local economy grew by 3.2 per cent in 2017 and retail spending across the city grew to $1.7 billion the same year.
There are several reasons for the increase, but it is largely attributed to an increase in sales from its positioning in the region.
53 percent of all retail spend came from Hamilton residents, with 27 percent from the greater Waikato area and the final 20 percent outside of the Waikato region.
The locally sourced and inspired products available ranges from ready-to-wear women's and men's fashion and accessories to te reo Māori homeware and lifestyle products that caters for a gap in the retail scene.
The value of being brave
Fashionista, Nichola Te Kiri with Tūhoe and Pākehā heritage was raised locally in Kirikiriroa.
Her upbringing is her source of inspiration to weave together two worlds and provides the aesthetic to her bold fashion designs.
It is her belief when creating an item, you have a chance to tell a story that is unique and important.
"Every item has a journey from inspiration to creation. It is the sharing of this story which makes the taonga come alive," says Nichola.
It was this passion and interest in the arts that her whānau encouraged Nichola to pursue this talent. It was a personal journey for her to believe and take a brave first step to chase a career in fashion design.
This is a key element that she often shares with whānau.
"The first thing I would want to say to whānau looking at this type of mahi, is to be brave," she says.
"I say this often, I think people just need to be brave about following their ideas, their dreams and their goals.
"The second would be to surround yourself with a network, often different areas have different collectives i.e. fashion, technology etc. not only Māori businesses, but businesses in general they are particularly useful."
Te Puni Kōkiri first supported Nichola in 2013 with business mentoring services which enabled her the skills and knowledge and access to business networks.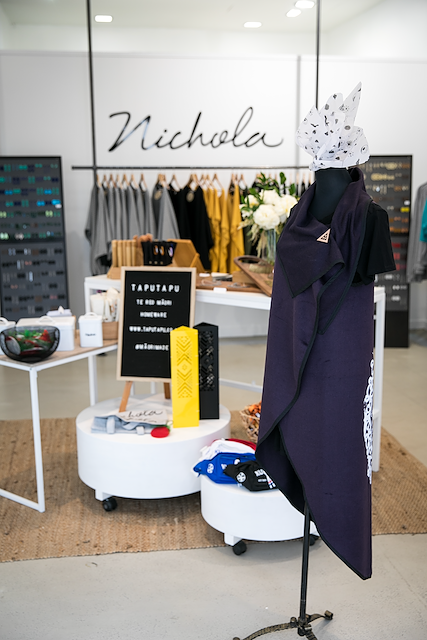 Last year Te Puni Kōkiri also supported the planning stages of the mobile shop which she now uses to take across to major events.
"I've been very busy," she says reflecting on the activities of the past year.
"I've been working overseas networking and sourcing ideas and joined a Māori fashion collective – Kāhui."
She has also developed a few more clothing items for her current range and looking further at business developments.
"I've been a part of the opening of Ono this pop-up shop," Nichola says. "I am developing a second brand which will focus on high-end products that I do at the New Zealand Fashion week and looking at growing the Nichola brand further."
There is great interest in the launch of the second brand and will be something to look out for soon.
A passion turned streetwear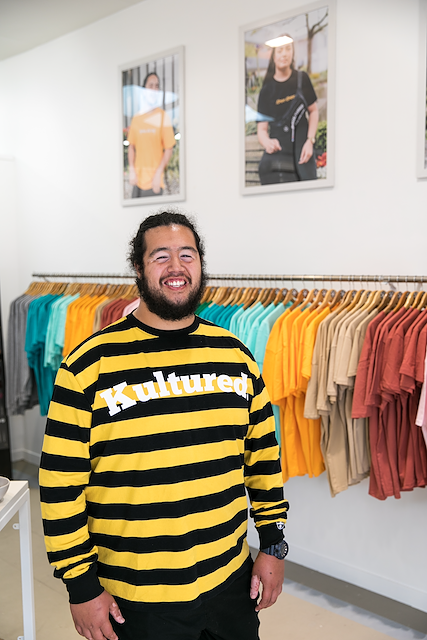 Luke Moss, Ngāti Maniapoto is the founder and owner of Kultured Clothing, a new high end streetwear. He first started the brand in order to cultivate and normalise the use of Te Reo Māori through clothing.
"I am extremely passionate about what I do," he says.
But the goal for him is to encourage the use of Te Reo Māori as being normal in everyday life he explains.
"I really want to help our people normalise the use of our beautiful language. What 'Kultured' means to me is understanding yourself, your language, your identity and being proud of who you are as a person," Luke says.
"My vision is to create kākahu that will help tāngata feel proud of their culture and who are excited to wear and be a part of Te Ao Māori i te ao, i te pō!"
A gap in the market
This also is a passion that is shared by Nikki Kennedy, Ngāti Porou, Te Aitanga-a-Māhaki, Te Whakatōhea who runs Taputapu Design from her home in the Waikato for the past four years.
As a recent graduate from the University of Waikato with a bachelor's in media and creative technologies. She noticed an absence of Te Reo Māori in homes across the motu, she decided to something about it.
"It is a way to encourage both Māori and non-Māori people to use these products to encourage and to help revitalise Te Reo Māori in our homes," says the 29-year-old business owner.
"It's a way to create that Māori environment at home, having stuff with bits of the language around the house can help you learn and reinforce what you know every day without even realising it," says the homeware designer.