Māori land owners involved with the Māori Land Service case studies have responded positively to the opportunity to influence proposed Advisory and Development Services for all Māori land owners.
Published: Thursday, 10 August 2017 | Rāpare, 10 Hereturikōkā, 2017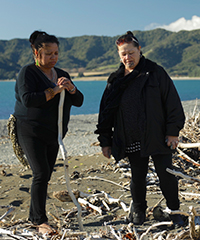 In-depth regional engagement with Māori land owners is underway in Te Tai Rāwhiti, Te Tai Tokerau, Aotea and Waiariki. The case studies will involve extensive research in these region at the level of individual land blocks. The regional project teams will be looking for insights from land owners through hui as well as gathering together existing data and records.
Te Tai Rāwhiti, where a quarter of the region is Māori freehold land, was the first area to begin meeting with Māori land owners.
Tairāwhiti project technical leader Māui Tangohau says, "I've worked in Māori land for 30 years and this is the first time an opportunity like this has come up for us as a people.
"I think back to a quote by Uncle Api (the late Dr Apirana Mahuika) in August 2014 – 'Nōku te whenua, kei a au te kōrero. Nōku te whenua, ko au te rangatira. Ehara i a koutou!' – 'Let us determine a way forward for ourselves and let us be the architects of that destiny.'"
Māori Land Service Engagement Lead, Rachel Jones says, "This is a 'boots on the ground' practical investigation of exactly how the proposed Māori Land Service will best be able to help the Māori land owners meet their aspirations for their land."
The case studies continues the principle of co-designing the Māori Land Service with Māori land owners. In each of the four regions, the case studies are being managed and facilitated by local iwi organisations.
Mrs Jones says local iwi organisations have the capability and the networks in the regions to meet the goals of the case studies.The research phase will last around two months, and will inform further decisions about the proposed Māori Land Service.
You can find out more about the development of the MLS, and the case studies here.
The Māori Land Service is being established to support Māori land owners under Te Ture Whenua Bill, which is now expected to be passed by Parliament after the General Election.