Over the past year, Te Puni Kōkiri and Te Tūāpapa Kura Kāinga have been working with a number of iwi groups to test, develop, and implement new Māori housing models.
Published: Tuesday, 14 June 2022 | Rātū, 14 Pipiri, 2022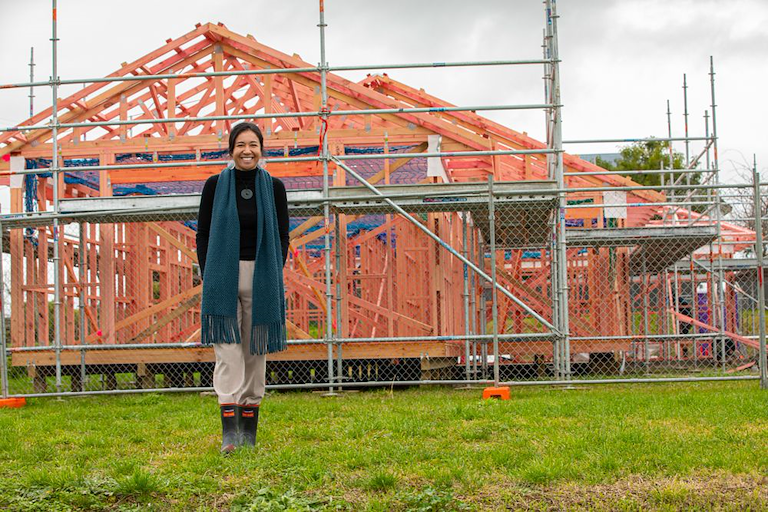 Ka Uruora, Toitū Tairāwhiti and Ngāti Kahungunu were identified through the National Iwi Chairs Forum as three groups ready to partner with the Government to deliver Māori housing in their respective rohe. This work is being done through Whai Kāinga Whai Oranga.
Ka Uruora
In April, a partnership agreement was signed with Ka Uruora, a collective of Taranaki iwi, where Minister's Jackson and Henare announced that Ka Uruora were ready to build up to 172 homes for whānau who needed them most.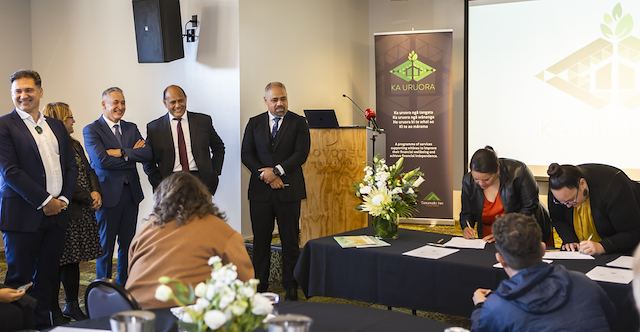 Te Puni Kōkiri Hautū | Deputy Secretary – Strategy, Finance, and Performance, Grace Smit said the signing marked an important milestone in Māori housing.
"Our partnership with Ka Uruora, and other iwi groups, is allowing Māori to define and shape their own future in housing.
"Iwi know first-hand the issues and challenges that face their communities, but they also know the opportunities and solutions to get whānau into homes."
An investment of $55 million would support Ka Uruora to deliver on their own housing model, with $37.6 million used to deliver up to 172 affordable rentals and $17.5 million going towards their infrastructure requirements, plus a further 31 progressive home ownership sites.
"Ka Uruora will play an intermediary role, where it receives the Whai Kāinga Whai Oranga grant funding and then loans pūtea to local iwi providers who will complete the housing projects in their respective rohe," Grace said.
The prototype will be divided into 21 projects across three workstreams.
"Income from the rental whare will be reinvested into the project for future housing developments, to create long-term sustainable Māori-led housing delivery," Grace said.
Toitū Tairāwhiti
Shortly after the signing with Ka Uruora, Ministers Jackson and Henare announced a $55 million investment to support the housing mahi Toitū Tairāwhiti (TTHL) were doing in the Eastern Bay of Plenty / Tairāwhiti region.
TTHL represent the collective housing interests of Ngāti Porou, Rongowhakaata, Ngai Tamanuhiri, Te Aitanga a Māhaki, Te Whānau-ā-Apanui and Te Whakatōhea.
A Kawenata (agreement or covenant) was signed by TTHL, Te Puni Kōkiri and Te Tūāpapa Kura Kāinga in Wellington in early May.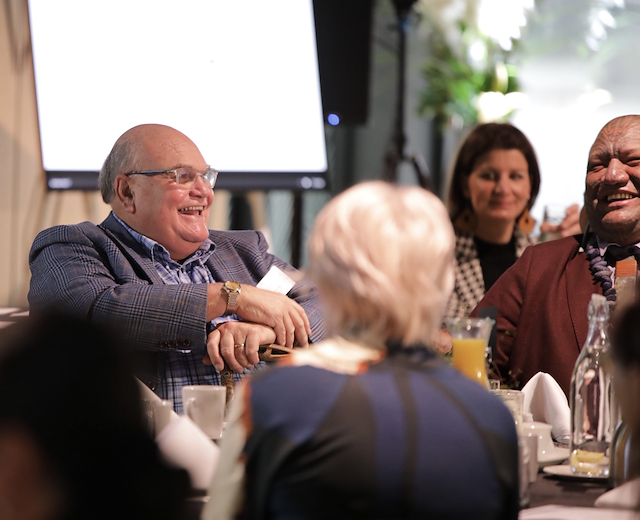 The word Kawenata was chosen by TTHL, after Ministers asked our iwi partners to choose their own term for their agreement.
TTHL had already built 51 new homes for whānau, and the $55 million investment would see them build a further 150 homes.
Te Puni Kōkiri Regional Director Mere Pohatu said this kaupapa spoke to the true essence of partnership.
"The Kawenata is a wonderful example of iwi collectivising and working with key agencies, just like the way iwi successfully worked together during COVID-19.
"This focus on housing is informed by whānau and their circumstances, and then actioned by the iwi. This is an exciting opportunity where agencies are focused on working with iwi, creating solution-based policy making.
"Papakāinga and housing is so important for our whānau. It means more than just four walls and a roof, it represents reconnection to whenua through warm, safe homes."
Ngāti Kahungunu
Our third iwi partnership signing took place with Ngāti Kahungunu in Wellington on June 2.
Ministers Jackson, Henare and Woods were in attendance and announced a $45.3 million investment to support Ngāti Kahungunu to deliver up to 131 new homes.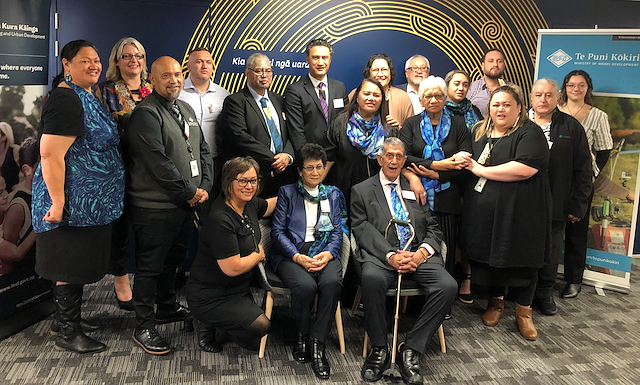 "This investment means Ngāti Kahungunu can continue to plan to build the new houses in an innovative way that will focus on an integrated supply chain through partnering with building providers, investing into off site manufacturing and also providing training and employment opportunities for local people to help with the pipeline of housing projects ready to progress," Minister Henare said.
"This partnership with Ngāti Kahungunu will see up to 131 more affordable rentals and papakāinga being built throughout the Ngāti Kahungunu rohe, getting whānau into dry warm homes more quickly as well as helping some reconnect with their whenua."
A fourth iwi partnership is planned for Te Tai Tokerau, work for this is underway.