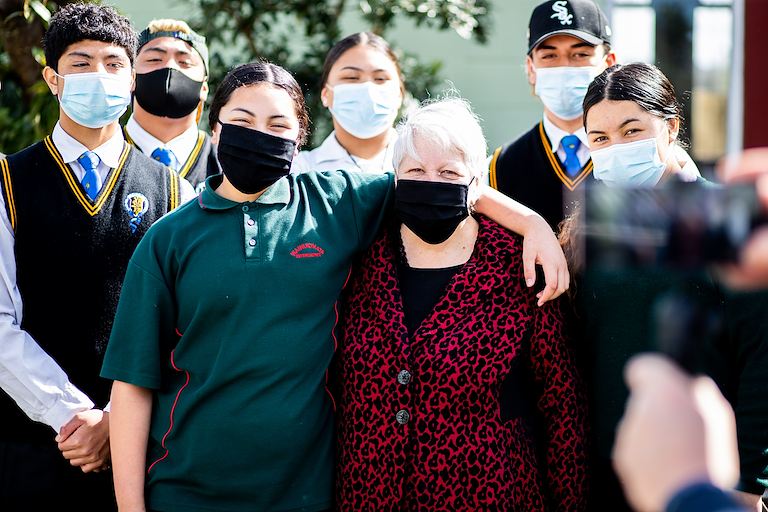 Fifteen-year-old Rongotai College student Tawhi Te Kani was so distracted talking to Prime Minister Ardern he didn't feel his jab.
"Was that it?" he said to her.
Some of the rangatahi were there to support their mates. Nataahia Pasene, in year 12 at Wainuiomata High School, was already fully vaccinated. 
"I did it to keep me and my family safe. It was a really good to be vaccinated and I had no side effects."
Brothers Ali (Y12) and Kayan Samuelu (Y10) from Rongotai College came with their mother for their second jab. As Kayan commented, "I wanted to protect my family and travel the world".
Nearly 16,000 people, of whom 20 percent are Māori, have been vaccinated at the Wainuiomata marae – COVID-19 vaccination centre in the last four months.  It was the first marae-based clinic to operate in Wellington.
Kōkiri Marae Health and Social Services general manager Teresa Olsen said the vaccine is offered to all. "We want to save the lives of our Māori and Pacifica people and all our community."
While the vaccination rollout has been going well Teresa said the rate of vaccinations is slowly dropping with anti-vaxxers active in the community.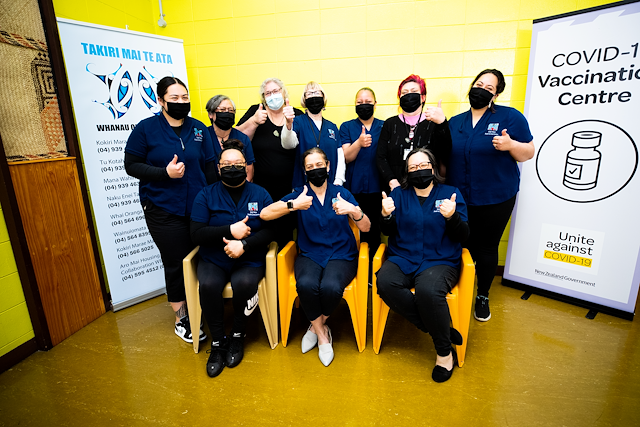 She said her own son told her he was worried he could become "magnetised" if he had the vaccine. "I've told him to come see me and if he can see any magnets in the vaccine - I'll shut the place down.
"We are going to have to kōrero more, get creative and keep chipping away," she said.  "At the end of the day if our people don't get vaccinated, they will be the ones that suffer."
The 30 strong team are not giving up the fight. On Labour Weekend they are inviting the community to kai, a chance to win prizes, get their questions answered – and be vaccinated.
A vaccine bus will hit the streets from mid-October to reach whanau, who are homeless, elderly, house-bound, disabled or without transport.
For trusted information about COVID-19 and where to find a nearby vaccination centre go to karawhiua.nz