A small band of young local Whanganui Māori are part of the clean-up effort of the area. We talk to one of the young home-grown men about the experience.
Published: Monday, 9 November 2015 | Rāhina, 09 Whiringa ā-rangi, 2015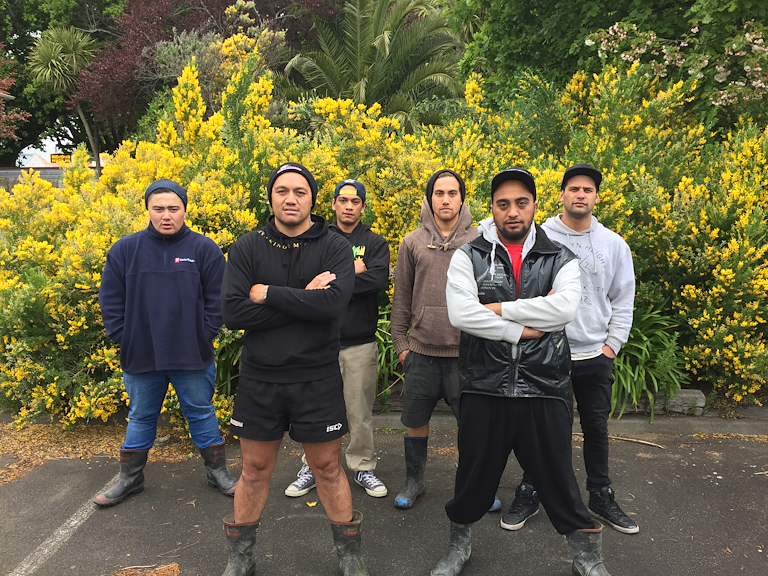 A group of young Māori in the Whanganui region have had an extension to their Enhanced Taskforce Green contract to continue providing invaluable assistance to local marae recovering from the impact of the Whanganui floods earlier this year.
Originally the 10-week contract was awarded to the group through local social services provider Te Oranganui Iwi Health Authority and with help from the regional Te Puni Kōkiri office this has now been extended to December 11.
Lee Ashford is a Whanganui local, he hails from Te Āti Haunui-a-Pāpārangi. His parents live in Parikino – a small settlement just outside of Whanganui.
He attended local school St Augustine's. He was a personal trainer and worked with troubled youth at the local YMCA before joining the Enhanced Taskforce Green project.
Lee is one of the workers who has been digging and scraping silt from roads and paddocks and helping local marae in the region.  
He is stoked about the extension and says it gives him and the boys more time to lend help in the area.
"For some of our marae, the w'are puni (whare puni) have been damaged badly and our marae are always trying as fast as they can to clean up, so that whānau can bring their mate back if required."
He says that some places don't have many people to help them out. Most of the families have left or there might be one or two families living at the marae – and they fill the void where they can.
On 20 June this year, one month's worth of rain fell in Whanganui in 24 hours. That night and early the next morning the surging Whanganui River breached its banks and flooded the central business district.  The result was the worst flooding on record.
The deluge cut off the city and about 400 people evacuated mainly from Pūtiki, Aramoho and Wanganui East.
There's still a lot of damage says Ashford. "Some farmers are unable to work on their land because the sun has dried the clay layers of dirt."
Lee had a lot of spare time on his hands before the flood, and whilst he has been working hard on the Taskforce Green project, the opportunity to be involved really came by chance.
"I was nominated by whānau to help out, and next minute I'm still here," he laughs. "It's a big job," he admits.
Comparing the job now to when the group first started he says the roads were slippery and now they have dried up like clay.  Then the rain comes and the roads are back to being slippery again."
According to the 21 year-old however, it's not just a job.  He says it's a chance to give back.
"The work itself was appealing because I'm giving back to the community.  That's pretty much how we all feel.  There's 12 of us, all young local Māori helping out our region," he says.
Whilst the labour has been intensive, Lee says the majority of the men in his group enjoy the economic and social benefits - benefits often appreciated by the whole whānau.
"Most of the boys who are working on this project, love it.  It gives them a purpose. They are up in the morning and ready to get out and do a hard day's work.
"The boys can't wait to get home and spend money on their whānau, rather than just sitting around at home doing nothing."
Local iwi Ngaa Rauru, set up a special lunch for the Taskforce Green group to thank them for their hard work and explore potential options when their contract finishes.
According to Regional commissioner for Ministry of Social Development, Gloria Campbell: "Getting a job from a job is much easier than getting a job from no job."
Te Tai Hau-a-uru Regional Manager Willis Katene is also pleased that skill development is included in the contract: "While on Enhanced Taskforce Green, the workers gain a First Aid Certificate and Site Safe health and safety training, which will make them more competitive when they look for work so they can be independent."
The Enhanced Taskforce Green is a government led initiative that employs local jobseekers to help with the clean-up operation in the Whanganui region.