A camp that connects rangatahi to the environment is opening the eyes and minds of Ngāti Porou descendants.
Published: Thursday, 15 February 2018 | Rāpare, 15 Huitanguru, 2018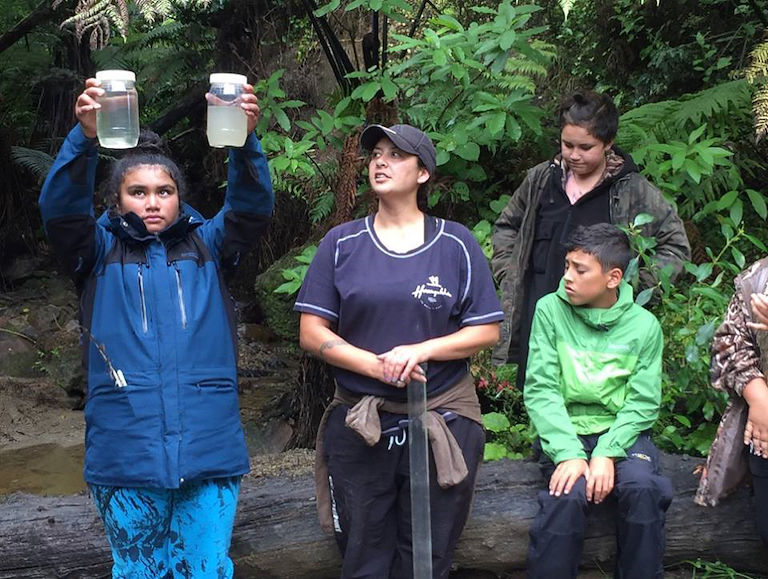 Close to 30 rangatahi attended Ngāti Porou's Biocultural Monitoring Camp at Te Horo Marae in Ruatōria in early January.
With the goal of educating our rangatahi on the importance of understanding the environment, Te Puni Kōkiri partnered with Hikurangi Enterprises to run the 4 day event.
Rangatahi took part in a number of activities such as dance, waiata, rongoā, art and music. All wrapped up in the kaupapa of taiao. 
Ngāti Porou descendant and local rangatahi of Ruatōria Summer Atkins says the camp has changed her life and made her aware of the opportunities she has to give back to her community.
"I used to be quite a shy person, but after meeting Tina and the people at the camp I feel I have a lot more confidence in myself," she says.  
"The camp really inspired me and opened my eyes to the change I can bring not only to my whānau, but also those around Gisborne."
Camp organiser and facilitator Tina Ngata says there is an obligation as a descendant of Ngāti Porou to educate her iwi's rangatahi on the relationship Māori have with environment.
"As Māori we have a very complex and sophisticated way of understanding the environment," she says.
"With layers of ancestral knowledge and the spiritual connection we have with the land as Māori, I think it is vitally important that our rangatahi understand how our resources work so that they care for it in the proper way."
Whilst the focus of the camp was to educate rangatahi on the importance of the taiao and its sustainability, it was also an opportunity to showcase a career path and the prospect of overseas travel.
After forming a relationship with fellow environmental educator Pelika Andrade from the University of Hawai'i, they have established an exchange program in which they travel to observe the biocultural monitoring that takes place on the other side of the world.
Ahi kā for Omaewa at Port Awanui and Senior Lecturer at Auckland University of Technology Natalie Robertson says that it is crucial we invest in the rangatahi but even more so those in rural areas.
"With rangatahi in rural places such as Ruatōria, they often leave for cities as there are fewer options for education outside of school," she says.
"The camp itself was a game-changer as it gave us a chance to exchange in learning about the environment with these rangatahi, at home on our marae, our whenua. It also showed them some pathways available for them through education."