KOHAFIT – Change for Change is a new health awareness and fitness programme that encourages the achievement of group goals as a whānau rather than individually.
Published: Monday, 10 April 2017 | Rāhina, 10 Paengawhāwhā, 2017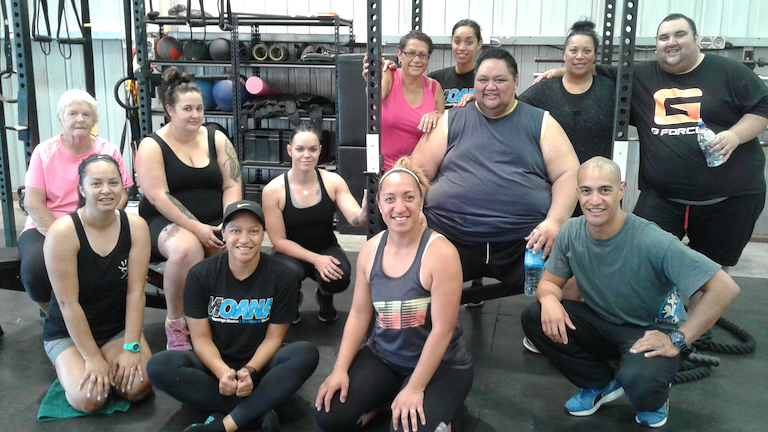 Provided by Progressing Training with support from Moana Radio and funding through Matika – Moving the Māori Nation fund, KOHAFIT lets people kick start a healthier lifestyle through a gold coin koha (donation).
Launched in March 2017, KOHAFIT initially targeted wahine Māori focusing on their aspirations and needs to achieve a healthier lifestyle.  However the initiative has also attracted other participants because of the wider whānau-style environment.
The group participated together in team building sessions and listened to public speakers that contributed to their health and fitness awareness.
"The team building sessions got the whole group to work together cohesively, and the speakers encouraged them to talk and share their experiences with each other, helping them find ways they can help each other, like a whānau," said Benjamin Gemmell, Progressive Training head trainer.
Ben believes together, collaboratively and collectively, Māori can make changes to achieve healthier whānau Māori and eliminate lifestyle illnesses by improving their knowledge and understanding of health and wellbeing.
"We are a strong culture with a proud history, and deep connection with each other so I believe, if we can get more Māori together participating in exercise, and making small lifestyle changes, we can reverse the adverse effects of chronic lifestyle diseases."
KOHAFIT – Change for Change also removes the cost barrier for many Māori who find paying membership fees difficult.  Funding through Matika – Moving the Māori Nation contributed to hire-age of a fitness centre, specialist trainers and guest speakers to support wahine Māori in achieving their health and fitness.  
Ben would like to see KOHAFIT located throughout New Zealand's smaller townships as he sees whānau in regional communities need support with health, exercise and nutrition.  He says "the big cities have facilities and programmes but it is rural New Zealand that needs the support."
"My aspiration for Māori in the health and fitness industry, is to step up and embrace there health, and improve their quality of life through awareness, exercise and nutrition.  I would like to see more young Māori stepping into the trainer roles, personal trainers, coaches, P.E. teachers, nutritionists, dietitians, sports exercise and science specialists etc.  They will be our health and wellbeing leaders for Māori and non-Māori."
Matika – Moving the Māori Nation has supported 60 hauora initiatives ranging from healthy lifestyle education plans to whakapakari tinana and mau rākau wānanga.  
[The Matika - Moving the Māori Nation Fund is no longer available]