This Anzac Day will mark a hundred years since New Zealand troops first descended upon Gallipoli, Turkey in World War 1.
Deputy Chief Executive Fiona McBeath will be among the two thousand New Zealand strong delegation to attend the Anzac commemorations on April 25.
Published: Wednesday, 22 April 2015 | Rāapa, 22 Paengawhāwhā, 2015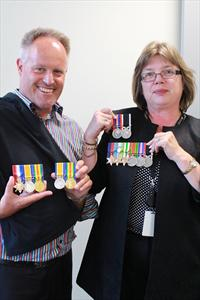 Fiona had entered the New Zealand Gallipoli 2015 ballot and at first was unsuccessful.
She explains, "We were on the Gallipoli wait list and we were lucky enough to get into the November ballot, both Howard and I thought about it after 15 minutes and we decided to be a part of it".
Both of Fiona's parents were involved with the World War II at different stages, her father a Private fought in battle around Europe and her mother a Training Sergeant preparing young men as they prepared to head to war.
She laughs as she says, 'there were always interesting conversations about this at home, my father often said to my mother that even though she were a sergeant he was in the real war".
Her parents are no longer alive, but it will be a proud moment for her to wear her parent's medals at the Anzac dawn parade in Turkey, and is partly the reason why she has committed to attend.
"I remember when I was younger I always said to my parents that, "I'm gonna do that one day". I would someday march at the dawn parade but I never got around to doing it – this will be the first time I've worn my parents medals, in a sense I'm taking my parents with me – and that's pretty amazing".
Husband Howard Hamilton will also be at the Anzac commemorations. He will wear his great uncle's medals.
Two of Howard's great uncles were involved. The service will be particularly poignant as his great uncles never returned, both died whilst serving at Gallipoli, one aged 21 and the other 29.
"Two of my uncle's names are on the memorials over there so I will go and look for them when I'm there, and just take time to reflect on the sacrifice made," he said.
Howard's mum received the medals in a beat up old tobacco tin believed to be originally from Gallipoli.
"They didn't even have the ribbons attached to them, that's how we had them – since then we've had them ribboned and will be ready to wear them on our right side that's where descendants wear them, the left is for soldiers," said Howard.
His attendance and the opportunity to wear his great uncles medals is an honour – one shared by his family.
"My mum, uncles and aunties are all excited that I'm going. I will be proud to be there to honour, and represent our family – even though it was such a horrific event – we should remember them".
A sentiment shared by Fiona, "we are the generation that will remember those who paid the ultimate price for their country".
More than 2200 Māori and around 460 Pacific Islanders served overseas with the New Zealand forces.
Of the 250,000 men of eligible age in 1914,120,000 enlisted for the war. More than 18,000 New Zealanders died (and about 2,800 of those at Gallipoli) as a result of the war and over 40,000 more were wounded.
To find an Anzac service in a city or township nearest you go here.
The government has invested in a series of legacy projects that will connect New Zealanders to our story of this global war and provide a resource for studies in civics and the history of conflict.
These include Auckland War Memorial's Online Cenotaph database of soldiers' records, Walking With An Anzac school curriculum project; Ngā Tapuwae New Zealand First World War Trails; Pukeahu National War Memorial Park which is hosting the National Service of Commemoration on Anzac Day within a week of activities; and the significant exhibitions 'Gallipoli: The scale of our war' at Te Papa and The Great War Exhibition created by Sir Peter Jackson in the heritage museum building on Buckle Street, Wellington
For more information on the Ngā Tapuwae: New Zealand First World War Trails go here.
You can also find details for your local Anzac Day programme, go here.