Pūhoro STEMM Academy has been helping rangatahi Māori into science and technology (STEM) – and now with Te Puni Kōkiri support they've graduated themselves into a charitable trust.
Published: Monday, 16 May 2022 | Rāhina, 16 Haratua, 2022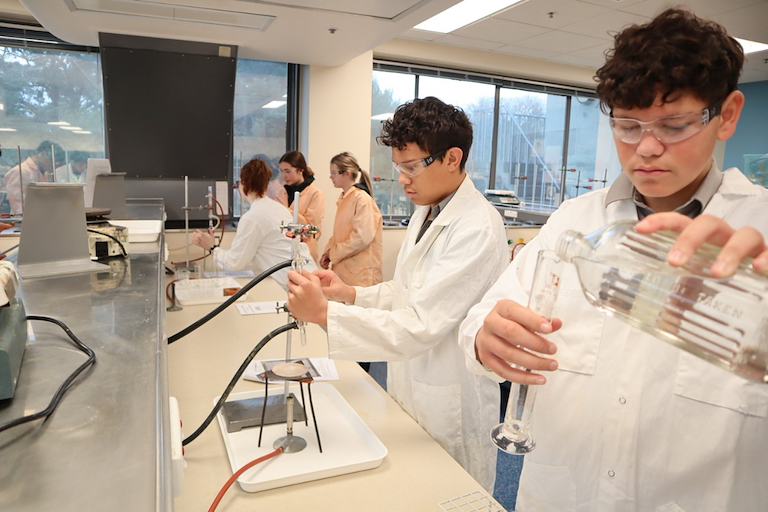 From the kākano (seed) of a Massey University-based pilot in 2016, Pūhoro STEMM (Science, Technology, Engineering, Mathematics and Mātauranga) is now a fully-fledged rākau (tree) under the umbrella of the Pūhoro Charitable Trust which is receiving funding from the Ministry of Education, Environmental Science and Research (ESR) and other committed partners.
Pūhoro is a programme to lift the achievement rates of rangatahi Māori in STEM-related subjects. Its focus is on lifting Māori achievement in the sciences at a high school level, supporting students as they journey through university education, and supporting Māori into employment to meet the needs of the future national and global economy.
Te Puni Kōkiri has been an avid supporter of this initiative since it was being created in 2015. Initially, the role of Te Puni Kōkiri was to support Pūhoro in advocating for Government funding to launch the programme. However, the funding offer which was secured would've meant changing the kaupapa of Pūhoro, so this was deemed unsuitable. Only six weeks before launch, Te Puni Kōkiri supplied the seed funding for the programme to launch in 2016. Further funding was provided in 2017 and 2018 to help bridge the funding gap and further help Pūhoro grow and develop.
Kemp Reweti, Mana Hourua/Chief Operating Officer of Pūhoro, tells the story of the launch. "We wanted to demonstrate to our rangatahi Māori the pursuit of excellence. We found a Māori man Mana Vautier working at NASA in Houston and asked him to launch the programme with us here in Aotearoa. He said 'yes' – and brought along with him his astronaut colleague Colonel Rick Searfoss. We wanted to show them that not even the sky is the limit – here is a Māori man from Rotorua who works for NASA. The possibilities for [our] rangatahi are endless!"
Pūhoro also aims to improve the exposure of our successful Māori scientists. Kemp says, "We have had to disrupt perceptions of what science and scientists look like amongst our rangatahi by showing them that our people were doing science historically long before, navigating across the vastness of the oceans. We remind our rangatahi that being a scientist is in their DNA. We want them to bring their unique Māori world view and use it to face the problems of today, confident in who they are as Māori."
Pūhoro is grateful for the support of Te Puni Kōkiri. Kemp says, "We really want to acknowledge Te Puni Kōkiri who was there from the seeding of our kaupapa. Because of Te Puni Kōkiri investment, other organisations have been able to have confidence in us to invest into the Pūhoro kaupapa themselves." 
As part of the Pūhoro evolution, and to further gain access to a broader funding eco-system, Pūhoro was able to work with Massey University to transition the Pūhoro programme into a new entity called the Pūhoro Charitable Trust.
To this end, in 2019, Pūhoro sought and received a three-year funding contract from Te Puni Kōkiri which would give funding certainty and sustainability as they transitioned to the new organisational and funding structure of a charitable trust. This funding supported:
the employment of a business manager to transition the organisation to a fully independent Charitable Trust, which would open access to further funding;
the delivery of the Pūhoro programme in South Auckland, Bay of Plenty and Kāpiti; and
an independent evaluation from Ihi Research to use with potential funders and partners.
Kemp says, "Te Puni Kōkiri has been pivotal, from the seed to the flourishing rākau that we are now.
The kaimahi we've worked with had a vision of seeding us and working with us to emerge as our own trust. They've been there to back that aspiration. They know we make our biggest impact as an organisation by being by-Māori for-Māori and a with-Māori kaupapa. Being a trust which stands in its own mana motuhake and tino rangatiratanga means that so many more doors have opened that we didn't realise were firmly closed before."
From this funding, Pūhoro was able to became a trust in July 2021 and has continued to grow and support rangatahi Māori in STEM. With new funding streams now available, including the Ministry of Education, Pūhoro is no longer a seed – it is time to 'graduate' from Te Puni Kōriri support.
Kemp says they want to continue to grow in a considered and sustainable way and further realise the aspirations of rangatahi across Aotearoa. Pūhoro is growing into three new regions each year, on its way to the goal of supporting 5,000 rangatahi participating in STEM. This year Pūhoro will launch in Rotorua and Te Tai Tokerau.   
Pūhoro has seen significant success already, with their students achieving at or above the national achievement rate of non-Māori students in STEM subjects. Pūhoro rangatahi are also five times more likely to transition to tertiary study in STEM. Kemp says this is because the programme includes weekly study support, and aims to demystify tertiary education for their rangatahi and show that it is achievable through regular wānanga held within tertiary settings across the country. In 2021, Pūhoro delivered programmes to 870 Year 11-13 across five regions in the Te Urunga Tū or high school phase of the programme, as well as supporting 279 students in the Te Urunga Pae or Tertiary Phase of the programme.  
Manahautū/Director and Trustee Naomi Manu says, "Pūhoro would like to acknowledge the significant contribution Te Puni Kōkiri has made towards changing the trajectory for rangatahi Māori success within STEMM, by providing the appropriate resources and support for Pūhoro to do so. This investment will span generations and Pūhoro is privileged enough to share this journey and mahi together with you, our rangatahi and their whānau."
This initiative was funded through the Māori Business Development Fund. It contributes towards the Te Puni Kōkiri strategic goal of Māori economic resilience under the employment focus area.