You can now expect to see and hear more reo Māori in Rotorua as the city takes on the mantle of being New Zealand's first officially declared bilingual city.
Published: Friday, 11 August 2017 | Rāmere, 11 Hereturikōkā, 2017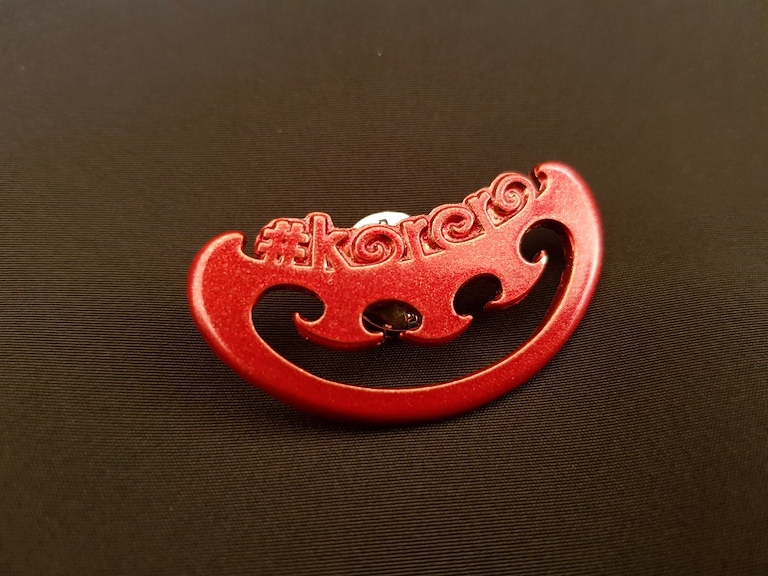 The initiative is lead by Te Arawa iwi with the support of the Rotorua Lakes Council, who hosted a celebratory event in the Council Chambers.
A #kōrero pin was released at the official launch event on 11 August, and a plaque was unveiled to mark the occasion.
The #kōrero pin draws on the success of similar badges used overseas where languages are being revitalised, such as Ireland and Wales. It signals the wearer's interest in speaking te reo Māori, irrespective of their fluency level and demonstrates their support for te reo Māori and language revitalisation.
The design is based on Te Pitau-a-Manaia (the fern frond of Manaia), an effective and complex kōwhaiwhai design. It depicts a waha kōrero, an active voice and symbolises the growth, energy and vibrancy of te reo. Its dynamic red or scarlet colour, known as 'kura' in Māori, signifies something unique or extremely special.  
#korero is the call to action, an encouragement for everyone to celebrate, support and speak the language. Whakanuia tō tātou reo, tautoko mai, #kōrero mai.
Te Puni Kōkiri will continue to work with Rotorua leaders as they go into the future as a bilingual city. Their experiences of 'what works' for communities will shape the development of tools and resources to further achieve their aims. They will also pave the way for more bilingual New Zealand towns and cities in the future.
Ōtaki and Te Wairoa have also made great gains in declaring themselves bilingual towns and demonstrating their commitment to revitalising te reo Māori within their own communities