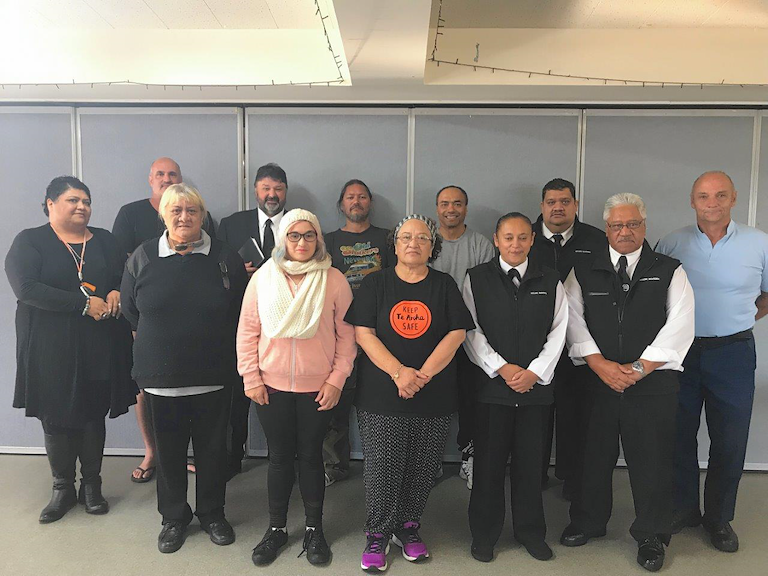 Written by Sheryl Glover, Managing Editor, Te Aroha News
Wayne Mercer and Maria McBirney are on a mission. A mission to make Te Aroha a safer place to live, work and play.
A group of locals willing to support this vision met at the Te Aroha RSA to start the process of being inducted as Māori Wardens.
The Ministry of Māori Development (Te Puni Kōkiri,) support and mentor the Māori Warden initiative, and regional co-ordinator Pareaute Panapa Solomon represented the ministry at the meeting.
When Winston Peters was Minister of Finance, he allocated $15 million for the Māori Warden initiative, and these funds are still managed by Te Puni Kōkiri. The ministry gives support, funding and resourcing for the Māori Warden scheme.  The mission statement of Māori wardens is 'Aroha ki te Tangata,' or Love to All.
Basic training covers learning the functions of the role, and practical learning about community service, and takes up to 200 hours, which are give by the inductees voluntarily. They are trained by senior wardens from the Waikato, Maniapoto and Hauraki sectors.
Linton Sionetali, Tina Drummond and Richard Kingi, Māori Wardens from Hamilton, as well as local Te Aroha police officer Craig Gordon, and Maria and Wayne all started the induction process for the volunteers.
"It was exciting to see the safety and community groups from Te Aroha all gathered here, with the vision of keeping the community safe," said Pareaute.  "Wayne has been great in his organisation of this," she added.
Māori Wardens have a unique role in the community. With the help of other community groups, they assess who is in need in the town, they patrol the main street during the day, and they often are asked to talk at schools to inform and educate students.
Warranted under the 1962 Community Development Act, they can enter hotels, take car keys off people they consider at risk of drink driving, they can go into private homes and offer assistance if needed. Māori Wardens work closely with the local police and are another resource the police can call on when needed.
They are also often called on to accompany people to appointments with WINZ or Housing New Zealand. "They really are working at a very social level," said Pareaute.
"There is a possibility to up-skill into police and fire training, traffic management and civil defence," she added. "They are an unpaid, unrecognised social service."
CAPTION
Back row: LtoR - Pareaute Panapa Solomon (Te Puni Kōkiri , Wayne Mercer, Steve Sunde, Ngahine McLaren, Ricky Toetoe, Linton Sionetali, Craig Gordon (Te Aroha Police).  Front row: LtoR - Barbara Dare, Crystal Pohoiwi, Maria McBirney, Tina Drummond, Richard Kingi.