Life is much easier for Chatham Islands woman Joan Hough, now that she has an affordable and reliable power supply and access to water.
Published: Wednesday, 31 August 2016 | Rāapa, 31 Hereturikōkā, 2016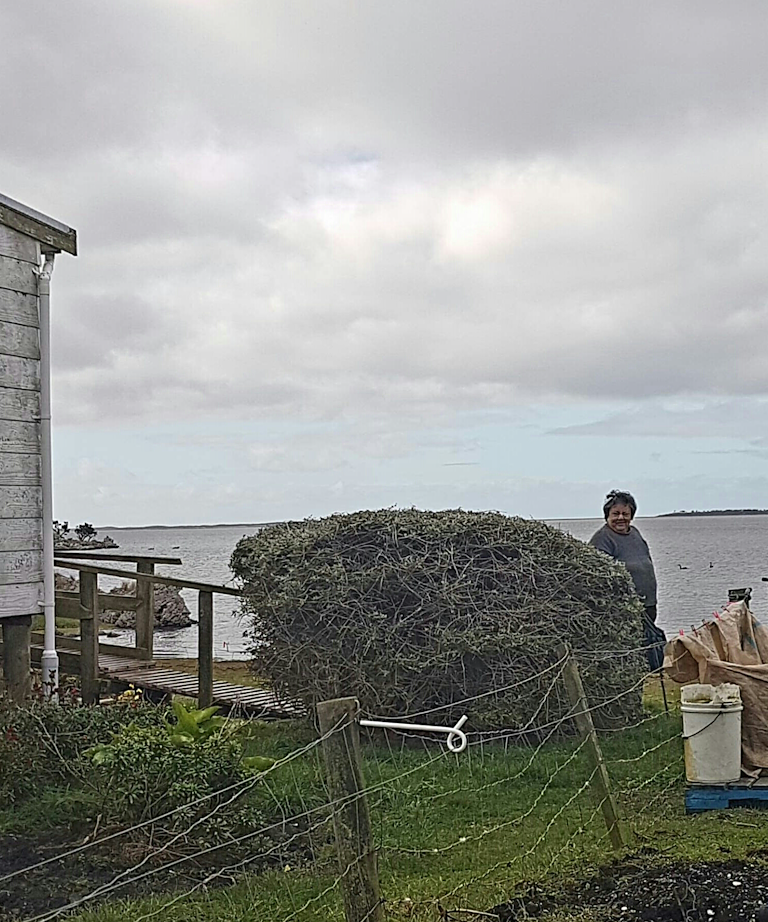 One year ago, 15 new solar panels were installed and a water tank was connected into Joan's home with the assistance of the Māori Housing Network.
Joan (Ngāti Mutunga) can't find the words to express the difference it's made.
"I have some serious health issues including a need in the future for overnight dialysis. Now I can hook up a small laptop and can stay at home. I don't have to go to the mainland. Having things such as power makes you appreciate what you have," says Joan.
A long-time Chatham Islands resident, she sought help from Ha o te Ora o Wharekauri Trust and was eligible to have 15 solar panels installed. Next on the list is to have indoor toilet and connection to the water and sewerage systems.
The Chatham Islands has a limited rental (and no State) housing and most kaumātua and whānau live in remote locations in houses built many years ago. Basic infrastructure such as electricity, water supply and septic tanks are often non-existent or are in need of replacement.
Like many other residents on the Chathams Joan has done her best to live without the basic necessities most of us take for granted. She was forced to take a trip to town 2 – 3 times a week to cart home water in plastic containers.
She describes her former life as plain hard work.
"It was like being a pioneer, but in a different era. I had to chop wood and gather the kindling every day and cart water from town to do my washing. When I first came to the island I thought 'how could I cope living without power'? But you do. You just get on with it."
Joan grew up with her parents until she left for boarding school at age eight. Her whānau moved to Wellington and then to Lower Hutt where her Dad pursued work at the Tuberculosis (TB) Hospital.
She went back to the Chathams after nearly 50 years of living on the mainland to help care for her unwell Dad and Mum. Shortly after, her parents passed away and Joan made the decision to stay put.
She says she loves it and wouldn't go anywhere else. For her it's the 'safest place in the world'.
"It's only been a year and I can't remember what life was like before I had the solar panels and water tank installed. I can't find the words to express the difference it has made in my life. Truly wonderful."
Ha o te Ora o Wharekauri Trust
Ha o te Ora o Wharekauri Trust – Māori Community Service's home repairs programme helps whānau and kaumātua on the island to make critical and necessary repairs with the support of the Māori Housing Network.
The community based housing repair programme on the Chatham Islands includes the immediate repair of seven homes over the next 12 months.
Barby Joyce, General Manager, says the aim of the service is to empower people to make decisions for their own wellbeing.
"We offer a range of community, whānau, health and wellbeing support for whānau and kaumātua. The service is working hard to help whānau and kaumātua find solutions to improve housing standards," says Barby.
Alongside the Health providers, the Trust team is the most active kanohi-ki-te-kanohi support provider on the Chatham Islands which directly engages with whānau and kaumātua. In this capacity, housing issues are identified and the Trust continues to support whānau in housing need.
Former Associate Minister for Housing, Hon Dame Tariana Turia, travelled many times to the Chatham Islands, signalling her commitment to support the people. In 2014, the Government announced new funding of $16 million over four years to support the repair and rebuild of rural housing, the improvement of housing on the Chatham Islands and the development of Māori social housing providers. The marks of all these initiatives – strengthening communities, encouraging the spirit of self-reliance, promoting collaboration and focusing on outcomes – are attributed to Tariana's tireless support for housing assistance to the Chatham Islands.
Helping whānau and kaumātua with urgent house repairs
Since 2014, Te Puni Kōkiri has supported the Chatham Islands through Kāinga Whenua Infrastructure Grants, and more recently, housing repairs through the Māori Housing Network. Te Puni Kōkiri continues to support whānau building homes together with the Kāinga Whenua Infrastructure Grant assistance.
The Māori Housing Network has already assisted 6 kaumātua flats and 8 whānau homes in need on the Chatham Islands to repair and upgrade their homes over the past two years, including Joan's home.
How the Māori Housing Network can help you
Whatever your housing need, the Māori Housing Network wants to help.
If you are looking for help with a Māori housing project, the first step is to discuss what you want to achieve with the Network.
The Māori Housing Network will help you with information, and to contact the right agency to help you with your housing needs, develop your ideas and achieve your housing goals.
Find out more how the Network can help you.
When you are ready to discuss what you want to do, get in touch to arrange a meeting with the Māori Housing Network Regional Advisor.
Phone 0800 758 956
Email maorihousing@tpk.govt.nz