Interim Chief Executive at Callaghan Innovation, Hemi Rolleston, discusses the need to support Māori business leaders to pursue innovation and entrepreneurship.
Published: Monday, 19 September 2016 | Rāhina, 19 Mahuru, 2016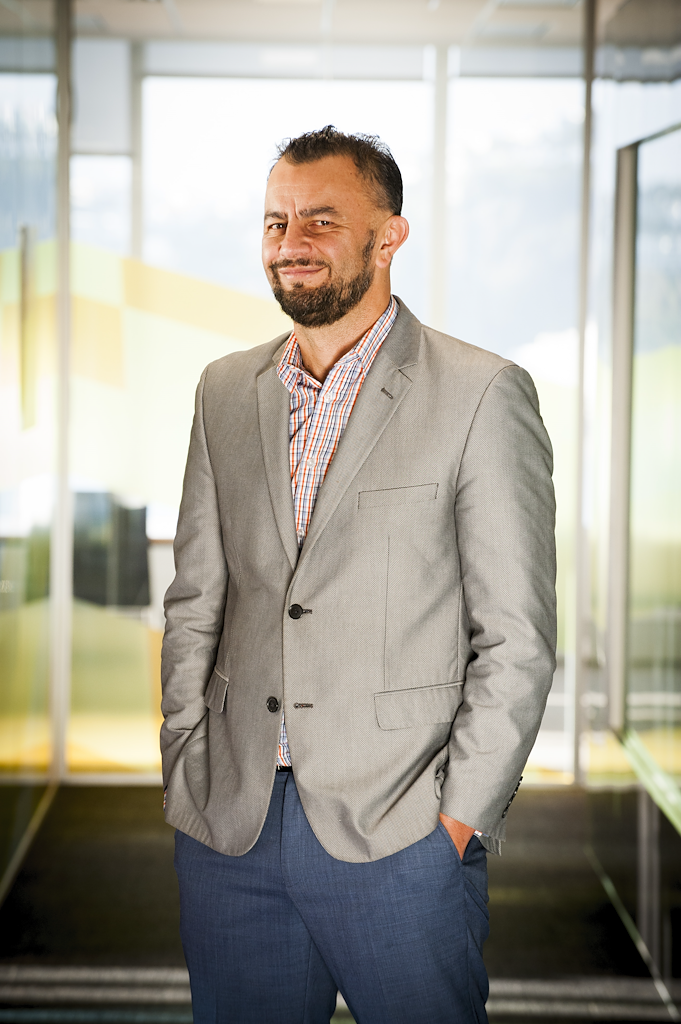 When we meet Hemi Rolleston, he is sitting in his former office, a room which is narrow and long directing your eye to the window. Hemi winds the window shade open to reveal a clear view of Wellington Railway Station, with its train tracks like fingers outstretched and searching north along the harbour, and out to Hutt Valley.
"When I started here," Hemi says, "the whakatauākī 'Rukuhia te wāhi ngaro, hei maunga tātai whetū' really encapsulated what I did to come to Callaghan. I wasn't sure what I was going to do, but it was going to be big, bold, and brave." 
 
Hemi, who is Ngāi Te Rangi, Ngāti Ranginui, and Ngāti Whakaue, is referring to Callaghan Innovation's whakatauākī 'Explore the unknown. Pursue Excellence'.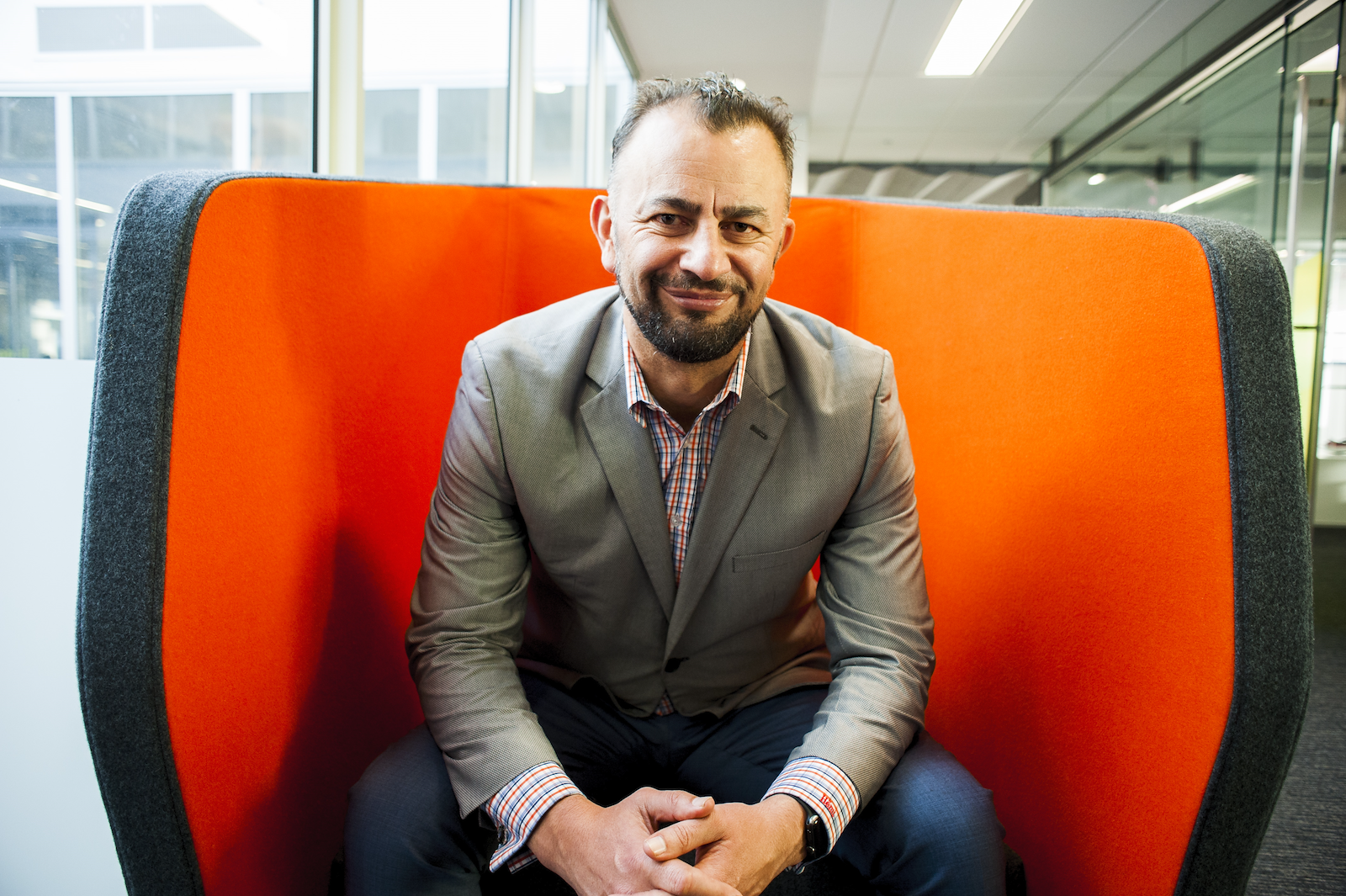 He joined Callaghan as General Manager Māori Economy – following eight years as Chief Executive at Te Awanui Huka Pak limited – a 100 per cent Māori owned kiwifruit business with $30m in assets and over $300m in shareholder value.  
 
Representing Te Awanui Huka Pak, Hemi attended the 2013 Te Hono Bootcamp, the New Zealand Primary Sector Bootcamp – a government-partnered initiative which includes an intensive business programme at Stanford University, California, USA.  
 
It was during this stint at Stanford where Hemi considered his next career move.  
 
"I was inspired by the programme, and the other Māori business leaders at the bootcamp," Hemi says. "I was ready to take on more challenges – there comes a time when you reach a point and dive into the great unknown." 
 
Looking around, this was Hemi's office before he was appointed interim Chief Executive at Callaghan Innovation, the government agency which supports hi-tech business in New Zealand. The walls are covered in charts about innovation, planning, teamwork and you walk past one poster titled 'Nuku ki te puku'.  
"Oh yeah," Hemi explains. "Because food and drink industries are based around straight-forward growing and manufacturing processes, they're not always thinking about the ways technology can add value and benefit them." 
 
Hemi doesn't mention the programme is his idea, one which established a collective for around a dozen Māori-owned food and beverage businesses. These businesses continue to meet, trading ideas and creating partnerships. 
 
Since he joined Callaghan in 2014, Hemi also introduced the popular Māori Inspire Event Matariki X, and made it possible for Te Wharekura o Mauao students to visit Stanford University's technology hub and Google offices in Silicon Valley in 2015 and 2016. 
 
Hemi assumed the interim Chief Executive role on 01 August, a serendipitous date which saw the opening of Te Whare a Māui, Callaghan Innovation's Māori Innovation Hub at Lower Hutt. He says: "Attending the opening of the hub as Chief Executive is a nice way to begin my new role, and see out previous one." 
 
"I feel excitement, and a deep sense of responsibility, about my new role," says Hemi. "Because I'm saying to Māori we can be good in Te Ao Māori, Te Ao Pākehā, and Te Ao Hurihuri – because that's where innovation and the unknown lives." 
 
"As Chief Executive, I'm not Chief Executive Māori Economy or Innovation, though my selection is an acknowledgement of the affect or impact I can have on the Māori economy. We are now putting the Māori economy at the head table – it's a vote of confidence in me and my team because I can't do any of this without an awesome team." 
 
There are parts of the organisation that I'm not deeply familiar with – we have 400 staff and I do feel a deep responsibility for their wellbeing and safety. We work in a risky environment, which includes labs, not just 400 staff working in office spaces. 
 
"Never in my wildest dreams did I consider this is what I'd be doing – I just want to contribute – and now my dreams are bigger. I want to create technology that tells our stories, lifts our language, health, wellbeing and income potential – and that is where innovation in commercial enterprises can have impact and your life can be better. Honestly I don't want to work for any other place right now." 
 
Ira Titohea – the Māori Innovation Hub 
 
A purpose-built Māori Innovation Hub within the Callaghan Innovation Quarter in Lower Hutt was opened. 
 
Chief Executive Hemi Rolleston says Callaghan Innovation sees the need to support Māori business leaders to pursue innovation and entrepreneurship, as well as seek out and connect with business and investment partners. 
 
"The quarter contains some of the best minds, facilities and equipment for technology and product development in New Zealand," says Hemi. "It is a place to connect with Māori, feed your mind and cook up new ideas."