Kat grew up in Auckland living the life portrayed in the movie Once Were Warriors. She experienced things children shouldn't and these experiences have left a dark mark. She has seven children from two relationships but only two live with her. She is working with agencies including Tāmaki ki Te Tonga District Māori Wardens to build a brighter future.
Published: Friday, 24 May 2019 | Rāmere, 24 Haratua, 2019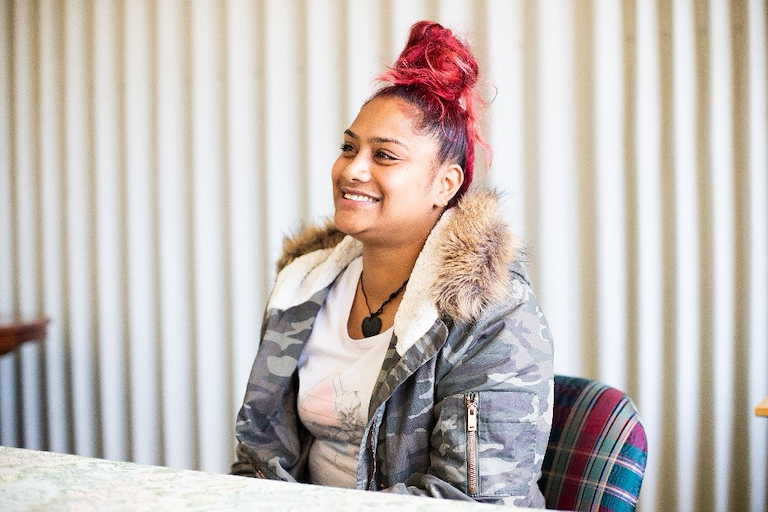 Kat was a victim of all bad things that children should never experience.  She thought life for Māori was what was portrayed in the movie Once Were Warriors because that's how she lived.  She was ashamed to be Māori so was quick to tell school friends she wasn't.
"I knew I was Māori but I tried not to look Māori.  People thought I was Indian which was great," says Kat.
Kat left school without any real plans for the future and she was surrounded by friends and family who were content to live the life of a stereotypical young low socio-economic urban Māori. 
At 19 years of age Kat had her first child and felt he brought a new beginning to her life.  By age 39 Kat had seven children from two relationships, but over a period of 10 years all of her children were removed from her care.
Kat's eldest was born with a disability so his Nana raised and cared for him.  Three more children were born into the home surrounded by drug and alcohol abuse, mental health issues and domestic violence.
The eldest child was returned to Kat when he was seven but she didn't have the support so he became a Ward of the State until he came back to Kat at 18 years.  The other children were being cared for by their father.  Unfortunately attracting similar experiences as Kat.
Sadly Kat's next relationship was similar leading to the removal of Kat's youngest three children.
"I needed help.  I love my children and I want them with me but I knew I needed help before that could happen," says Kat.
Mangere Māori Wardens Group helped Kat secure a home and furnishing.
Tāmaki ki Te Tonga District Māori Wardens have helped Kat and her children get to their counselling sessions, and to lawyer and CYFS appointments.  They have also supported her at meetings, helped her with budgeting, with CYFS Family Group Conferences, and given her support when she was feeling depressed.
Matarora Smith is a Māori Warden at Tāmaki ki Te Tonga District Māori Wardens. She has known Kat for nearly 12 years but remembers her mum visiting the Māori Warden office in Otahuhu and Mangere with all of the kids.
"They would come in and make themselves at home.  We would give them a drink and a biscuit and sometimes watch them while Kat's mum was out buying groceries. Sometimes we would take them all home as well," says Matarora.
"Kat is now a mother and she and her children need our help.  She doesn't have many people in her life that she can depend on or go to for help. We've been there for Kat and her children for over a decade providing support and mentoring, helping with food, providing clothing, and making significant moments like the children's birthdays special."
The Tāmaki ki Te Tonga District Māori Wardens went with Kat to meetings with CYFS, CADS (Community Alcohol and Drugs Services), Church Groups and counsellors so that they could support her and help her understand what changes were needed.
"Kat has been working hard towards building a brighter future.  Kat is a single mum now and has moved suburbs into a Social Housing home big enough for her and her two oldest children who now live with her.  She understands the importance of budgeting to ensure she has money for food, utilities, clothing and personal items," says Matarora Smith.
Kat continues to attend counselling and meets regularly with her younger children.  She is working towards having her three youngest children back at home with her.
The Tāmaki ki Te Tonga District Māori Wardens remain a vital supporter of Kat's development of which she is extremely thankful.
"The Māori Wardens have given me so much, without judgement.  They have helped me and my children and they love me even after seeing me at my worst," says Kat.
"I spend time volunteering at the Māori Wardens office as a way of giving back. I can see a brighter future for me and my children. I hope to become a strong Māori wahine so that I can positively support other wahine who need help."
"Kat and her children are a part of our Tāmaki ki Te Tonga District Māori Wardens whānau so we will keep supporting them along their journey," says Matarora.
Tāmaki ki Te Tonga District Māori Wardens area includes Franklin, East Auckland and Otahuhu.