When talking with Tui Marsh, Te Puni Kōkiri Regional Manager for Te Tai Tokerau, you quickly get the sense that her life has always been dedicated to giving back to our people.
Published: Wednesday, 22 April 2015 | Rāapa, 22 Paengawhāwhā, 2015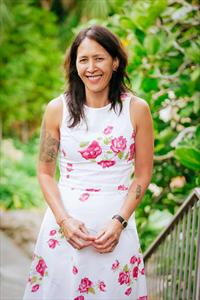 "My upbringing taught me that you cannot go through life just taking. You have to give back," says Tui.
"I believe in our people and feel that I have a responsibility. It might be hereditary, [because] when I look at my whānau, there are servants aplenty: school teachers, armed forces, senior public servants, social workers. And now I need to make a meaningful contribution."
Tui believes that one of the ways you can do this is to know the people you serve, "I like to think that the trick is to know the people you are working with".
As to how to do this effectively she says, "I'm a 'horses for courses' person. Getting the job done the first time correctly, this requires people with the right skills for the mahi. Integrity, courage, generosity and the ability to stay the distance are drivers when working with our people".
In her former role at the New Zealand Qualification Authority, where she was for 14 years, Tui was given the opportunity to influence policy and service delivery within the tertiary education sector, ensuring it worked effectively for Māori.
When the Regional Manager vacancy was advertised Tui was attracted to the new opportunities that came with working at Te Puni Kōkiri.
"We have a great operating model – being results focused, working proactively with others to achieve results, pooling our talent, and building a learning culture.
Te Puni Kōkiri is focused on development and realising potential, this really resonates with me and the opportunity to be part of this in my own rohe is indeed a privilege."
When asked what she hopes to achieve in her mahi, her reply is rather simple: "That as a team we strengthen our people. We enable our people to do it for themselves and increase their options, create success stories within our rohe, and above all else we make good promises and deliver."
When Tui says 'we' it is not of the 'royal we' variety – it is of the 'tātou' variety. Her whakapapa links Tui to Ngāpuhi and Ngāti Porou, though we suspect she has more than a soft spot for the north. Her husband of 37 years Phil Marsh, who she describes as a 'nanakia', is from Utakura, Hokianga.
Her parents Emerina and Pene Te Wahanga Dalton were both born and spent much of their early years in Te Tai Tokerau. Tui was to be named for her mother's oldest sister Hinemoa. Like many of our whānau who inherit nicknames, the 'Tui' moniker pays tribute to an aunty.
Tui comes from a big whānau – she is the sixth of eight children, and has three of her own. Mokopuna number three is expected in June.
All three of her children live in Canberra, Australia. Tui hopes one day they won't need to live in Australia, and return to mahi that will benefit our people.
Tui Marsh is Te Tai Tokerau Regional Manager and is based at the Whāngārei office – her contact details can be found here.