Emma Foy's win at the Trillian Trust Māori Sports Awards 2014 represents a very special moment in a growing tally of successes for the New Zealand Para-Athlete: It was the first time she could step off the winner's podium and into the arms of her whānau.
Published: Thursday, 4 December 2014 | Rāpare, 04 Hakihea, 2014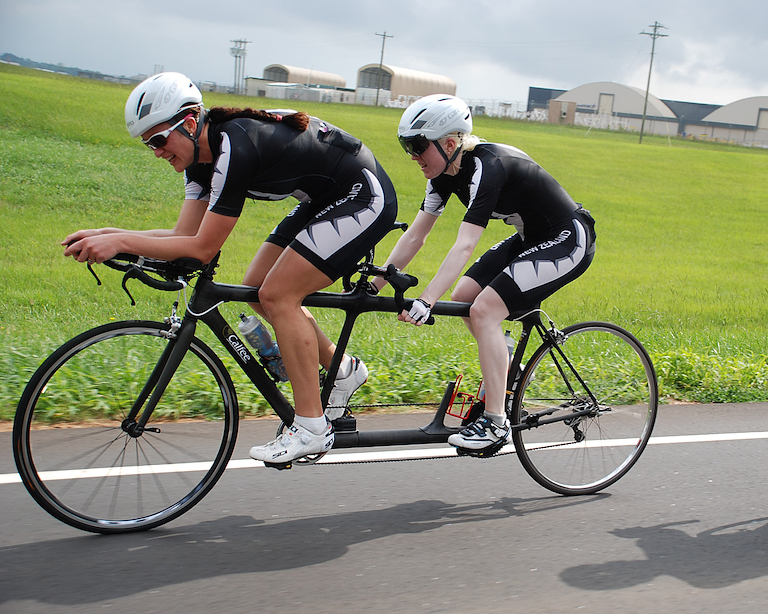 The 25-year-old from Ngāpuhi, won Te Toihuarewa – Disabled Māori Sports Person of the Year. Emma's parents, Jo and Sandy Foy, uncles and aunties were there to share in her acceptance of the award.
"Most of my competitions are overseas," Emma explains.  "When I win, I celebrate with my team – so it was really nice to celebrate a win with my family. I'm one person and behind me is a World Class team, and the best supporters that anyone could ask for. It's a team effort."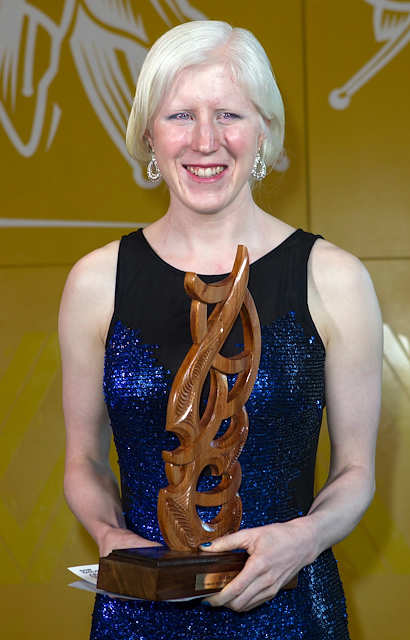 The Māori Sports Award rounds off almost two years since Emma first trialled at a Paralympics New Zealand talent identification day. She was quickly recruited to the High Performance team as a tandem cyclist, beginning a fast track to the Rio 2016 Paralympic Games in Brazil.
Tandem Para-Cyclist compete in both road and track racing events. The team includes a sighted pilot on the front and a visually impaired rider on the back of the bike. Emma is visually-impaired, a condition of her albinism.
With her sighted pilot Laura Fairweather, Emma set a new World Record and won Gold in the B 3km pursuit at the 2014 UCI Para-Cycling Track World Championships at Mexico. The pair also won two other Silver and one Bronze medals at other Para-Cycling track and road competitions around the world this year. Every win and placing represent points, increasing her eligibility to represent New Zealand at the next Paralympics.
Emma describes tandem cycling as 'comparable to a rowing pair': "You're both putting in the effort. You're in synch and aware of what the other person is doing. You can feel what she's doing, working hard or easing off. You're matching each other for effort – one can't carry the other or you'd get tired really quickly.
"It's a team effort and I would like to acknowledge Laura, my pilot, as I couldn't do it without her. She deserves just as much of the award as I do."
Born and raised in Dargaville, Te Taitokerau, Emma is from a sporting family. Dad Sandy plays bowls, Mum Jo does a lot of tramping, older brother Henry plays rugby, and younger sister Helen is a dancer.
Emma, and her pilot, have the backing of their coach Brendon Cameron. He says a good tandem pairing usually needs two or three years to develop. Emma and Laura's achievements surpassed expectations, bearing fruit in 18 months. Cameron says their successes set them for Rio 2016.
"They both possess the same qualities of being talented, tough athletes who have strong work ethics. They also have a good balance, a good laugh and enjoy what they're doing. With a great team behind them the road to Rio is indeed an exciting one."
He toa takitahi, engari he toa takitini.
Te Puni Kōkiri is a proud sponsor of the Trillian Trust Māori Sports Awards.