The New Zealand Wars Ngā Pakanga o Aotearoa were major events in our history, and their impact continues today.
Published: Thursday, 16 February 2023 | Rāpare, 16 Huitanguru, 2023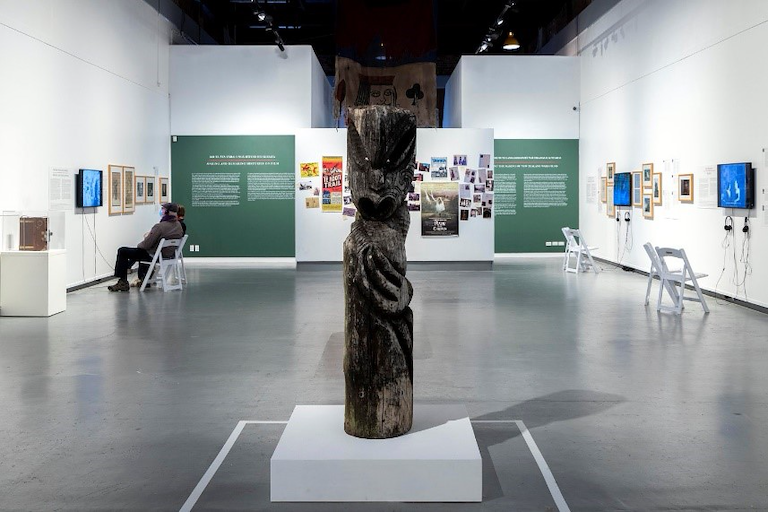 From late August to early November 2022, The New Zealand Portrait Gallery Te Pūkenga Whakaata held an exhibition entitled, He Riri Awatea: Filming the New Zealand Wars.
Made with support from Te Puni Kōkiri fund Te Pūtake o te Riri, in partnership with Ngā Taonga Sound and Vision and the National Library of New Zealand (Te Puna Mātauranga o Aotearoa), the exhibition shows the making and remaking of our history as interpreted through various films, television series, and digital storytelling formats. The 11 films featured in the exhibition are available to watch here on the New Zealand Portrait Gallery website. 
He Riri Awatea means a battle in the daylight. The title gestures to cinema's primary element - light - but also proposes a 'fresh take' on the New Zealand Wars, and the 'history of their histories' on screen.
Museum Director Jaenine Parkinson said the exhibition was based on a book by Annabel Cooper called 'Filming the Colonial Past: The New Zealand Wars on Screen'.
"Annabel is an historian and worked on the book for 10 years, so when I asked to make it an exhibition; she said 'yes'," said Jaenine.
The exhibition was curated by Annabel Cooper and Ariana Tikao, who went through multiple iterations.
"We spent time searching for the right images and stills from the movies. Each cluster of story excerpts is grouped by theme.
"While the contributions of Pākehā filmmakers are noted, such as Rudall Hayward and Vincent Ward, the decision in this exhibition was made to foreground Māori voices," Jaenine said.
Jaenine said the exhibition was curated in three parts: the history of the New Zealand Wars, the history of filmmaking in Aotearoa New Zealand, and of rising tangata whenua agency over their stories.
In the time it was running late last year, the exhibition consistently attracted around 70-100 people through a day, with more tāne than usual visiting.
There was also a lot of interest from kura, particularly secondary school teachers.
"They're hungry for simple, accessible, and emotionally powerful content that engages young people. Film does that," said Jaenine.
Te Puni Kōkiri fund Te Pūtake o te Riri supports whānau, hapū and iwi to initiate, promote and deliver activities and events that commemorate the New Zealand Land Wars.
The approach contributes to the revitalisation of traditional knowledge that aligns with the guiding principles of Te Pae Ki Tawhiti 2020-2040, the strategy for Te Pūtake o te Riri and the Crown's Strategy for Māori Language Revitalisation 2018-2023.
Read more about the exhibition on the New Zealand Portrait Gallery website, including watching the 11 films featured in the exhibition at home.