Hone Tipene has adapted the traditional earth oven for a modern lifestyle. He now has a successful business with an expected growth of 150%.
Published: Wednesday, 31 August 2016 | Rāapa, 31 Hereturikōkā, 2016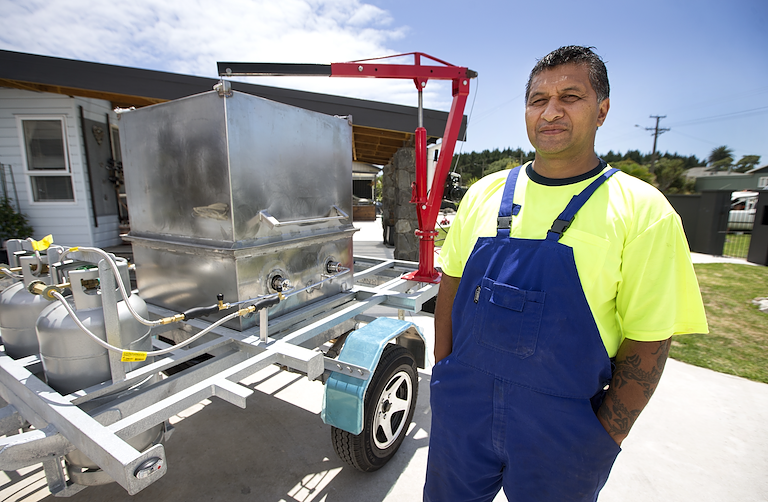 Since its creation, Te Kōhatu Hāngī Cooker has proven to be popular with whānau and marae in Aotearoa, with an increasing demand for the cooker from overseas markets.
Last year Hone Tipene (Tainui, Ngāti Awa) developed an ambitious business plan to target the Australian market. If successful, there is potential to eventually make Te Kōhatu Hāngī Cookers a seven-figure company. This success is reflected in the 90 per cent of pre sales.
"I have orders from Australia that triples my expected business growth targets," said Hone.
He says without the support of whānau, community groups and organisations, his journey would have been a much harder and longer one. But no matter what, he says to dream, to believe, to be determined and to ask. "It's unbelievable how many people are willing to help you if you have passion and believe in what you are doing."
"SteelFab Engineering Limited allowed me to use their workshop for over a year, and provided invaluable mentoring. Fred Quilter of Q Transport let me use his yard and forklifts to load our export containers. Jennifer Patterson of Venture Taranaki helped with intellectual property issues and continues to assist my business."
Hone is quick to recognise the support and networking opportunities his business has received through the Māori Business Facilitation Service led by Te Puni Kōkiri.
"The process of working with the Māori Business Facilitation Service connected me with people to help build my business case. I have been lucky to be mentored by Amokura Panoho and I Studios who have offered me a range of skills and expertise such as marketing, sales, website construction and video production."
He admits the hāngī cooker is not a new idea and by no means is taking claim as inventor of the above ground hāngi cookers. His wife's father has been using volcanic rocks in hāngī cookers for decades. Rather he has put together a new and improved stainless cooker design that improves efficiency and produces delicious hāngī meals every time.
"I was always curious about engineering and mechanics. I pulled my first car apart when I was fifteen years old. Working with my hands and problem solving to make it work better are key factors for my success today. Not to mention the complete support of my wife and her whānau," says Hone.
In 2011, Hone needed medical treatment so his whānau relocated to Taranaki and surrounded themselves with whānau. The next 18 months gave Hone the time to develop his idea with the added support of local businesses and community groups.
"The success of Te Kōhatu Hāngī Cookers has meant that we can support our local community. The Waitara kaumātua group have been commissioned to supply basket covers and outdoor covers, as well as t-shirts, caps and mittens. We also employ six staff full time. Being able to give back is so rewarding," says Hone.
"I love being Māori and with everyone's help I have developed a business kaupapa quintessential to Māori. I meet new customers under the korowai of tikanga. We get to know one another before any business is discussed. There is a uniqueness in how Māori do business and it is attracting interest from customers."
Te Kōhatu Hāngī Cookers currently builds two domestic models, and three commercial models that can cater for 100 to 300 people. This year they added a new mobile trailer cooker that can cater for up to 750 people.