Read about Patricia Grace's Haka! Whiti Te Rā! And find out how you could win a copy her new children's book.
Published: Thursday, 17 September 2015 | Rāpare, 17 Mahuru, 2015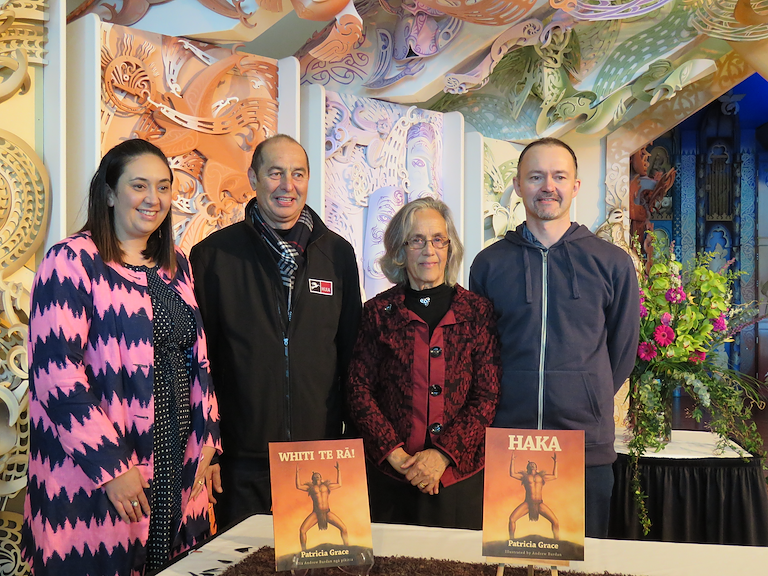 The story behind the world's most famous haka Ka Mate has been retold by distinguished author Patricia Grace; and the author hopes her new children's book will encourage young people to enquire further into their stories and history.
A key figure in the emergence of Māori fiction in English since the 1970s, in her new book Haka! Ngāti Toa chief Te Rauparaha tells his people about the events which lead to him fearing for his life, and his triumph over death.
As he recounts this adventure to his people, his words are repeated and the haka rings out, and is now passed down from generation to generation.
Patricia, who is Ngāti Toa, Ngāti Raukawa and Te Āti Awa, said the book complements long-term exhibition Whiti Te Rā! The story of Ngāti Toa Rangatira at Te Papa.
Available in English and a Te Reo Māori edition titled Whiti Te Ra!
Kōkiritia has one copy to give away. To go in the draw, name the haka the All Blacks will do ahead of their Rugby World Cup pool matches? There are two haka, and you must name either correctly.
Email your answer to kokiritia@tpk.govt.nz, along with your name and contact phone number, and if you'd like a copy in English or te Reo Māori. The winner will be announced in the next edition of Kōkiritia – entries close Friday, 9 October 2015.
Ngāti Toa Rangatira is Iwi in Residence at Te Papa. Te Puni Kōkiri is Iwi Development Partner associated with the residency.
Photo caption: Left to right: Eboni Waitere and Brian Morris (Executive Directors of Huia Publishers), Patricia Grace (Author) and Andrew Burdan (Illustrator).