ICT is integrated in all sectors and rapidly advancing. Statistics show that Māori fall behind other New Zealanders when it comes to access, usage, employment and education in the ICT sector. With Māori making up less than six percent of those working in the sector, ICT still remains an unopened door of opportunities for Māori.
Published: Thursday, 30 May 2019 | Rāpare, 30 Haratua, 2019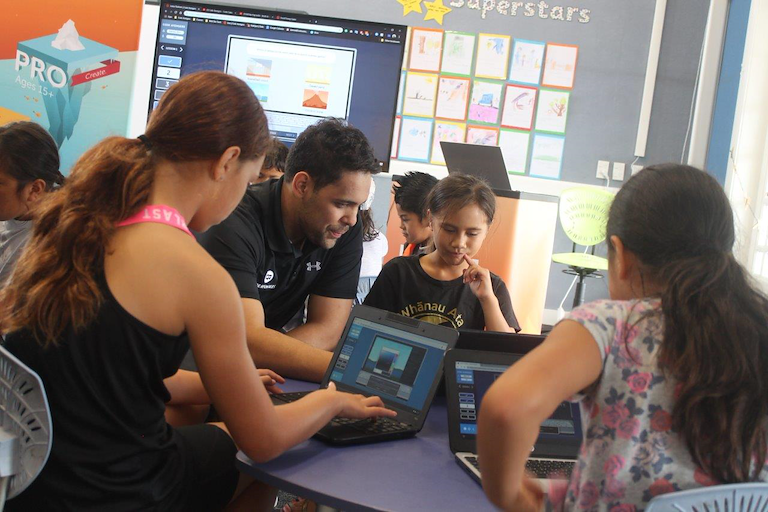 Over the last three years the number of ICT professionals has grown from 58,700 to 67,900 (14 percent increase), and even though the number of Māori in ICT has increased 52%, it is still only 5.6 percent of total ICT professionals at 3,800 (Household Labour Force Survey, 2018 December quarter).
Online Education Limited (trading as Code Avengers) only has 20-30 staff but has exponential growth potential because of the high national and international demand for their online education product and service.
In 2018 Code Avengers took on three rangatahi Māori as cadets through the Te Puni Kōkiri Cadetships programme. Three may not seem like a big number but at Code Avengers that's 10 percent of their total staff, demonstrating their commitment to supporting the development of more Māori within the ICT sector.
"The ICT sector is moving fast and we have to keep up. We are committed to ensuring Māori aren't left behind," says Adam Walmsley, Code Avengers Head of Marketing.
"Māori are high casual users of technology but for some reason aren't turning this casual use into a career. We want to help them make that shift."
Damon Khan (Te Arawa) was studying computer science at the University of Waikato before taking up a part-time intern role at Code Avengers in 2017. This allowed him to apply his learnings in a real work environment.
"After seeing Damon progressively develop we wanted to continue supporting Damon, and other Māori entering the ICT sector, so we partnered with Te Puni Kōkiri through its Cadetships programme," says Adam.
The Cadetships programme supports employers taking on full-time cadets for at least six months development in permanent jobs. Employers can receive up to $10,000 for each cadet, but they must commit to their mentoring, training and development.
"The funding received through the Cadetship programme has meant we can give more Māori the opportunity to gain real on-the-job ICT work experience," says Adam.
The overall goal is for Māori to thrive and contribute to the wellbeing of their whānau and community. A cadetship opportunity provides Māori with a structured and tailored pathway to gain skills and experience with permanent employment, transferable skills and a more prosperous future.
"I have gained so many skills and new experiences at Code Avengers. I've been supported by my mentors to grow and develop, and because of their support, and putting in the hard work, I'm now a permanent, as an Education Consultant. Ehara taku toa, he takitahi, he toa takitini," says Damon.
"Code Avengers have also supported my whānau. They let me work from home for a while when our first baby was born. Their support meant I could be home supporting my partner and our baby. I was so thankful for that."
Code Avengers have committed to developing five more Māori cadets in 2019. Damon will have a mentoring and supporting role in their development.
"It's about growing leaders," says Adam. "Damon started with us as an intern, then become a cadet, and now he is one of our leaders. We have confidence in his ability to help develop and lead the next generation of Māori cadets."