Two Te Puni Kōkiri kaimahi were celebrated for their outstanding work and commitment to New Zealand and New Zealanders at the 2022 Public Service Day Awards.
Published: Tuesday, 15 November 2022 | Rātū, 15 Whiringa ā-rangi, 2022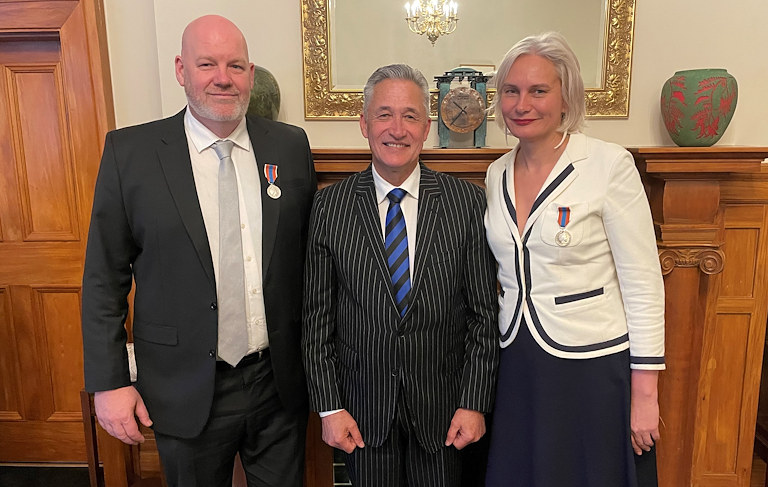 Grace Smit, Hautū Strategy, Finance & Performance, and Geoff Short, Hautū, Policy Partnerships, were both presented with Te Tohu Ratonga Tūmatanui o Aotearoa - The New Zealand Public Service Medal.
The medal is part of the New Zealand Royal Honours system and is awarded for exceptional service by employees in the New Zealand Public Service.
The full list of public servants who received medals this year can be found here on the Te Kawa Mataaho website.
Grace Smit
Grace Smit has considerable experience in public sector management, and in working with matters of great significance to Māori. She is committed to the wellbeing of whānau Māori, and to helping ensure government involvement in this kaupapa is effective.
Grace came to Te Puni Kōkiri from the Ministry of Justice as Director of the Waitangi Tribunal and the Māori Land Court. She earlier held roles in the Department of Corrections and the tertiary education sector.
She started at Te Puni Kōkiri as the Deputy Secretary Organisational Support, and took on her current role in mid-2022.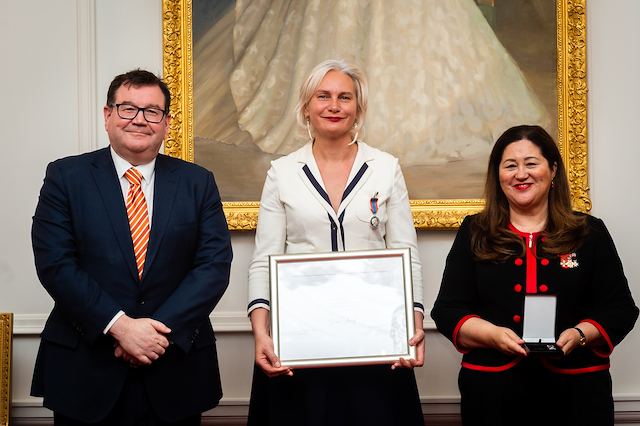 In the second half of 2021, Grace stepped in to be the Te Puni Kōkiri lead for the establishment of the Māori Communities COVID-19 Fund. This cross-agency kaupapa was set up to provide urgent funding support to improve Māori COVID-19 vaccination rates.
Grace's willingness to take on this role, which demanded enormous strategic skill, cultural knowledge, time, and energy, exemplifies her spirit of service.
Grace is an inspiring colleague and manager, bringing her unique perspective to the Te Puni Kōkiri executive leadership team and continuously challenging the organisation to do its best.
Geoff Short
Geoff Short is a long-term public servant, highly regarded across the sector for his skills in policy development and leadership. He has a deep understanding of what makes good, durable policy that meets the needs of New Zealanders, specifically whānau Māori.
Geoff played a key role in framing the Te Puni Kōkiri COVID-19 response - utilising policy formation as the basis for effective, equitable delivery, while recognising the challenging timeframes of this kaupapa.
As the leader of our Policy Partnerships Puni, Geoff ensures advice to government is informed by the voices and experiences of whānau Māori. Geoff's work is shaped by his understanding that effective government policy enhances the wellbeing of all citizens, but is not 'one size fits all'.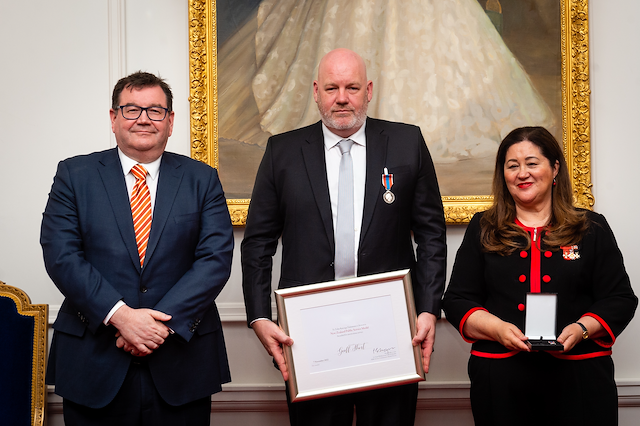 Whanau-centred policy is crucial to government's work with, and in support of Māori communities. Geoff's policy leadership within and beyond Te Puni Kōkiri has brought this concept to the forefront of policy development in Aotearoa, and will influence outcomes across the public service for years to come.
Geoff's leadership in this area shows his willingness to continue learning, demonstrating his commitment to the public service, and to Aotearoa.
We are exceptionally proud of both Grace and Geoff for these achievements. Their work exemplifies the values and strategy of Te Puni Kōkiri, and demonstrates their commitment to helping whānau thrive.
Photo credit: Mark Tantrum Photography.