Te Waipounamu kaimahi are working hard to help Māori get immunised.
Published: Friday, 3 December 2021 | Rāmere, 03 Hakihea, 2021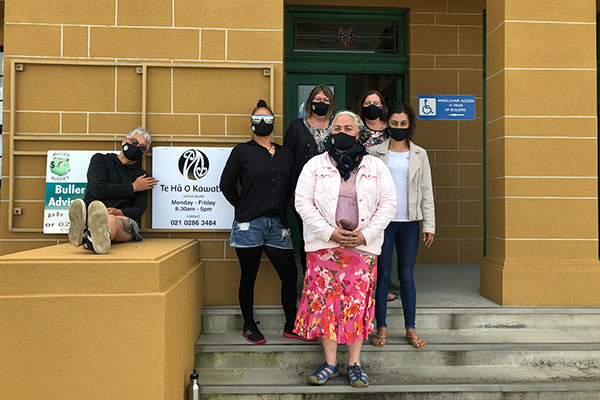 In Invercargill last weekend 223 people, mostly Māori and Pacifica, were vaccinated at a drive-through clinic at the ILT stadium, run by Awarua Whānau Services, which had previously done some in-home visits.
Mataura Marae has hosted two vaccination clinics specifically targeted at whānau from the southern chapters of the Mongrel Mob. During the clinics over 180 members and their whanau were vaccinated.
Maria Pera, Te Waipounamu Senior Advisor, said "Our Murihiku community is working extremely hard to reach the 90% milestone and beyond to ensure that our whānau remain safe over the summer. Key to this is education through wananga. We deliver information in a way that whānau understand."
The Mob President supported the wānanga and convinced his members that the vaccine was necessity for the future of the Club and the whānau.
Maria Pera stated, "We wanted the members to feel safe and welcome at our marae so we accommodated all of the whānau by allowing them to wear their patches on the Ātea, we provided incentives for those vaccinated, ice creams and sit-down meals for the tamariki and members, nurses were available to complete diabetes, heart and blood pressure health checks. This manaaki made all the difference."
Mataura marae will be running a third clinic event before Christmas for anyone that missed out.
Meanwhile in Westport - Kawatiri 75 people turned up at the NBS theatre to be vaccinated at the Karawhiua Kawatiri COVID-19 vaccine drive. This event was supported through the Māori Communities COVID-19 Fund.
Te Hā o Kawatiri held the free event for the Buller district in the NBS theatre carpark in with a free hāngī and coffees, cash prizes and other stalls. The hāngi, cooked by the Marsh whānau, was relished by kaumātua and the community who turned up.
Operations manager Rehia McDonald said the kaimahi were amazing, helping with stalls, serving kai, and cleaning up. They provided positive wairua and tautoko to whānau, all the while multi-tasking by supporting another event relating to Buller's flood clean up.
West Coast District Health Board nurses provided awhi for hesitant whānau members and helped kaumatua who needed assistance with other health matters.
The Buller Mayor and CEO attended and thanked Te Hā o Kawatiri for their mahi.