How do we capture and utilise the entrepreneurial and innovative skills of young Māori to drive our economic trade and development?
That's the question posed at several hui I have recently attended and I am pleased to say the answer was standing right in front of us.
Published: Monday, 21 September 2015 | Rāhina, 21 Mahuru, 2015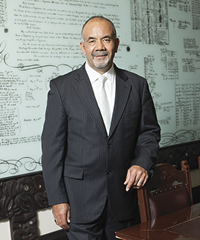 Young Māori women and men from all walks of life - future leaders – committed to business management, fisheries, aquaculture and  information technology – and willing and able to foot it with the best in the world.
I was privileged to be at the Ngā Whetu Hei Whai fifth annual conference to award scholarships to 45 young Māori to further their business studies and join intern programmes in the government and private sector.
Te Uru Rangi, a portal to the future is the name of the scholarship offered to Māori wanting to work in the ICT industry– an opportunity now made possible through 11 scholarships and which will put our people at the forefront of the thriving tech industry. 
It was fantastic to see Ngāi Tahu contribute $25,000 towards the scholarships and challenge other iwi to do the same.  As Che Wilson from Te Rūnanga o Ngāi Tahu rightly said 'this is an opportunity for a wind shift in our waka.'
And though we are making many strides in our development as evident in this issue of Kōkiritia, it would be remiss if I did not mention some of the stories we are seeing that remind us of just how much work we need to do as whānau hapū and iwi to nurture each other.
An early intervention and prevention focus that supports our men to cherish their partners and whanau instead of harming them must remain a top priority.
Rather than the veil of silence that exists around issues like family violence, we must support each other to talk about them openly and encourage others to do the same as this is where secrecy and shame flourishes.
As a White Ribbon Ambassador I believe that men want to be proud fathers, uncles, grandfathers and great husbands and partners. We want our tamariki and mokopuna to live in safe homes. Now and in the future, we want our men to be a part of the solution.
Violence in any form is a transgression of whakapapa and it is time to restore the home as a place of safety and love where healthy partnerships are the norm. Te mana kaha o te whānau!