Sitting outside the house her grandfather bought more than 50 years ago, Muri Rata smiles in the morning sun.
Published: Thursday, 4 February 2021 | Rāpare, 04 Huitanguru, 2021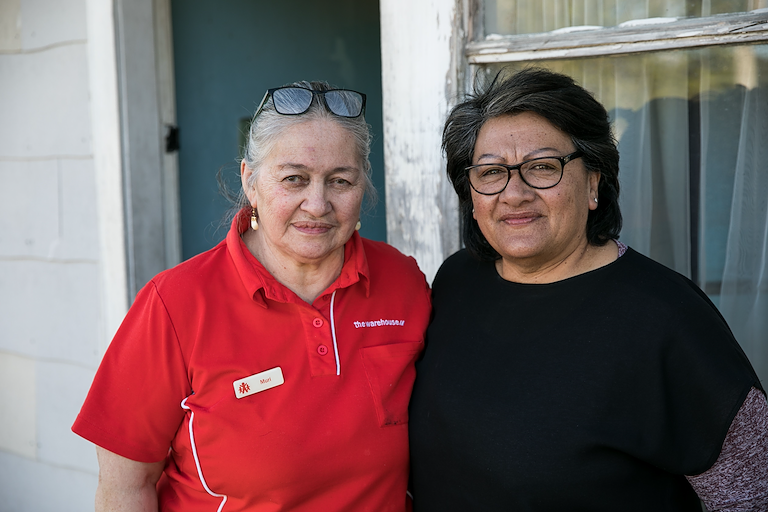 "My grandfather brought us up here with the idea that as long as you've got four walls, a roof and a floor – that's all you need," she smiles sheepishly, "But it's pretty good to have all these other little perks now".
The 'perks' are simply a bath, mould free floors, proper windows and a heat pump. Muri has always been grateful for the shelter her Te Kūiti whare has provided her whānau. But as she raised her three children in the home, then two mokopuna were born there - rot set in, windows broke and mould grew. Repairs were out of reach as other things took financial priority over the years. 
In winter, icy temperatures arrived. Windows that had been hammered shut to stop them falling out, let cold, damp air seep in with just an old fireplace to combat the chill. Muri points out where she and the whānau used to chop the wood for fuel.
"Now I just have the heat pump on low and when I come home from work it's nice and warm… No more chopping wood. I thought I'd miss the fireplace but I don't".
For Muri and her whānau the novelty of just "switching on the heat" is yet to wear off.
The essential repairs came down to the determination of three organisations. Te Puni Kōkiri, the Taumarunui Community Kōkiri Trust and Maniapoto Whānau Ora Centre are committed to reducing the number of whānau living in unsafe or substandard housing in order to curb the effects poor quality housing have on whānau wellbeing.  
Ngahora Borrell-Otimi works for the Maniapoto Whānau Ora Centre. She got the wheels spinning into motion when she learned that Muri's home needed repairs. Ngahora connected Muri with the Taumarunui Community Kōkiri Trust who had been funded by Te Puni Kōkiri to carry out essential and urgent housing repairs in the Taumarunui area.
Back at Muri's house, the back steps leading to the washing line were completely rotten. At any time the next person to step out with a heavy load of washing, could have fallen through. The dangerous steps were soon replaced with a safe and stable platform.
The bathroom had toxic mould damage from floor to ceiling. New lino, fresh paint, new spouting and a new vanity, bath and toilet transformed the space into a clean, modern area. The bath has even become a coveted asset in Muri's home with members of her whānau turning up to enjoy a long, hot, soak.   
Back outside the house in the sun, Muri looks around her section, grateful for the fruit trees that were planted decades ago; nectarines, peaches, lemon and plumb. As she points out the spot where her lime tree will go she shows that the roots of her whānau are as deeply buried here as the trees. Like them, they will flourish well into the future.

Photo: Muri Rata (left) had help from Ngahora Borrell-Otimi and others including Te Puni Kōkiri to get essential housing repairs made on her home so that it is a safe place for her whānau for many years to come.