Deputy Chief Judge Caren Fox has been announced the new Chief Judge of the Māori Land Court - an immense achievement of notable significance.
Published: Wednesday, 19 July 2023 | Rāapa, 19 Hōngongoi, 2023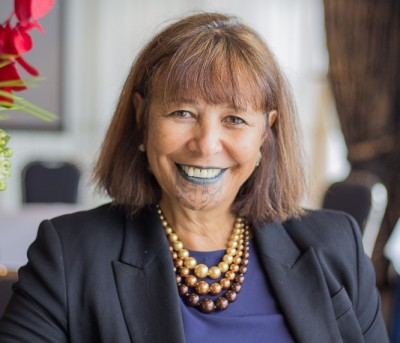 The appointment recognises her significant judicial experience, extensive formal qualifications, past leadership roles, as well as her competence in te reo and tikanga Māori, and understanding the role both play in the Court.
Also, Deputy Chief Judge Fox has been a member of the Waitangi Tribunal since 2000 and has attained a wealth of Treaty of Waitangi jurisprudence expertise.
She presided over the Central North Island inquiry, the largest inquiry in the history of the Tribunal, which contributed to the Kaingaroa Forest Settlement, and another inquiry that led to the first national Aquaculture Treaty Settlement. She is currently the presiding officer for the Porirua ki Manawatu claims.
In 2000, she became the first Māori woman appointed to the Māori Land Court serving in both Te Tai Rāwhiti and Waiariki districts. At the time she was one of only two women appointed to the Land Court since 1862.
She was promoted to Deputy Chief Judge in 2010 and became the first wāhine Māori appointed in that role. As a Māori Land Court Judge, Deputy Chief Judge Fox implemented a range of initiatives that were key to improving the effectiveness of the Court in her districts. One initiative was to extend her sittings to include Te Kaha and Ruatoria, to give people in those remote locations better access to the Court.
Her legal career spans three decades, where she has practised, taught, and researched law, and acted as a judicial officer. Deputy Chief Judge Fox has also recently completed her Doctorate in Indigenous Studies.
She was a specialist in international human rights, a Harkness Fellow to the USA from 1991 to 1992, and a Pacific Fellow in Human Rights Education employed by the Commonwealth Fund for Technical Co-operation from 1997 to 1999.
She received the New Zealand Human Rights Commission 2000 Millennium Medal for her work in human rights and was made a Distinguished Fellow of the Faculty of Law, Victoria University in 2022.
This appointment to Chief Judge Māori Land Court is an immense achievement of notable significance for Deputy Chief Judge Fox, her whānau, her iwi Ngāti Porou and Rongowhakaata, wāhine Māori and all wāhine in law.
Te Puni Kōkiri congratulates Chief Judge Caren Fox on her appointment.