A combined regional effort by different government agencies based in Hastings has earned them a spot at the national Māori Language Awards to be held in Napier later this year.
Published: Monday, 9 November 2015 | Rāhina, 09 Whiringa ā-rangi, 2015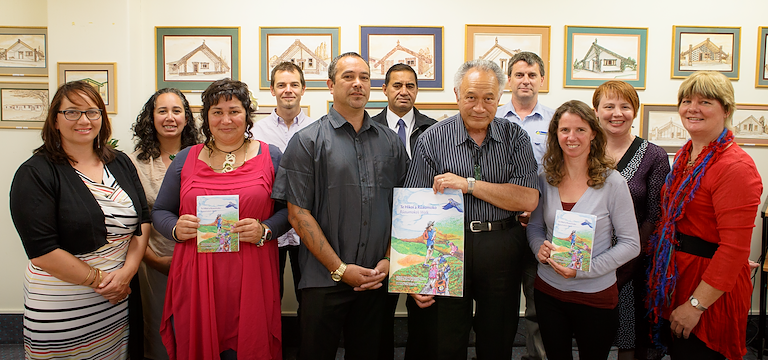 Me Noho Takatū a collaborative project involving a number of different regional government agencies has been selected as one of the finalists for the Local Government award at the 2015 Ngā Tohu Reo Māori – Māori Language Awards.
The awards held by Te Taura Whiri i te Reo Māori, the Māori Language Commission recognises excellence and long term commitment to te reo Māori from all sectors across Aotearoa New Zealand.
Monique Heke, Kaiwhakarite for Ikaroa-Rāwhiti office says that the working group is ecstatic to be nominated as a finalist at the awards.
"We're just so elated to be selected as a finalist at the awards – it's very rewarding especially on a unique project such as this."
The initiative included developing a number of bilingual emergency management resources which also contributes to the revitalisation of local rohe Ngāti Kahungunu reo and kīwaha (colloquial sayings).
We met two years ago, and at our initial hui we were discussing developing emergency preparedness resources aimed at early childhood education services and kōhanga reo says Monique.
"Ever since the initial hui in 2013 Me Noho Takatū has just carried on an upward momentum," she says.
The group shared skills, time and knowledge which resulted in a number of bilingual resources that have been successfully implemented to around 200 kōhanga reo and early childhood education centres - reaching almost (just under) 10,000 tamariki across the Hawkes Bay region.
Jae Sutherland coordinator of the project said that they had approached the Ministry of Civil Defence and Emergency Management, to fund the pilot project and to rollout the successful resources.
"At the time there were very limited resources available to educate young people under the age of seven years in English and nothing at all in te reo Māori.  We thought this was a really unique way for children within the Kahungunu rohe to learn about emergency management and te reo at the same time," said Jae.
A bilingual book – Te Hīkoi a Rūaumoko, Rūaumoko's Walk – written by Kahungunu language experts, based on Kahungunu legends relating to local hazards was also illustrated by a Kahungunu artist.
Nationally recognised Māori language exponent Materoa Haenga was the editor of the publication. She sadly passed away in March this year. She made a huge contribution not only to this project as the editor of the book, but her great support as an advocate of the revival of Kahungunu reo.
'Te kete pūrena a Materoa, hai waha i te kī'
'Materoa, the purveyor of knowledge, whose generosity knew no bounds'
 The Ngā Tohu Reo Māori Awards will be hosted on Saturday, 21 November 2015 at Pettigrew-Green Arena, 480 Gloucester Street, Taradale, Napier. For ticket information contact: info@tetaurawhiri.govt.nz.