As Tāmaki Makaurau continues to stay safe at home and the rest of the country moves to COVID-19 Alert Level 2, the vaccination mahi continues in Tūranga-nui-a-kiwa.
Published: Monday, 13 September 2021 | Rāhina, 13 Mahuru, 2021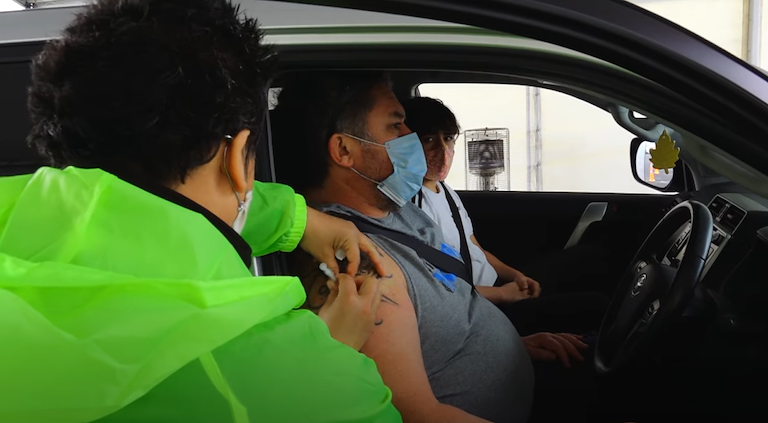 Tūranga Health recently led a drive-thru vaccination clinic that saw more than 1200 whānau vaccinated between August 31 to September 7.
"Given the demand for vaccination we are seeing occur across Aotearoa, we anticipate the drive-thru clinic will be central to supporting our accelerated vaccination efforts," said Tūranga Health Chief Executive, Reweti Ropiha.
The streamline operation was located at Harry Baker Reserve, a cricket and hockey ground named after former mayor of Gisborne. This central location has given more whānau access to the vaccine without needing to leave their vehicles.
ProTraffic was brought in to develop a traffic management plan, including setting up three lanes for vehicles and an observation area where whānau were regularly checked in on with a cup of tea and kai.
Te Puni Kōkiri supported Toitū Tairawhiti, in collaboration with Ngāti Porou Hauora and Tūranga Health, in the rollout of the COVID-19 vaccine targeting rural isolated communities.
Mere Pohatu, Regional Direct Ikaroa-Rāwhiti, said the rollout was about providing greater vaccine access to Tairawhiti whānau and by creating a targeted communications strategy that utilised community champions and trusted sources of information.
"I've had both staff and family members go through the 'Tūranga Vaccine Experience (TVE)' and they have emerged not only vaccinated safely but full of happiness with all the care, shared knowledge, support and of course music."
"This is tremendously important for our whānau in Turanganui- a-Kiwa," Mere said.
Reweti said vaccinations are not the only mahi staff at Tūranga Health are continuing.
"Our business as usual has also been redirected to support cold calling whānau.
"We'll find the nanny who is struggling, and we'll get them the support they require, this is our focus."