Twenty-five year old Jadd Mahia is able to start the year with a full licence thanks to a driving programme he attended run by Eastbay Rural Education, Activities and Programmes (REAP) in Whakatāne.
Published: Wednesday, 8 February 2017 | Rāapa, 08 Huitanguru, 2017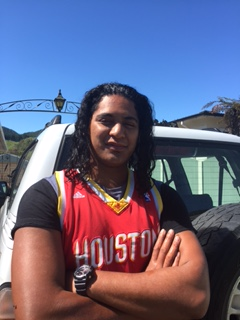 Jadd Mahia (Tūhoe) is one of 21 drivers from Kawerau that undertook the training initiated by local employers and Te Puni Kōkiri last year. The father of three is employed by labour contracting company Specialist Labour Hire (SLH) and works at Carter Holt Harvey Wood Products Kawerau Saw Mill. SLH is one of the employers that has taken the initiative to support their staff to achieve their full licence. "It really helped," says Jadd. "I was ok with my family in the car with my restricted, but now that I have my full licence it's less restricting and better for work."
Discussions between Kawerau employers and Te Puni Kōkiri last year highlighted the need for a licencing training programme for employees in the area. Driving training programmes are usually focused on those looking for employment. Harata Simpson from the TPK Whakatāne office explains the difference with the new initiative was that it was for those already in employment. "What we found when we talked to the employers in the area was that employees not having a full licence was making things like getting goods delivered or picked up and ferrying staff around to jobs a problem." The group also found that the inability of employees to take on extra responsibilities could also have an effect on employee's progression in the workplace.
SLH were one of the first to sign up employees for the programme. Carla Russell (Ngāti Pikiao), Job Coordinator for SLH, helped get the ball rolling with their staff. "I approached about 18 of our regular workers to see if they wanted to go on the programme. Jadd has been with us for over a year and had his restricted. I knew he was someone who could see the value in getting his full licence, not just for work but for his whānau too."
Māori unlicensed drivers drew attention in the media in 2015 when South Auckland police were encouraged by senior staff to offer offenders a two month reprieve when they were caught unlicensed or in breach of their licensing conditions. While the news stories focused on race, the initiative was in fact part of a comprehensive strategy to reduce Māori offending and road fatalities called The Turning of the Tide – a Whānau Ora Crime and Crash Prevention Strategy.
A Ministry of Transport report released last year noted licensing as a factor with 36% of high-risk drivers (those most involved in fatal crashes). Māori were reported as making up 41% of high-risk drivers in 2016 while European drivers were 51%.
The reasons why drivers delay getting their full licence are complex. East Bay REAP driving instructor El Alamein Tunui has seen it all and her knowledge of the learner driver process and her community has meant that she has been a key player in the success of the Employee Driving Programme.
"The older ones think they are too old, or aren't confident they know the latest road rules. Lots of people just don't understand the process or even the conditions of their licence."
Jadd and around 30 other trainees from the Kawerau, Ōpotiki & Te Whānau a Apanui areas attended theory and practical classes facilitated by El Alamein through local community education provider Eastbay REAP. Jadd sat and passed his full licence in December last year.
Despite the barriers, El Alamein is clear about what it takes to be a good driver. "The period between learner to restricted driving is crucial because that's where you need to embed the good observation and driving habits. After that it's practise, practise, practise."
Jadd's gratitude for the support of his employer SLH and the driving programme is also tinged with a little relief. "I'd had my restricted for over a year but hadn't gone for my full because I was worried about wasting the money if I didn't pass (NZTA full licence fee is currently at $109.50). The fact that they paid for my licence test made it easier financially but I didn't want to waste their money either. Luckily, I did ok."
Jadd plans to enjoy the rest of 2017 with his whānau and is encouraging his partner (who currently holds a learner licence) to work towards her full licence.
For more information go to: http://www.eastbayreap.org.nz/