A National State of Emergency remains in place to assist with the response to Cyclone Gabrielle in the affected regions of Te Tai Tokerau, Auckland, Tairāwhiti, Bay of Plenty, Waikato, Hawke's Bay and the Tararua District. 
Published: Friday, 17 February 2023 | Rāmere, 17 Huitanguru, 2023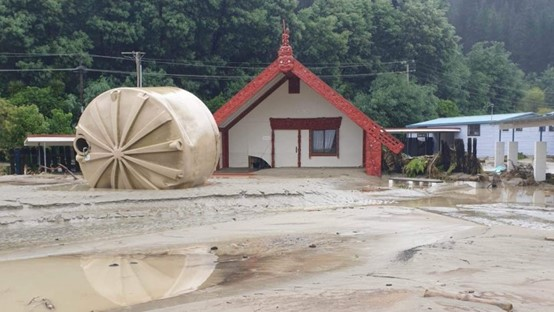 Many roads remain impassable, communications are limited in areas across the northern and eastern parts of Aotearoa and power supplies are expected to remain cut in some communities for several days to come.
Te Puni Kōkiri is working with local and national agencies to support the collective emergency response. 
Our 17 regional offices across the motu are providing insights and contributing to a coordinated response.  We are also connecting with other agencies involved in welfare responsibilities to provide support to affected whānau.
Regionally we are working alongside multi-agency teams on the ground and using our strong connections with iwi, hapū, marae and hapori groups to advise on the emerging needs of whānau Māori.
Our focus is on those needing shelter and support, but also collecting data and insights to inform what will be needed as we transition to a recovery phase.
Finding information
The local Civil Defence pages provide frequent updates about what is happening in each region.
Another good source of information are the Civil Defence  Facebook  and  Twitter  feeds. This will keep you up to date, help you plan for and respond to the emergency for your whānau, your community and your marae.
Whānau concerned about their friends and loved ones who they are unable to contact should use the New Zealand Police process to help find missing people.
Ways you can get support and assistance
Work and Income has help available if you're affected by Cyclone Gabrielle.  You can find information on this page for help with bedding, food, medical costs, power bills, repairs and replacements and other urgent or unexpected costs. 
You can call Work and Income to talk about what you need: If you're in Auckland, Northland, Waikato or Waitomo call 0800 400 100. If you're in other areas call 0800 559 009.  
Comprehensive information, including support payments, information on insurance, schools, tenancy, healthcare, wellbeing, animal welfare can be found on the Civil Defence website. Civil Defence payments are available for:
emergency food, clothing and bedding if yours has been damaged or destroyed by the weather.
costs if you've had to leave your home.
loss of income because you can't work due to the weather impacts.
a payment if you have evacuees staying with you in places such as a private home, marae or community centres.
You can find information about accommodation assistance here.
The Government is providing an initial $4 million to help farmers, growers, whenua Māori owners and rural communities to mobilise and coordinate recovery efforts. Farmers needing support around dealing with floods are encouraged to visit this page on the Ministry of Primary Industries website.
Information is available from the Ministry of Business, Innovation and Employment regarding looking after employees, operating safely, insurance, finance and banking and landlord responsibilities.
Go to Waka Kotahi to find out the latest on regional road closures and delays.
Whānau Ora support
The following Whānau Ora providers are supporting whānau with things like kai, temporary shelter or accommodation, and wellness checks:
Te Whānau o Waipareira (West Auckland) – 0800 924 942 (open 8am to 8pm)
Ruapōtaka Marae – Glen Innes, Orākei, Panmure – 027 2908771
Manukau Urban Māori Authority – Mangere and Papatoetoe – 0800 686 232
Manurewa Marae – Manurewa and Manukau – 029 2005540
Papakura Marae – Papakura – (09) 297-2036 (0800 82627454)
Huakina Trust – Pukekohe – (09) 238-0250
Check with your local Civil Defence Group if you are outside Auckland for the locations of Civil Defence Centres that can provide immediate support.
Pasifika Futures is supporting whānau to access food, support packages, accommodation, relocation, healthcare, mental health, translation services, pastoral care support, insurance and social service support. You can find more information here or by calling 0800 388 7373.
Other support is also available at:
The Fono Feleoko Food Hub - 0800 366 648
The Village Community Services Trust 021 845 535 – it includes a food parcel request link
CIDANZ – 027 303 1832 and 027 310 3675  
South Seas Healthcare 080 31 13 31