On the shores of Tasman Bay, Kaupapa Tupuranga is cultivating career pathways on the green pastures of Motueka. Beginning in 2019, the Cadetship programme was created with the aim to connect, grow, and develop whānau on their own whenua.
Published: Tuesday, 1 November 2022 | Rātū, 01 Whiringa ā-rangi, 2022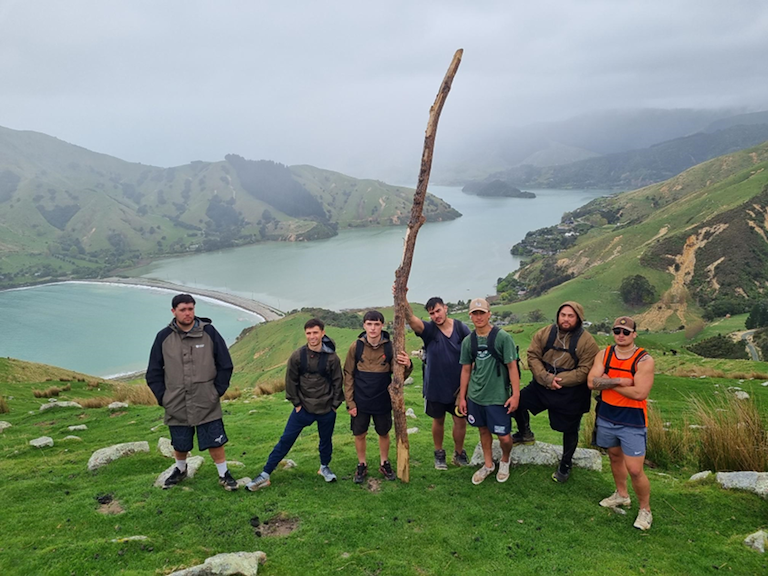 The current programme has an emphasis on working and learning in a horticulture and agriculture setting through a te ao Māori lens.  
"We aim to upskill our cadets, allowing them to do what interests them and thrive in that area," says Hoani Takao (Ngāti Rārua, Te Atiawa ), the lead organiser for Kaupapa Tupuranga.   
 
The cadets on the Kaupapa Tupuranga programme are supported to build individual development plans, including goal-setting and strength-finding. The programme gives back to their community and allows the cadets to reconnect with te ao Māori. 
 
Through Te Puni Kōkiri Cadetship funding, Kaupapa Tupuranga has been able to hire 10 cadets each intake for twelve months. Ultimately, the programme strives to shift the cadets into further employment. Some cadets continue their work with Wakatū Incorporation. 
During the programme it was highlighted that a cadet had an interest in working in the human resources (HR) space. He was then offered further training and employment, and now works fulltime on the Wakatū HR team. Another cadet, who had no prior experience, joined the programme working in the orchard and māra kai. Through development and upskilling he is now in a supervisory role within the organisation. 
"The programme allows cadets to earn an income," says Hoani, "while focusing on their aspirations and reconnecting to their whānau and whenua" 
Kaupapa Tupuranga aligns well with our Te Puni Kōkiri strategic priorities of Te Ao Māori and Māori Economic Resilience. The cadets leave the programme with experience, passion, transferrable skills and most importantly their Māoritanga.  
Kia mau te wehi!