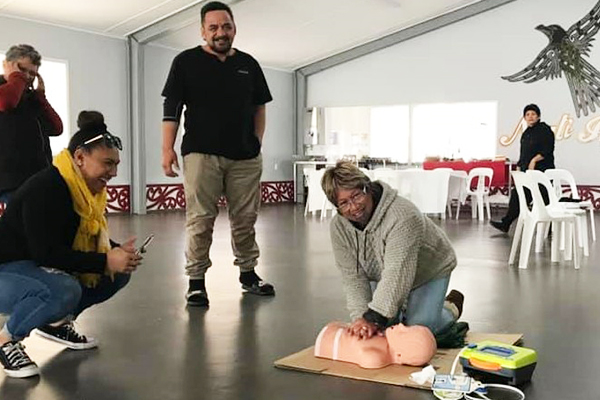 The scenario they never want repeated, is of being gathered at their marae – a home, shelter and spiritual protector - when a loved one collapses, and no-one knows how to help. The nearest medical assistance is over an hour away, and the only thing to do is wait.
With these scenes etched strongly in their minds and a desire to be better prepared, the Ngā Ringa Ngaio Whakaora project was created.
In partnership with Whakatōhea iwi, led by Pro+med EMS Trust (a training provider) and supported by Te Puni Kōkiri, 10 rural marae will be equipped with a AED defibrillator and emergency first aid training provided to up to12 whānau at each marae.
The first aid training started at Ōpeke Marae in Waioeka on Saturday 11 July 2020, followed by a session at Terere Marae on Sunday, with the other eight marae to receive the training over the next few months.
 "Our marae is at least 30 minutes away from the nearest medical assistance so installation of a AED defibrillator and the first aid skills that our whānau members will learn will be life-saving," Ōpeke Marae spokesperson, Paeone Guinin, says. 
 "After the successful pilot of this programme at Ngaitai ki Torere marae, Te Puni Kōkiri is supporting the rollout of the programme to a further 10 Whakatōhea marae. It will help to empower the well-being of whānau and perhaps see further roll outs not only across the region but throughout the motu," Deputy Chief Executive Regional Partnerships (Acting), Rachel Jones, says.
Te Puni Kōkiri has supported the delivery of the training across the marae, through the Maori Development Fund. The fund supports partnerships and regional initiatives that help empower Iwi development, skills, learning and leadership, and supports te ao Māori and whanaungatanga.
You can watch a video of the story from Te Ao here: https://www.teaomaori.news/rural-marae-get-emergency-first-aid-equipment-training