Photo caption: Executive Directors and owners of Huia Publishers, Brian Morris (far right) and Eboni Waitere (second from right), are ardent advocates and supporters of Māori literature and Māori authors. Huia Publishers have been telling and publishing Māori stories for almost 24 years.
As well as being an award-winning publisher, Huia initiated the Pikihuia Awards for Māori writers to celebrate and develop Māori writing and to showcase Māori literature.  The 11th Pikihuia Awards are now open and close on 31 May 2015. 
Published: Wednesday, 22 April 2015 | Rāapa, 22 Paengawhāwhā, 2015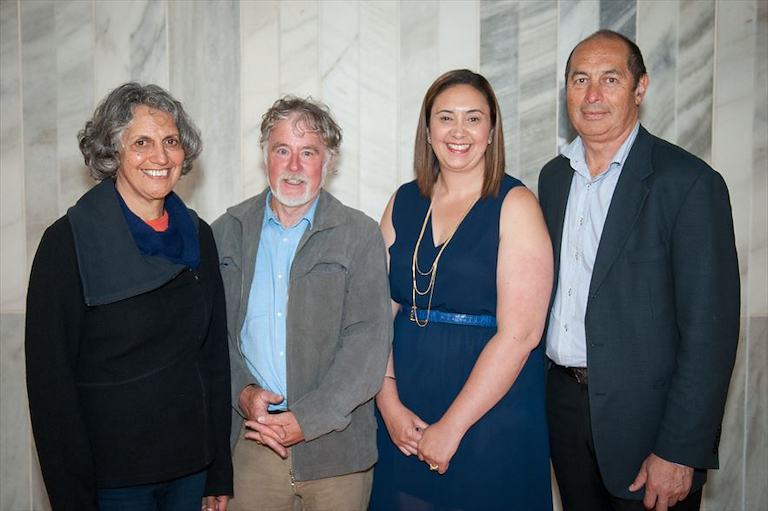 The Awards are an opportunity for the many Māori writers living in Aotearoa – and even internationally – to add their voices and stories to New Zealand's literary landscape.
Brian says in tandem with the Pikihuia Awards, the Te Papa Tupu programme was established to generate more published works by Māori writers, and support the evolution of these writers from short story contributors to novelists, or playwrights, or scriptwriters.
Te Puni Kōkiri with Creative New Zealand and Huia Publishers supported The Māori Literature Trust to deliver the Te Papa Tupu Writers Programme 2014. Six talented Māori writers participate in a six-month incubator programme, with the support of a mentor and a living allowance.
"These two initiatives were established to help broaden the range of Māori perspectives in New Zealand literature," says Brian. "Through both Pikihuia and Te Papa Tupu we identify, and support the development of, Māori writers working in both English and Māori languages."
Whiti Hereaka, a playwright, novelist, screenwriter and a barrister and solicitor of the High Court of New Zealand, was a participant in Te Papa Tupu 2012. Whiti's first novel The Graphologist's Apprentice was shortlisted for the 2011 Commonwealth Book Prize for Fiction (Asia/Pacific region) and in 2013 she had her second novel Bugs published. She has also taken part in several writers' residencies, including the prestigious International Writing Programme at the University of Iowa in 2013.
Tihema Baker, who also participated in Te Papa Tupu 2012, wrote a science-fiction novel Watched under the mentorship of Phillip Mann. He also won the Best Short Story written in te reo Māori at the Pikihuia Awards for Māori Writers in 2013.
Previous Pikihuia Award winners talk about how the writing competition helped them to be storytellers. You can read their kōrero online.
Entries for the Pikihuia Awards 2015 close at 5pm 31 May 2015. Check out the conditions of entry, formatting guidelines, and entry form on the Huia website.