Rangatahi and kaumatua from across Aotearoa descended upon Tauranga Moana over the Labour weekend to compete against familiar foes in the 35th Nga Hau e Whā National Māori Squash Tournament.
Published: Monday, 9 November 2015 | Rāhina, 09 Whiringa ā-rangi, 2015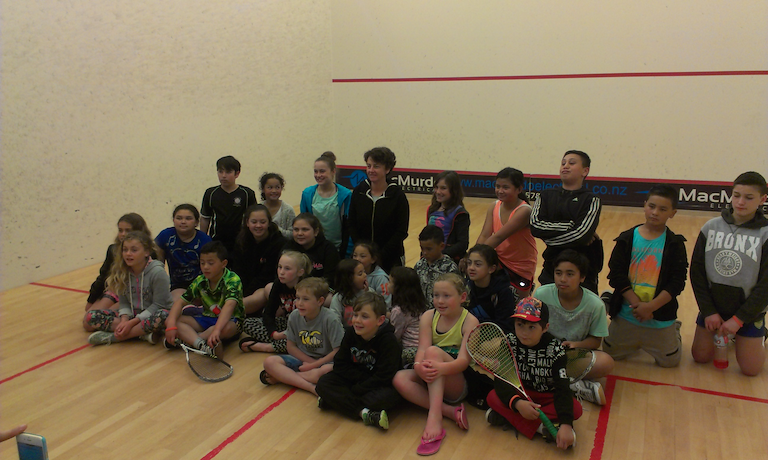 This year marked 35 years of Māori squash in Aotearoa and was celebrated at the Ngā Hau e Whā National Māori Squash Tournament held in Tauranga over Labour weekend.
Te Pio Kawe, Organising Committee Chairman, said the best thing about the Ngā Hau e Whā National Māori Squash Tournament is that it's based on kaupapa Māori which all players and supporters experience.
More than 150 players and supporters attended the tournament with one travelling from as far away as Papua New Guinea to compete.  Many whānau travelled as it's a tournament that players and supporters attend not only to compete but to also catch up with friends and other whānau who enjoy playing the sport.
"A whānau of five mokopuna supported by their kuia and koroua travelled from Wellington to take part in the tournament and a pair of friends from Ruapehu attended, one for the first time," said Te Pio.
This was also the first time attending for a rōpū from Taranaki who did extremely well at the tournament. The last time that Taranaki was represented was in 1991. The rōpū was under the guidance of Tamsyn Leevey, who won the open women's division for the twelfth year running.  Leevey was a professional player who represented New Zealand at the 2006 Commonwealth Games in Melbourne and won silver in the women's doubles with Shelley Kitchen.
The tournament is not only for trained professionals but is for anyone who wants to play squash no matter what their skills level. 
"Anyone can enter the tournament from novice to professional.  You don't even need to be part of a club.  Just come along and have a go," said Te Pio.
The tournament provided for rangatahi right through to kaumatua and training sessions were available throughout the weekend. Up to 21 rangatahi took part in the tournament as well as planned off-court activities such as touch, swimming and volleyball.
"We wanted to make sure our rangatahi were looked after on and off the court.  Suzanne Devoy spent Saturday afternoon with them talking about her experiences in and her enjoyment of the game.  Suzanne shared her stories of her family being the only girl with brothers and both parents playing in Rotorua.  Now she has four sons who all play and she still loves the sport."
"Ngā Hau e Whā have a kaumatua over 60 years division.  This year we had six koroua and four kuia who played a round robin tournament," said Te Pio.
Many players stayed together on two local marae – Maungatapu and Hairini - which provided great facilities and a first time experience for one partner Aaron who had never stayed on a marae before.  He absolutely loved the experience and the tournament he said and wants to come back again.
The Rangataua Sports and Culture Club was used as an evening base and hosted the kapa haka event and end of tournament celebration. Maungatapu Marae hosted the prize giving which saw new rohe Taranaki do well with Grace Stanyon (13) and Niwa Barlow (14) taking out the junior girls and junior boys titles respectively.
"The support from volunteers and sponsorship from Te Puni Kōkiri, Opus International Consultants Tauranga and TECT means that whānau can attend the Māori National squash tournament each year, so we are very thankful to them all," said Te Pio.
Next year's tournament will be held in Porirua, Wellington. 
2020 will be a special event as it will be the 40th anniversary and committee members are hoping to hold it in Te Awamutu where the tournament began.
For more information visit the Ngā Hau e Whā Squash website.