She has worked to eight Ministers of Māori Affairs and Māori Development and four Te Puni Kōkiri Chief Executives.
She's been party to all of the key policy approaches – Closing the Gaps, Reducing Inequalities, Realising Māori Potential, Māori succeeding as Māori – and has had a career trajectory that's taken her from regional office, to head office, to the Minister's office and back again.
In her own words, Rachel Jones has "been everywhere". Hear from Rachel as she shares memories from the past 25 years.
Published: Tuesday, 19 December 2017 | Rātū, 19 Hakihea, 2017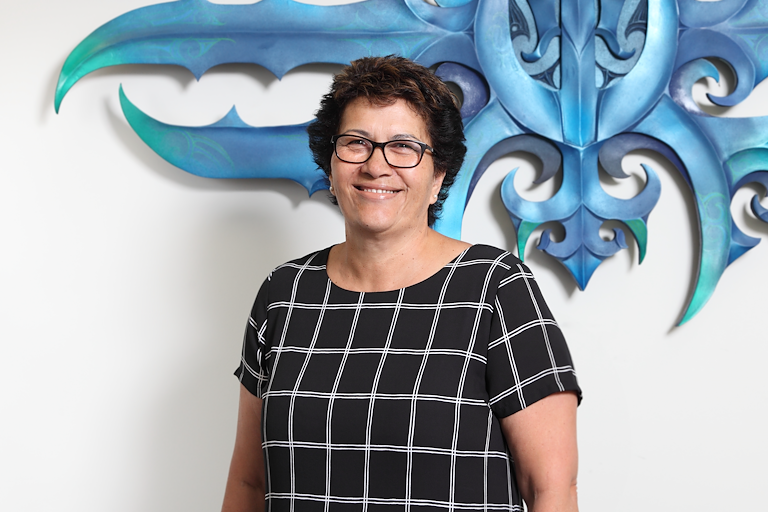 A long career in Māori Affairs was definitely not on Rachel's radar when she first started at Te Puni Kōkiri.
She was working at Te Rūnanganui o Te Arawa, when she applied for a Kaiwhakarite position in Rotorua, along with her friend, the late Maria Tini.  Both wanted to support Taru White, an upcoming Te Arawa leader who at the time was Regional Manager of the Rotorua office.
"You know, I was really skeptical about the job probably because I'd spent a lot of time working with iwi and working in the community.  I thought I'd just be filling in time, and that the job would be a transitional one because iwi would have a direct relationship with the Crown." 
That was in 1992.   Her skepticism would soon be replaced by awe.
"I was overwhelmed. I was in total awe of the people I was working with.  Wira (Gardiner) was quite a strong and deliberate leader, a get-on-with-it type of guy.  Other Kaiwhakarite I was working with included people like Mike Smith, Tariana Turia, Piripi Cope, Nori Parata – they were all movers and shakers in their own iwi."
She loved the early days of Te Puni Kōkiri when most of their staff hui were held at marae allowing whānau to take part in them. "What happened was that my kids ended up practically brought up around TPK."
Māori economic development would be a core part of her work stretching back to 2000 when she was an Account Manager for the Māori Business Facilitation Service.
She was appointed Project Manager for the 2005 Hui Taumata and has held the Te Moana a Toi Regional Manager role twice.  In that role she was instrumental in Te Puni Kōkiri being part of the wider Bay of Plenty Economic Development Strategy, He Mauri Ohooho.
Rachel spent 18 months working in the office of the Hon Pita Sharples as part of the Economic Taskforce, and in 2010, supported the Minister to take the first Māori trade delegation to China.  She says relationships and linkages still exist today as a result of that trade visit.
Her circuit between regional office, head office and Parliament continued.  In 2013 she was seconded to the TPK change team supporting the Chief Executive to introduce a new strategic direction and operating model.
She did another stint at Parliament in 2014 working for two months in the Office of Hon Te Ururoa Flavell.  Rachel would later accompany Minister Flavell on his 2017 Māori trade mission to Malaysia.
In the 2014 restructure, she was appointed Regional Manager Waiariki/Waikato leading staff in offices in Hamilton, Tauranga, Whakatāne and Rotorua.
Her credo as a Regional Manager has been "to provide good quality information and ideas that strengthen Crown-Māori relationships and lead to an improved quality of life for Māori."
Today, Mrs. Jones, as she's affectionately known, is back in head office as Co-Lead External Relationships Manager for the Māori Land Service.  Her focus is on working out the support services required for Māori landowners.
Working with wise people has been key to her learning at TPK. 
"Dr John Tamahore who was really generous with his advice; and Miriama Evans too. Hekia Parata, because of her ability to articulate the aspirations of Māori and influence the public sector; and of course Maria Tini for her knowledge of cultural practices.  She was a beacon for Regional Managers."
Over the years, Rachel has seen Māori become more engaged in the political space and government become more confident about having direct engagement with iwi.  The iwi accords drawn up as part of treaty settlements are an example of that relationship confidence.
She believes there will always be a need for Te Puni Kōkiri; noting the agency adds tremendous value to the Crown-Māori relationship.
A stewardship role in the public sector will always be important for the organisation.
"We have a responsibility to ensure that Māori are given opportunities to achieve.  So rather than being a drain on the economy, we are regarded as contributors.  Te Puni Kōkiri is leading work in that space.  It's about creating an enabling environment."
She sees a lot of great young talent coming through and potential opportunities ahead.   "With the new government there's a renewed sense of energy and excitement and a commitment going forward.
"It's an exciting time," she says.  "It's worth being around to see what emerges."