Mere Pohatu is a dynamic presence that has been at the helm of the Gisborne office since Te Puni Kōkiri opened its doors in 1992. Hear from Mere, Regional Manager for Ikaroa-Rāwhiti, as she shares memories from the past 25 years.
Published: Tuesday, 5 December 2017 | Rātū, 05 Hakihea, 2017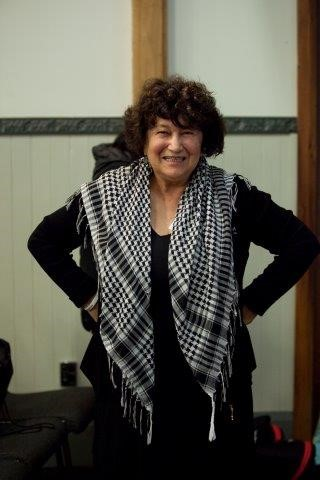 Mere Pohatu is a dynamic presence who has been at the helm of the Gisborne office since Te Puni Kōkiri opened its doors in 1992.
"It was really exciting and also frustrating," she says.
"We were taking over from Māori Affairs which had a programme for everything. Māori people were engaged with us, but a little suspicious."
Mere says the change to become Te Puni Kōkiri was an exhilarating time and the suspicion has since faded away – leaving her team now an integral part of the Māori community in Ikaroa-Rāwhiti.
"The Māori world is very personalised, it is kanohi kitea, which as an approach can be challenging when you consider the region now embraces just about the whole eastern seabord of the north island" Mere says.
"People in Ikaroa-Rāwhiti still know all about whakapapa, whānau, where Māori people live and what is happening with Māori."
A big part of the job is relationships.
"We have pretty robust relationships and we also need to work really hard with mainstream agencies," Mere says. "If you like, we specialise in relationships."
Over the years, she's worked with all six Ministers in charge of Te Puni Kōkiri, including Hon Doug Kidd, Hon John Luxton, Hon Dover Samuels, the late Hon Parekura Horomia, Sir Pita Sharples and the Hon Te Ururoa Flavell.
"The biggest jolt for all of us was when the Hon Parekura Horomia died," she says.
"The key learning for me was just how significant the nation and the Māori people saw him, as a person, and as the former Māori Affairs Minister. I also saw how much respect people have for the position. It was very humbling."
"Every Minister that we have had has had a very special connection to Māori people, the people of the Ministry and Māori development, in their own way."
Even though her work record spans 25 years in one organisation, every day in the office is still a different one for Mere.
"It is exciting working for Te Puni Kōkiri because the Māori world is such a dynamic, changing space."
Mere has worked across many positions throughout her career at Te Puni Kōkiri and recently stepped in as acting Deputy Chief Executive of Regional Partnerships managing a network of 18 offices across six regions.
In June 2017, the Gisborne office moved to a new location and with it a focus on encouraging more whānau through the doors.
She says overall, her job is awesome and staff are well looked after.
"We all share a special commitment to Māori development. That's our job and we love it."