Realising the potential of Māori communities in Auckland has been an enduring passion for Martin Mariassouce, who has chalked up more than 20 years working in the Tāmaki Makaurau regional office. Hear from Martin as he opens up about the memories he has made over the past 22 years.
Published: Friday, 15 December 2017 | Rāmere, 15 Hakihea, 2017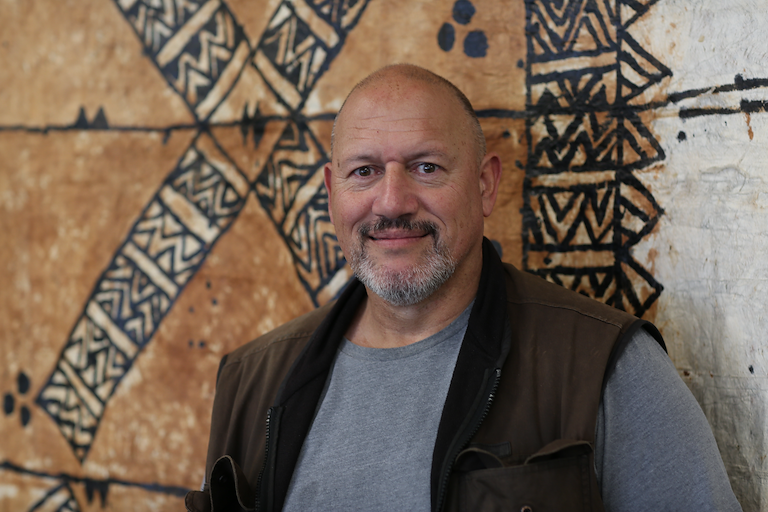 He joined Te Puni Kōkiri in 1995 as a kaiwhakarite, "back in the days when there was no funding and we had to rely on our own skill sets to work with communities in Tāmaki," he says.
"It was hands-on work. We were like facilitators getting people together to run focus groups so we could gather primary research that would help government agencies like social welfare and employment develop strategies to better deliver services to Māori."
The relationships and networks he has formed have been the cornerstone of his career in Te Puni Kōkiri.
"Yes they are everything in this job. Sometimes we can focus too much on the process, rather than our relationships to make things go smoother. We need to balance those things."
When the Māori Business Facilitation Service (MBFS) was set up in 2000, Martin moved into his next role as a Regional Adviser.
"MBFS is a cool space to work in," he says. "It's brilliant because you are working directly with Māori people to be self-employed and to grow business."
In his time, he estimates the MBFS has come into contact with more than 1200 Māori businesses and start up entrepreneurs with around 1000 of those in the Tāmaki region.
When the MBFS was reoriented in 2016, Martin was appointed Senior Advisor, Māori Business Growth Support (MBGS).
The MBGS team now has a four-year strategy with clear priorities to guide its work to improve the capability and connectedness of Māori business and increase the number of sustainable and growing Māori businesses.
"It's great because we now have a framework that analyses success and it means we don't take our eye off the ball."
Martin laments the loss of kaumātua he has worked with in Tāmaki Makaurau - Mere Knight, Brownie Puriri, George Wharehinga and Naki Kino, to name a few. "They are the unsung awesome heroes. They were community people with absolute humility, who worked for years without needing to say 'look at me'. That's a quality that is really lacking today."
Māori business growth is a huge portfolio and Martin says he still has a lot of work to complete.
"One day when I do leave, I will walk away from this place with some enduring memories and a history of wonderful anecdotes – enough to write a book about.
"Here we have a foundation based on kaupapa Māori. The relationships we have developed and the institutional knowledge of this place is unmatched. Nothing can replace that. We are our people and the people are us."