Whether it's tending to hundreds of traumatised whānau affected by earthquakes, or overseeing 450 volunteers to look after 45,000 spectators at Te Matatini 2015– Kim Wetini is never far from the action. These days she's a Senior Advisor in the Te Waipounamu Regional Office, but her start goes back to 2000 when she was the Executive Officer supporting then Regional Director Te Pura Parata.    
Published: Wednesday, 20 December 2017 | Rāapa, 20 Hakihea, 2017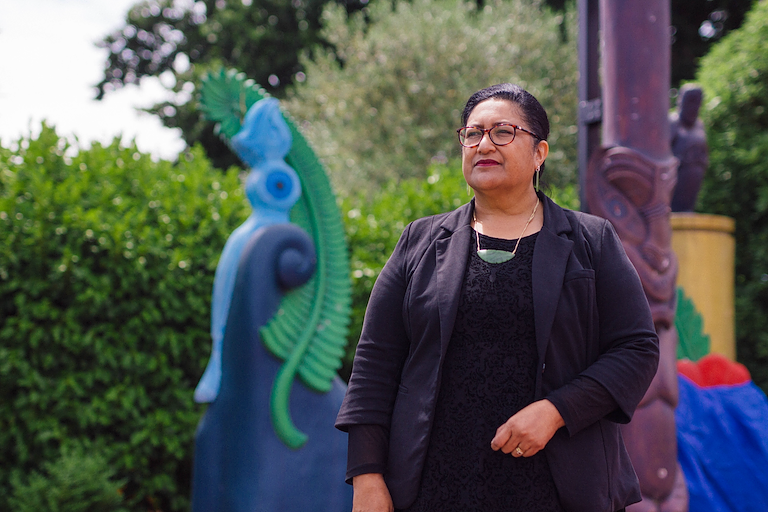 "Capacity building was the in-thing at the time and Te Puni Kōkiri had contracted with Ngāi Tahu to deliver government services.   We were like shadow kaimahi – not quite staff of Ngāi Tahu or Te Puni Kōkiri, we had our own annual operational budget allocation, four offices, staff and provided our own HR and payroll services."
In 2003, the office transitioned back to the Ministry under a new Regional Director, David Ormsby.   Kim's role changed to Kaiwhakarite with a focus on building Māori community relationships and delivering the Ministry's mahi within the rohe.
The challenges of being in this role have been few, but Kim says foremost has been articulating the government of the day's aspirations and priorities to Māori communities, who were not always well disposed to hearing them.
Especially during consultation periods to change legislation that may have an adverse or impact on Te Ao Māori. After the consultation hui have finished 'we' continue to live or work with the same people in the same community that have been affected or imposed upon.
"We rely on our strong relationships to get us through challenging times.  With honesty and integrity, we speak and walk our own truth." 
Of Te Whānau-ā-Apanui, Ngāti Porou, Ngai Tāmanuhiri and Rongomaiwahine descent, Kim grew up in Otira, on Te Tai Poutini when her railway whanau shifted from Gisborne.
Her community inspirations have been people like 'Aunties' Ranui Ngarimu, and Reihana Parata.  "They were stalwarts in the mahi raranga community and te ao kapa haka alongside Tihi Puanaki, Norm Dewes and his tremendous community mahi, all our fantastic Māori service providers and teams; and humble, effective leaders like Sir Mark Solomon."
Over the years she has seen huge changes occur for Ngāi Tahu. Iwi and hapū leaders have followed their aspirations and moved Ngāi Tahu forward.   The iwi has gone through its pre and post treaty settlement phases and Ngāi Tahu continue to evolve and devolve.  "It's been amazing to see."
Earthquakes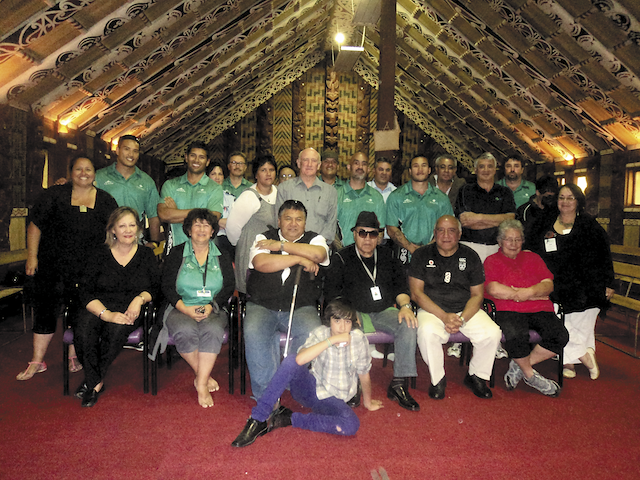 The last six years have been ones that Kim will never forget.
After the September 2010 earthquake she and her team mates were on the ground checking on clients and communities to see if they needed help.
This contact would prove important for the next event in the February 2011 earthquake.  The regional office was destroyed and staff relocated to Rehua Marae.  From there they worked alongside iwi and agencies coordinating and strategising daily activities and responses.
A reputation for looking after people landed Kim a support role with the Waitaha Cultural Council, which hosted Te Matatini 2015.  She was the Volunteer Coordinator, responsible for overseeing a workforce of 450 volunteers.  
In partnership with Ngāi Tahu and the Christchurch City Council this was the first Te Matatini to run a full recycling station on site and to provide for those with disabilities. It wasn't all roses though and Kim says 'keeping an eye on the weather with four seasons in five days whilst looking after 45,000 people was lots of damned hard work.'
Fast forward to the November 2016 earthquake, Kim and her colleagues played tag team for six weeks often identifying gaps in Civil Defence Emergency Management activity that were affecting relationships with whānau, hapū and the Māori community. 
"Our intrinsic values of aroha ki te tangata, manaakitanga and whakapono help us put people at ease.  We are results oriented and can set up good processes."
She regards the TPK regional network as unique in the public sector and enhanced by the great support and leadership of national office.
The leadership of people like the former Ministers Horomia, Sharples and Flavell, Chief Executives Ngātata Love and Leith Comer, Manager Pura Parata and regional staff like Mere Pohatu and the organisation's Pouwhakahaere have also made a big impression.
"Michelle Hippolite is an awesome leader who gave us a wonderful opportunity at Te Hui a Kurawhiti in Upper Hutt.  Whakawhanaungatanga, whānau, valuing our mahi, our diversity and ourselves. It was really fantastic."