Cath Nesus has been a trusted pair of hands in Te Puni Kōkiri, responsible for some of the most potent law changes affecting Māoridom in the last quarter century. 
Published: Monday, 11 December 2017 | Rāhina, 11 Hakihea, 2017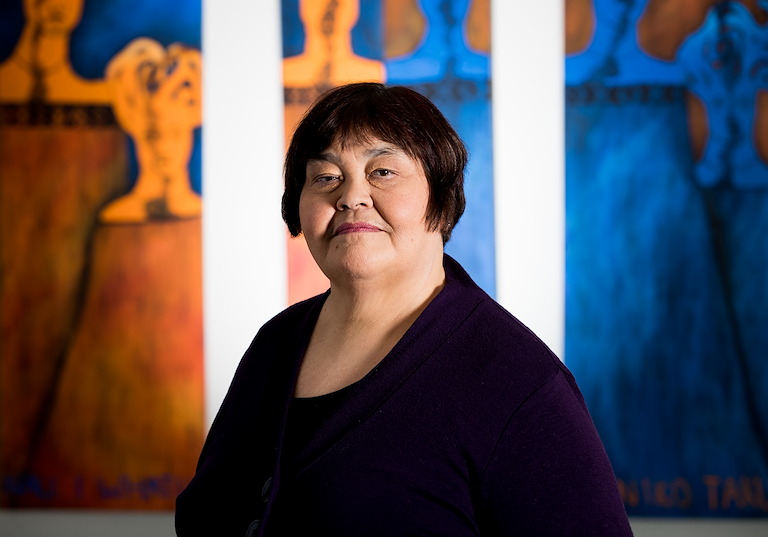 Today she is the Manager Cultural Wealth, but her background as a lawyer has put her in the hot seat of changes to legislation like the Māori Affairs Bill and the Māori Community Development Act to name a few.
The Māori Affairs Bill (later titled Te Ture Whenua Māori) had been languishing for 17 years when Cath was seconded from the Department of Justice to work with Ben Paki on its overhaul.
At the time the issues were very similar to those faced with the recent Te Ture Whenua Māori reforms she says. "Getting a balance between owners having a say in decision making and the retention of Māori land plus the complexity of issues and relationships. They were all the things that were top of mind at that time."
Hon Doug Kidd was the Minister of Māori Affairs and it was under his stewardship that the Bill was passed in only 12 months.
"We had the former Minister of Māori Affairs, Hon Koro Wetere in the Opposition at the time and his support was critical in getting the Bill through."
Cath credits other Māori legal minds at the time for also helping to shape and guide the legislation - Joe Williams, Annette Sykes and Whaimutu Dewes.
In 1997 after a four-year stint working in Perth on Aboriginal land issues, Cath returned to Te Puni Kōkiri legal team working alongside Ian Peters, Ben Paki and Jason Gough on one of the many reviews of the Māori Community Development Act dealing with Māori committees, Māori councils and the Māori wardens.
She came back to Te Puni Kōkiri in 2000 after time spent working as Policy Manager at the Ministry of Women's Affairs. For six months she filled the role of Director of the Office the Chief Executive working with Dr Ngatata Love and in 2002 was appointed General Manager Policy.
A secondment to the Department of Prime Minister and Cabinet for 12 months was followed by a decade working as a consultant before Cath returned in 2014 to work in the Te Puni Kōkiri Cultural Wealth policy team.
She says the Te Reo Bill has been a significant piece of work for her team.
"It is dual language legislation where the te reo version prevails over the English, we got a Crown acknowledgement to actively protect the language and it strongly reflects a partnership arrangement between the Crown and Māori via Te Mātāwai to work together to revitalise te reo.
Nothing like this would have happened 10 years ago, but the time was right and our people were ready for it."
Although Minister Flavell had the support for the Bill, Cath said it was interesting to work with a Minister outside of Cabinet who had to negotiate one on one with Ministers and MPs.
"He had to go the extra mile on this and get through all sorts of hoops to make it happen. It was a big learning for us too because we had to do things differently and we were fortunate to have the expertise and support of the Māori Language Advisory Group led by Professor Rawinia Higgins."
Like many staff at Te Puni Kōkiri she has fond memories of people past and present who have been central to her time in the organisation – Akuhata Tangaere, Pat Park, John Paki, Ben Paki, Uncle Bert Mackie, and Rongo WiRepa.
Cath's ties to Te Puni Kōkiri are affirmed by her three of her daughters who have worked at Te Puni Kōkiri and her mokopuna George now 19, who she says has grown up as a 'TPK baby'.
As to the next 25 years of Te Puni Kōkiri? "I think we will know we have got where we need to be, when there's no longer a need for Te Puni Kōkiri, because other government agencies will be doing their job and serving our whānau well."