The Ōtautahi Te Puni Kōkiri team is playing a vital support role by contributing to the Canterbury Hauora Coordination Hub, a cross-agency collaboration dedicated to the Canterbury region's Covid-19 response.
Published: Wednesday, 27 April 2022 | Rāapa, 27 Paengawhāwhā, 2022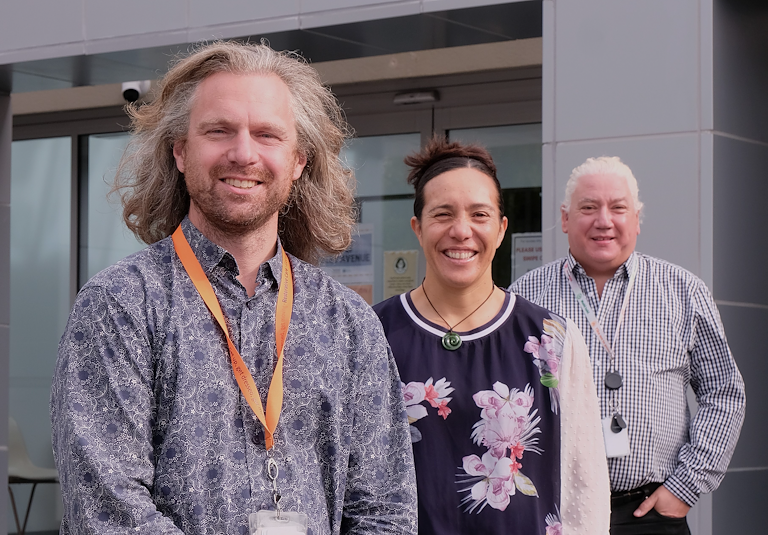 Te Puni Kōkiri is one of seven government agencies that came together under one roof in December to provide wrap around support for Cantabrians who tested positive for Covid-19.
The team of 12 kaimahi take it in turn to spend a day at "the Hub", as it is affectionately known, where they sit alongside administrators, technical staff, case managers and teams of social workers and nurses. The Hub is managed by Canterbury DHB and accommodates the Ministries of Health, Social Development, Education as well as Kainga Ora, Oranga Tamariki and Te Puni Kōkiri. Up to 130 staff across all agencies have been on site at its busiest times.
Senior Advisor, Keela Atkinson-Cranwell, who is leading TPK's engagement at the Hub, says the opportunity to work directly with the other government agencies has provided the team opportunities to build strong relationships with key people, better understand their roles and what support they provide.
"Understanding the role of the social workers, of MSD, Oranga Tamariki and the call centre gave us the big picture of what was happening and then we were able to work out how we could help. We decided the welfare space is where we could help the most for our people and use our resources and networks to fill the gaps."
Ministry of Social Development, Regional Commissioner Advisor, Michael Corson says being physically together with TPK has supported MSD's efforts around delivering welfare support. "We put an equity lens on everything – so having TPK right beside me has really supported that. It's been really good knowledge building and strengthening."
A recent case demonstrating the benefits of collaboration involved a mum with Covid and her child who were homeless. TPK, a local Māori health provider, MSD and Oranga Tamariki all worked  together on a phone call to support the mum and her child to address their  health, welfare and housing needs.
Canterbury Hauora Coordination Hub Senior Operations Manager Lee Smith says it is awesome to be in a place surrounded by people with the same goals despite being from different agencies. "We're in a unique position where we've been able to take away barriers across agencies and set the tone for the future, now we have to maintain the relationships going forward."
Photo Caption: (Left to right) Lee Smith (CDHB), Senior Operations Manager of the Canterbury Hauora Coordination Hub, Keela Atkinson-Cranwell (TPK), Senior Advisor and Michael Corson (MSD) Regional Commissioner Advisor – working collaboratively in the Covid-19 response.