Published: Friday, 30 September 2022 | Rāmere, 30 Mahuru, 2022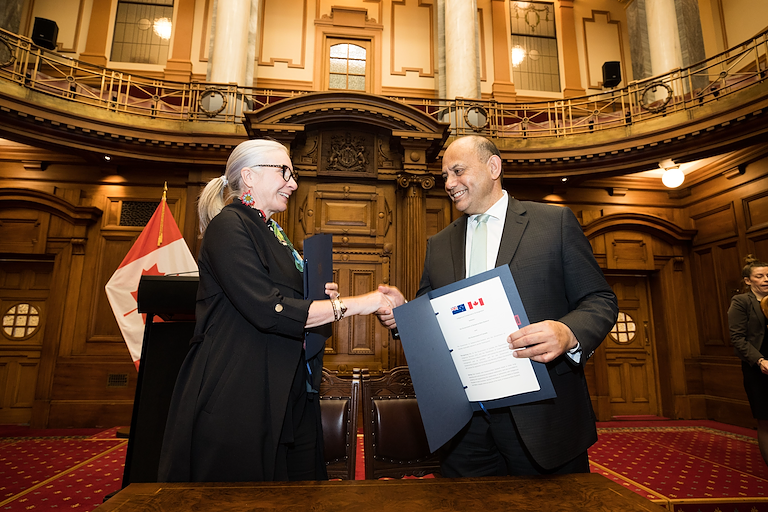 I don't quite know how I ended up with this job, and to begin with I was apprehensive. But with hindsight I wouldn't have missed it for quids.
I'm referring to the visit of a Canadian delegation – led by the Canadian Federal Minister for Indigenous Services Canada  - Patty Hajdu to our country in August.
By way of explanation, Indigenous Services Canada is their equivalent of our Te Puni Kōkiri, with Minister Hajdu equivalent to our Minister Jackson. This visit had been two years in the planning and the object of the exercise was to sign a Memorandum of Cooperation to allow our countries to swap ideas and find ways to improve the lot of our indigenous peoples.
It's also worth noting that whereas New Zealand mainly has one tangata whenua group, albeit made up of many iwi and hapū; Canada has more than 600 distinct First Nation groups, along with Inuit peoples and a group with mixed whakapapa – Metis –  who are regarded as indigenous too.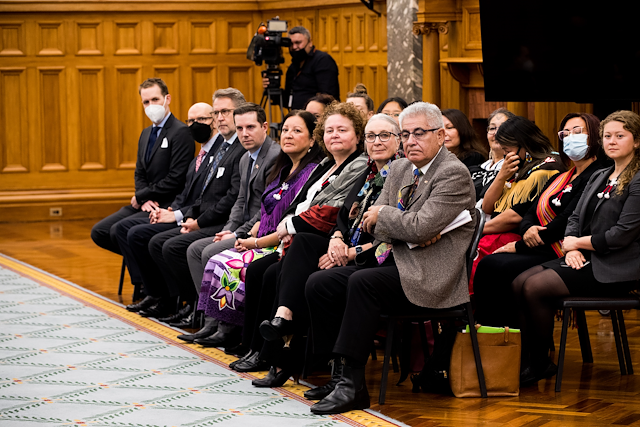 While Minister Hajdu is not an indigenous person herself, her party was made up of five carefully chosen and well placed indigenous people – all women. In fact her entire party that traveled from Canada – which included support staff, and was joined by the Canadian High Commissioner based in Wellington, were all women. As it was subsequently revealed, they formed a very powerful group.
Minister Hajdu is a senior member of the Justin Trudeau government in Canada. Her previous Ministerial roles have included Health, Employment, Workforce Development and Labour; and Minister for the Status of Women.
Prior to entering politics, she had a number of social work roles like running a 'shelter house', and working on strategies to alleviate drug abuse.
Gina Wilson is the Deputy Minister for Indigenous Services Canada. In their system she's the civil servant head of ISC, the equivalent of our Dave Samuels. While new to that role, she's a senior civil servant who is an indigenous person from Quebec and French speaking. Being bilingual in French and English is highly valued in the Canadian civil service.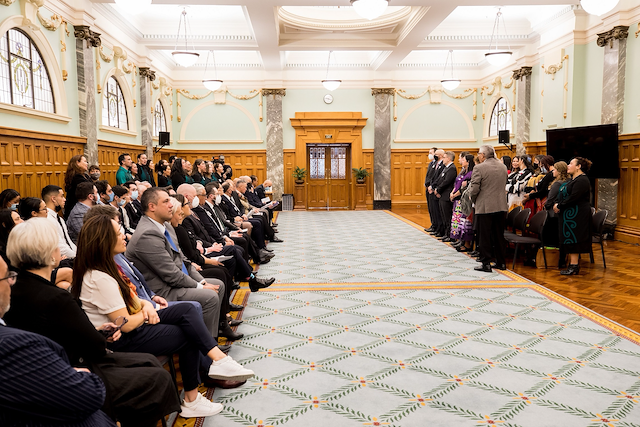 A couple of the delegation members had been here before. Dawn Madahbee Leach has visited several times. She comes from a strong business background and is committed to indigenous economic development. Her economic positions include Chair of the National Indigenous Economic Development Board and General Manager of the Waubetek Business Development Corporation.
Sharon Nate is another who's been here before. She has an education and advocacy background, and is a leading light in the Matawa First Nations peoples struggle to recover their languages. In that regard she is working with Rongo Wetere the former head of Te Wānanga O Aotearoa, who for some years now has lived in Canada.
Brenda Gunn, who describes herself as a proud Metis woman, is the  Academic and Research Director at the National Centre for Truth and Reconciliation. She's based at the University of Manitoba where she is a law Professor. She combines academic research with activism, pushing for greater recognition of Indigenous Peoples inherent rights as determined by their own legal traditions.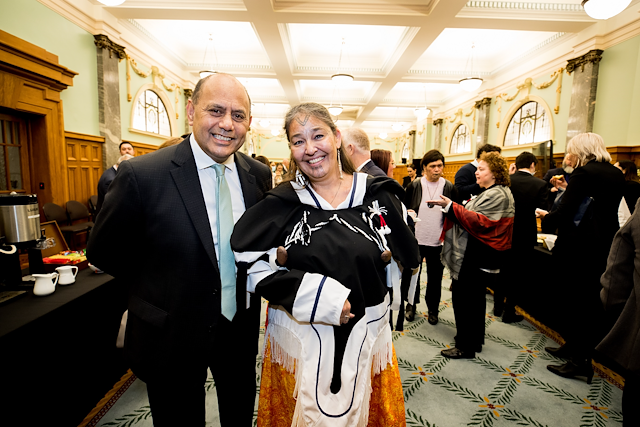 Gerri Sharpe was the only Inuit member of the delegation. She's President of the Pauktuutit Inuit Women of Canada and captivated audiences where we visited, by lighting a traditional Inuit lamp/heater/stove, made from a hollowed out stone; often one of the very few posessions carried by the largely nomadic Inuits, and used to light and warm the interior of their igloos, and on which they cooked their food too.
Although the flame from the oil burning vessel is quite small, the warmth it emits chrystalises the ice on the inside of the igloo and reflects warmth and light back to the inhabitants. In addition to working extensively with her people in the Northwest Territories in education, she's an artist who uses materials like seal skin, muskox wool and beads to make traditional clothing.
The delegation left Canada on Saturday August 20 and arrived in Auckland on Monday morning August 22. By midday they were in the Capital where they rested that day, before beginning a tight, punishing, but also rewarding six day schedule.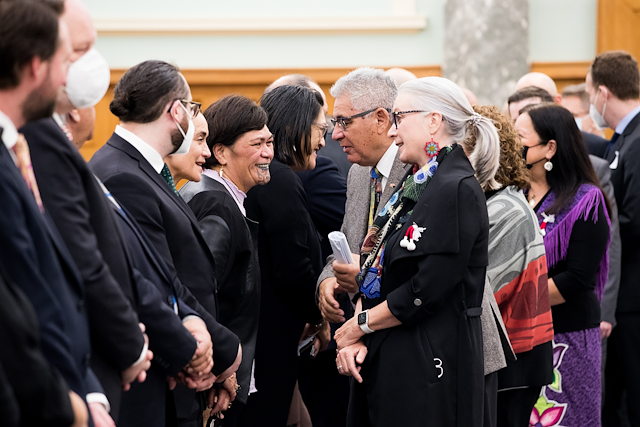 I met the group for the first time the following day, at a lunch hosted by the Canadian High Commissioner, Joanne Lemay, a delightful, friendly and very professional representative for her country. She traveled with the group around the country. Our traveling party also included Te Puni Kōkiri staffer Sarah Gauthier, ironically a Canadian too, living in New Zealand.
At that first gathering there were lots of questions; around protocols and tikanga, where to sit, mask wearing and 'the hongi'.
I'd taken the precaution of calling in advance the people hosting the major pohiri and mihi whakatau along the route of our hikoi, about the fact this was an all-women delegation, and what their tikanga approach was going to be.
The response from our hosts at Parliament, Hauiti/Tologa Bay and Waitangi was unanimous, it was accepted these were 'manuhiri tūārangi', 'iwi taketake', from the other end of the earth and would be treated with the respect that required.
On the manuhiri side, I explained to our visitors mask wearing at our hui was optional and so too was the hongi, that our hosts were ok with elbow bumps. I was surprised, but heartened, when one voice piped up, "But what if we want to hongi." For my part I knew tikanga runs too deep in me and unless there was some determination by the 'haukāinga' to avoid hongi, I would offer my nose to be squashed.
I explained to our group that once we began our journey we would become a clan of our own, that I expected we would meld into a 'hapū' of our own. I told them I expected before too long, after watching how things were carried out at hui, they would offer a 'kīnaki' – song - to support a speech.
Our first outing as an ope was at Parliament, on the morning of Wednesday 24. The welcome was in the Grand Hall, arguably the nicest public space in Parliament buildings. It was almost half full with a roopu including Ministers, MPs, civil servants, tangata whenua and the Te Puni Kōkiri kapa haka group; whose voices ringing out through the building brought tears to most of the visitors' eyes.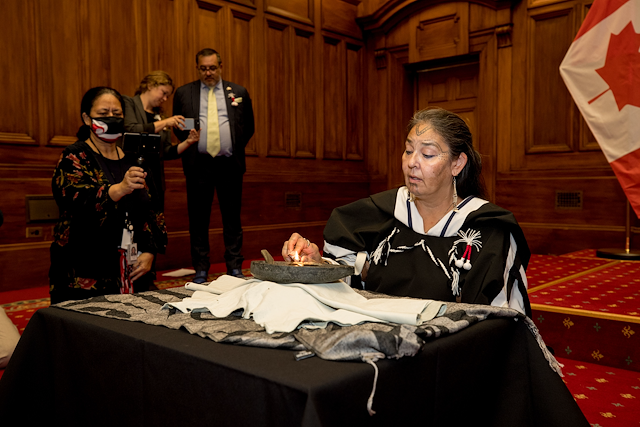 Later Sharon Nate, the educator from Thunder Bay on Lake Superior who's leading a language recovery programme among her people, told me the singing brought her to tears as she tried to imagine it happening in the Canadian Parliament.
Prior to the pōhiri, I'd decided I would communicate as much as I could to my charges about what was going on and what was being said.
Too often in the past I've watched our people talking to manuhiri in our reo – often saying very powerful, emotive and heartfelt, or sometimes critical things – but because nobody translates what's been said, it's wasted and lost in the ether.
At the risk of being admonished, prior to responding to the mihi whakatau, and while the words of welcome were still fresh in my mind – I stood and spoke to our visitors first, explaining what had taken place and what had been said. I was heartened to see a few nods of approval from the hosts. It was an approach I maintained through the rest of our journey together.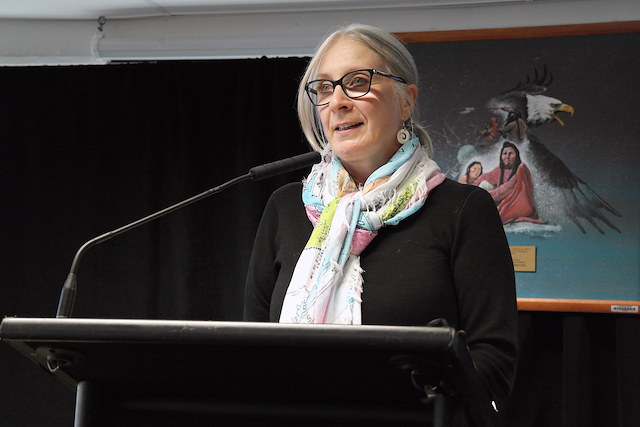 After the whakatau I stepped up to hongi. To a woman our guests followed suit – removing their mask if they happened to be wearing one - and working their way down the line. That became the norm for the rest of our trip.
The Memorandum of Cooperation was signed after the obligatory morning tea. It was signed by Ministers Hajdu and Jackson. During the signing it was the Canadians chance to teach us something. As their Minister spoke prior to the signing, members of the delegation stood behind her, and as emotion crept into her voice, one by one the indigenous women reached out and rested a hand on her shoulders and back, supporting her. At the same time the Inuit lamp/heater/stove was lit for the first time on our shores.
After a stand-up lunch at Te Puni Kōkiri Head Office, the pace of the visit began to pick up. There was a meeting with representatives of Te Wānanga O Aotearoa and then a bus trip to Porirua for a very full, fruitful and inspirational visit; a briefing and tour of Ngāti Toa Rangatira facilities and enterprises. The visitors thoroughly enjoyed and willingly endured the cold blustery conditions on top of Whitireia overlooking Porirua Harbour and the ocean off Titahi Bay.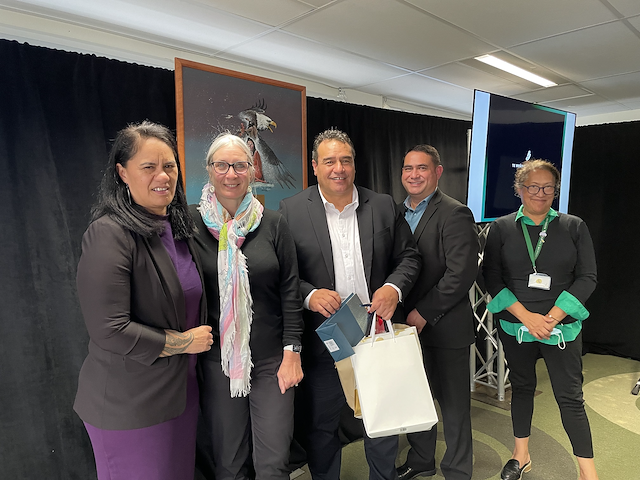 Later, as Wellington commuters were heading home, we headed back into the city to a reception to celebrate the signing of the memorandum earlier in the day. Ministers Jackson and Mahuta attended. Minister Mahuta later linked up with the delegation again at Waitangi, towards the end of their visit.Next morning they needed to be up with the larks again, to attend a  breakfast meeting with members of the Māori Economic Development Advisory Board; and by late morning we were on a flight to Auckland.
That afternoon we had a full-on series of extremely interesting presentations from representatives of Te Whānau o Waipareira, the National Urban Māori Authority and the Whānau Ora Commissioning Agency; all based in West Auckland.
As on other visits there was plenty of interaction between the visitors and staff from the three agencies; there was also no shortage of food and entertainment, something the visitors were starting to get used to.
Not quite so appealing though, was the need to have very early starts on the next two days of the hikoi.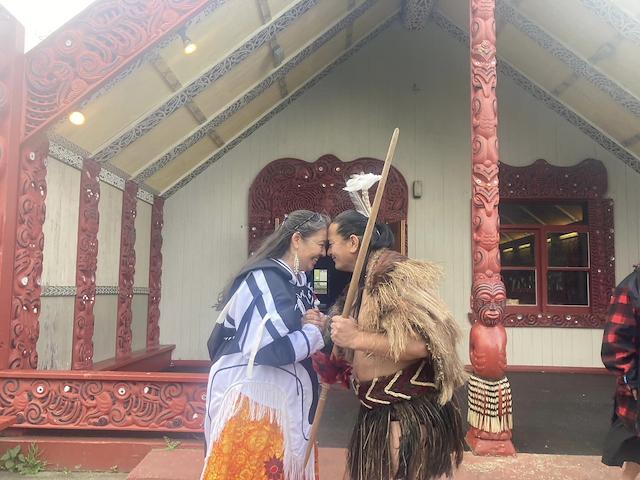 We needed to be downstairs in the foyer by 5.30am next morning to checkout of our central Auckland hotel and make our way through the traffic, to comfortably catch the first flight to Gisborne. Until now our visits had all been to organisations in urban settings.  But today Friday 26 August we were making our first foray into a rural community – Uawa/Tolaga Bay northeast of Gisborne.
Uawa has a population of about 800 and is the home territory of Te Aitanga-a-Hauiti. It is a predominantly Māori community that has held fast to its traditions, but still completely confident in who they are in this modern world. The locals were waiting for us at Hauiti marae, and accorded our visitors a fulsome welcome starting with a wero, and whaikōrero, with many references to ngā tāngata taketake/indigenous people from the other side of the world. They pointed out that because of the COVID-19 pandemic the visitors were their first manuhiri for two years.
As part of the pōhiri, Minister Hajdu was invited to speak from the veranda of the wharenui and her delegation sang a kīnaki they had practised on the bus trip up from Gisborne.
Morning tea was a multi-food feast.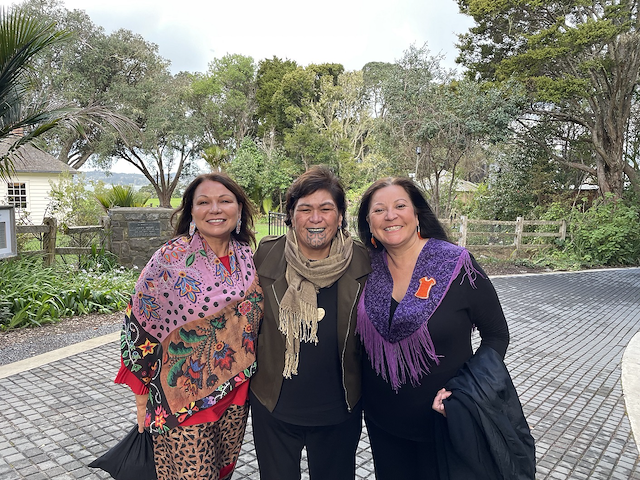 After briefings from the hau kaenga  - including one about how the locals responded to COVID-19 - our party, now fashionably late, took a short bus ride across the Uawa river, to the Tologa Bay Area School.
Education is something the visitors were very interested in as they struggle with the aftermath of very negative experiences in their home country. They were all ears during the presentation by Principal Nori Parata, the more so when she advised she and some other like-minded principals are planning a sabatical visit to Canada next year.
The recently refurbished school was also an eye opener for the manuhiri. Lunch was another feast.
By now, mainly because of the active engagement between the manuhiri and hosts, we were running a couple of hours behind schedule; but despite this we made a stop at the iconic Tologa Bay wharf. It was sobering to be reminded our visitors were largely inland people living hundreds of miles away from the sea, so this was a chance to dip their feet into our part of the mighty Pacific.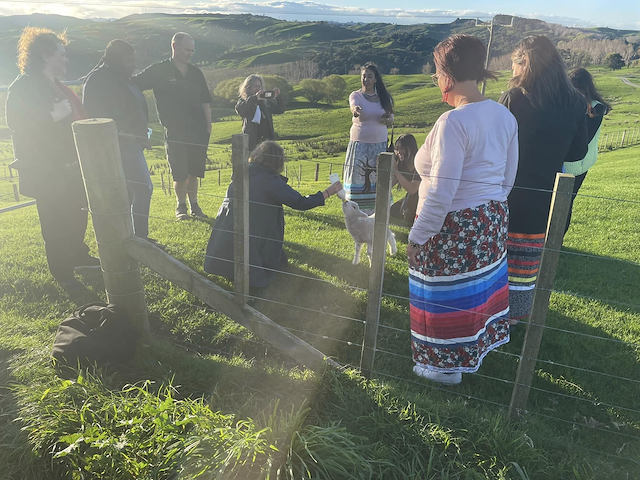 With the sun tilting towards the western horizon, we headed to our last stop for the day – Whangara B5 – the highly successful Māori-owned sheep and cattle farm at Whangara, between Uawa and Gisborne.
As we exited the bus at the farm manager's house, the sight of young lambs in the nearest paddock and the pet fox terrier pups, were too hard for the manuhiri to resist.
Before long a pet lamb was being bottle fed and the pups were being passed from one visitor to the other. Naturally there was a snack and refreshments as we were briefed on the hugely successful farming operation.
Eventually our weary party traveled back to Gisborne checking into our accomodation a bit after 9pm, and knowing we had a 4am start the next day.
The early start was to catch the first flight back to Auckland at 6.15am, then on to Whangārei; and from there by bus to Waitangi.
Our manuhiri knew Hikurangi maunga is reputed to be the first place to see the sun each day, and they wondered whether being up so early, they might witness that spectacle from the air, as we flew north. But it wasn't to be, as cloud hid Hikurangi from view.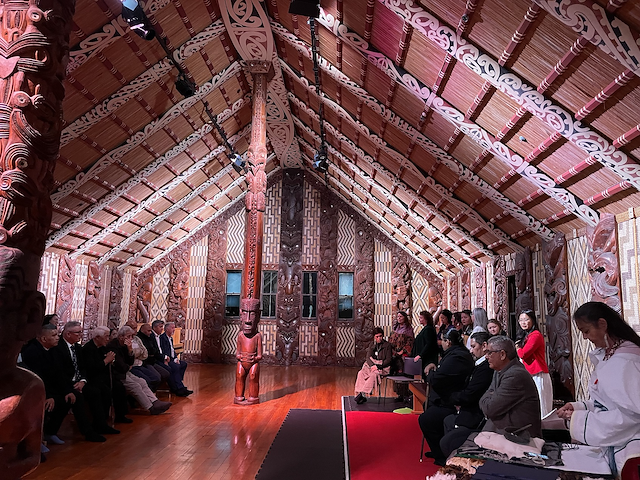 By this day, Saturday 27 August, the visitors had been traveling for eight days and only once slept in the same bed two nights in a row; so fatigue was setting in.
During a bit of down time between flights, one of our 'tira' asked me an interesting question. Out of the blue she said, "Are you proud of us?" I wasn't expecting that and it threw me a bit.
But I was proud of them, and said so. We had developed into a clan of our own. We were friends, and they were now used to what would happen when we made a visit; they knew where to sit and how to behave, knew I would tell them what was going on and what was said. And they'd become used to, and comfortable with the hongi. They mixed well with locals, especially women. They asked lots of questions and were genuinely interested in gathering ideas that might be useful back home.
By the second to last day they were getting travel weary.
Fortunately that day, a visit was affected by flooding and cancelled, so created some free time and our visitors were afforded the opportunity to soak their weary bodies in the reinvigiorating Ngawha hot springs.
After Ngawha we checked into our last hotel, at Waitangi. That evening we were welcomed into the magnificent Whare Rūnanga by Tai Tokerau iwi. The manuhiri couldn't help but notice the grandeur of the setting and its importance in the history of our country.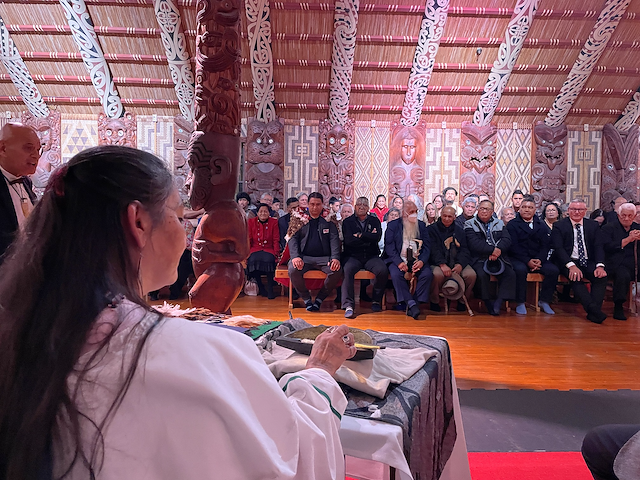 Both Minister Hajdu and Minister Mahuta – who'd rejoined our group – spoke.
The Inuit taonga – the lamp/heater/stove – was lit, and signed copies of the Memorandum of Cooperation were blessed.
Later we adjourned to the function centre next door for dinner.
The final official event of the Ministerial visit was a breakfast meeting with women of Tai Tokerau, back at the same function centre. Initially I was hesitant about going, feeling it should be an all-women event. But in the end I did, just in case I was needed for something; but I kept out of the way.
By midday the formalities were over. We packed up – the visitors needed more luggage to handle the gifts and other things they'd gathered along the way; some murmuring a bit of dieting might be needed following the generousity of our hosts.
At Kerikeri airport after checking in, we found a quiet corner for a debrief. We sat in a circle and each person spoke giving their views on the whirlwind week. There were leaky eyes and expressions of gratitude. Gifts and hugs were exchanged and then it was time to go.
It's as well, the farewells were said in Kerikeri, because the normal chaos at Auckland airport would not have allowed it.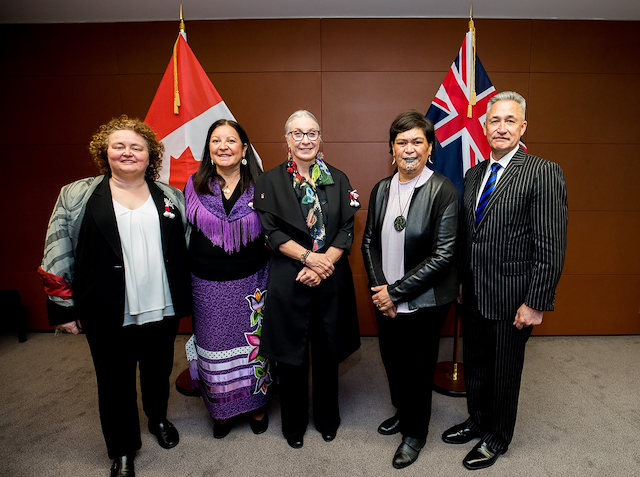 After further short goodbyes, they headed off to check in at the international airport, for their long overnight flight to Canada; and I rejoined my family.
The next moves in this cooperative effort will be triggered by contacts between the Deputy-Minister for Indigenous Services Canada Gina Wilson and our Chief Executive Dave Samuels. It became obvious during their week-long visit,  there is much our two peoples can learn from each other, and share for our mutual benefit.
Ākuni ka kitea.