Trusted relationships and good local knowledge have enabled Te Puni Kōkiri regional staff to help increase Māori vaccination rates in their communities and efforts of Joeline Takai from Ikaroa Rāwhiti are a great example.
Published: Wednesday, 17 November 2021 | Rāapa, 17 Whiringa ā-rangi, 2021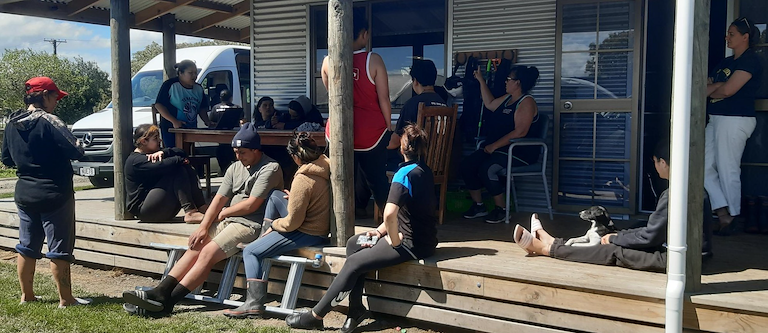 When Regional Director Mere Pohatu encouraged her teams to get out, have a kōrero and encourage others to get behind the vaccination kaupapa, Cadetship Advisor Joelene sat down with kaitono Donna Williams of K Williams Shearing, which has eight staff on our cadetship programme.  They talked about bringing in local hauora providers to get its shearers vaccinated.
Within a week, Tūranga Health was onsite at the Gisborne premises with a mobile van, vaccinators and a manaaki team to answer questions and talk about concerns.  Kaimahi brought along their whānau and another shearing gang joined as well.
Everyone who attended, including the Te Puni Kōkiri-funded cadets, was vaccinated. 
Donna says "bringing Tūranga Health to our venue gave our people the opportunity to ask them the hard questions around why you should or shouldn't get the vaccine shot. We are doing this as a precursor to the day that our farmers may not allow us onto their properties if we haven't had our vaccination shots. Understandably, this will be their way of protecting their families. We need to do this for our children and grandchildren."
Joelene says having the conversations and vaccinators in a place where kaimahi felt comfortable was a big part of the success of the initiative and the 100% vaccination rate. 
What started with a simple conversation about what the pair could do has also helped pave the way for others in the industry to get onboard.
"It has set a strong precedent amongst the agricultural industry, and it is anticipated that other sector leads will follow suit in support of increasing vaccination rates."