Four Māori cadets have been given the wero (challenge) to prove authentic Māori hāngi as New Zealand's national food.
Published: Thursday, 30 May 2019 | Rāpare, 30 Haratua, 2019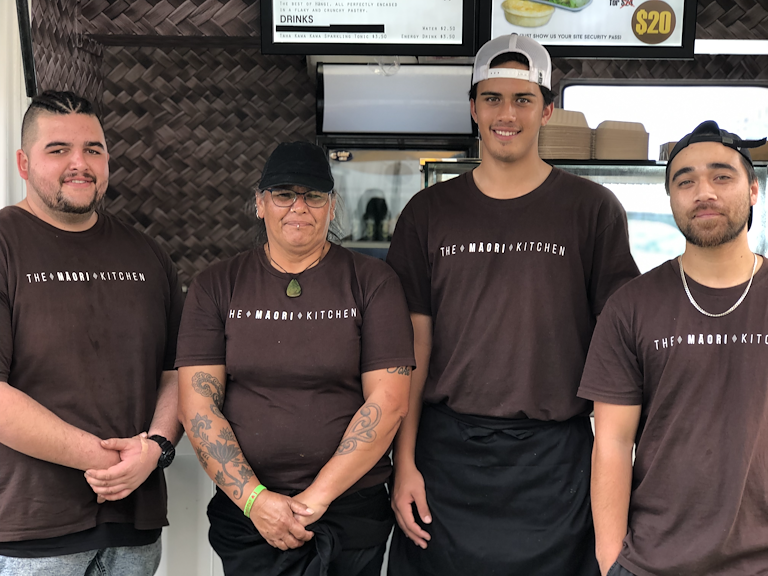 Hāngi Master Rewi Spraggon has been cooking hāngi for years, and global award winning restauranteur, Ganesh Raj, has years of experience in the food industry. The two have collaborated in the past to provide gourmet hāngi for special events but it is their new partnership that has opened the door for four cadets to learn all about hāngi.
Rewi and Ganesh co-own The Māori Kitchen, operating on Auckland City's Wharf, serving authentic Māori hāngi meal options that are delicious and expertly packaged.
It is this new partnership, and support through the Te Puni Kōkiri cadetship programme, that has opened the door for four cadets to learn more about hāngi cooking.
"I have been around food service all my life, from our humble wharekai to the greatest kitchens around the world," says Rewi Spraggon, hāngi master.
Rewi's mother was his inspiration. She was head of their wharekai for many years and had a catering business. She passed on her teachings to her children and now Rewi is sharing his knowledge to the four cadets at The Māori Kitchen.
The cadetship programme supports employers taking on full-time cadets for at least six months. Employers can receive up to $10,000 for each cadet, but they must commit to their training and development.
The overall goal is for Māori to thrive and contribute to the wellbeing of their whānau and community. The cadetship opportunity provides Māori a pathway to gain skills and experience that could lead to permanent employment and a more prosperous future.
"I never thought I'd make money out of putting down hāngi," laughs Tyler Gordon, trainee hāngi master at The Māori Kitchen.
Tyler Gordon (Te Kawerau-a-Maki) is 22 years old and wants to learn all the lessons, tips and tricks from his mentors to help him develop further.
"Just like Rewi, I first learned about preparing and cooking hāngi from my whānau on the marae, and I thought that was it. But there is so much more to learn," says Tyler.
Tyler knows that there are certain things you need before putting down hāngi, like having a spiritual connection to the whenua. The Māori Kitchen hāngi pits are in Te Henga, which is below his maunga, Puketotara, and has his tipuna surrounding him.
"We are all learning about how to produce and deliver a product that can hold up to the high standards we have set ourselves."
Ganesh has been involved in the food industry and owned restaurants for years. He believes that authentic Māori hāngi should be recognised as New Zealand's national food. So much so that the four cadets have been given the wero (challenge) to prove it.
"Hāngi is an indigenous food of Māori, so it should be recognised as New Zealand's national food," says Ganesh Raj, business and marketing manager at The Māori Kitchen.
As well as learning about preparing hāngi for commercial sale, cadets will also learn about health and safety and how to run a successful business in the food industry.
Cadets are learning best cooking practices that ensure premium product results under the mentorship of Rewi and Ganesh.
"They are learning how to minimise waste to keep costs down, and the logistics of transporting and controlling temperature to ensure health and safety standards are adhered to," says Ganesh.
"We learn everything from beginning to end, from preparation through to clean up," says Tyler. "Waste is a big thing when you are running a business. On the marae you just give the leftovers away to whānau, but in a business we need to make sure there is as little waste as possible."
Trey Howearth (Te Aupōuri, Ngāti Pikiao) is a trainee Kiosk Manager so he is the first person customers interact with. The cadetship opportunity was a chance for Trey to further develop his hospitality skills.
"My passion is music and event management and I've worked as a bartender for a few years so I'm use to serving customers," says Trey.
"I have complete faith that Rewi and Ganesh are committed to my development. We have a lot of responsibility but I like to be challenged. You never know your limits unless you challenge yourself."
The Māori Kitchen serves authentic Māori hāngi meals including Hāngi Tūturu (The Works), wraps, sandwiches and pies. Each product has the traditional hāngi taste and is served in a contemporary package to meet the expectations of today's customer.
Rewi and Ganesh are looking at expanding The Māori Kitchen business to include corporate night events as well as setting up a mobile Māori Kitchen.
"I'm really excited about the future plans. I want to get more involved in event management and I think my skills and experience could really help the business achieve their expansion," says Trey.
The business is still small so cadets are being trained in every aspect of the business.
"We need to make sure the business is flexible because we are small," says Ganesh. "So we are training all of the cadets in each role. By sharing our knowledge we are strengthening the business, but most importantly strengthening them."
After being open a few months, early indications show that the business is on track and both Rewi and Ganesh acknowledge the cadets as being key to the success so far.
Both Rewi and Ganesh are considering having more Māori cadets to help achieve their future goals for The Māori Kitchen.
There are 97,200 youth aged 15-24 years NEET nationally. In the Auckland region rangatahi Māori make up 19% of the 36,300 youth aged 15-24 NEET (the Household Labour Force Survey, December 2018 quarter, MBIE).