Lifting living standards for whānau sets a platform for better intergenerational wellbeing. We feature two whānau in South Auckland.
Published: Wednesday, 5 June 2019 | Rāapa, 05 Pipiri, 2019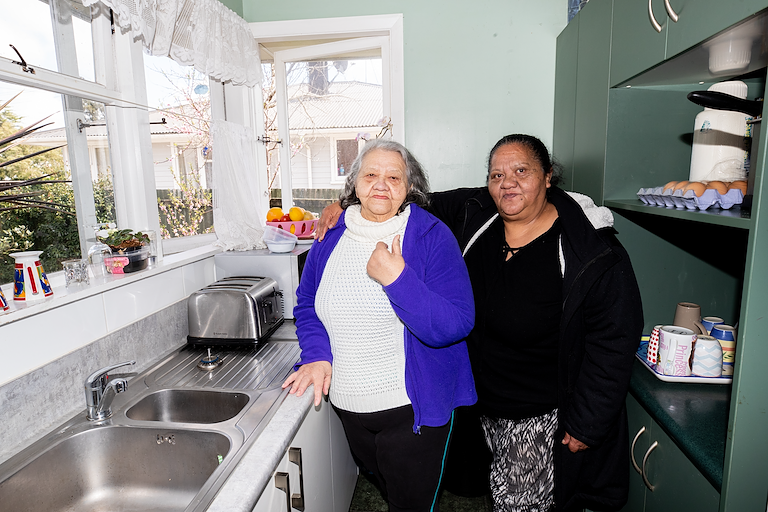 The Kiri whānau
Helen Kiri has lived 56 years in her South Auckland home. Over the decades the house and section have expanded and contracted like the breath of life to accommodate the shifting needs of successive generations.
Helen is the steady heart of this whare. It's where she and her husband raised their six children then two teenaged mokopuna when one of their daughter's passed away.  It's the place that many of their whānau still call home.
"Originally the whole section at the back was mine then my daughter built on it. It went up for sale and my granddaughter bought it. I got a sleep-out when my daughter's children came to live with us and a great great granddaughter stays in there now," says Helen.
With all that life flowing through for so long it's not surprising the house had taken a bit of a beating. Helen was resigned to its gradual decay.
"I had some renovations done about 10 years ago and the fella didn't finish the jobs. Water started coming from behind the bench, I had no way of fixing it. I just thought this is it, the house is going to rot down now", she says.
That all changed two years when Helen's daughter Cynthia had a chance conversation with one of her cousins who mentioned that "TPK do your homes up".
Te Hononga o Tamaki Me Hoturoa
In stepped Te Hononga o Tamaki Me Hoturoa whose nurses and social workers offer Māori centred hauora and ora services in the Auckland and Counties-Manukau District Health Board areas.
They receive Māori Housing Network Funding to co-ordinate and provide house repairs to identified whānau in South Auckland. Invariably the housing needs are linked to poor health.
"They came over to have a look," says Cynthia who shares the house with her mother. "Honest to God what they found behind the basin in the bathroom was unbelievable! It was rotten as. You could always smell that wet smell no matter how many times we cleaned our house."
Three weeks later the builder was back. "He knocks on the door, he's carrying a work bench and the skip has arrived. 'Come on, we're here to do the work.' Mum asked how much it would cost and he said 'nothing'. She said 'I can't believe that', but it was true."
For Te Hononga o Tamaki Me Hoturoa General Manager, Marion Hakaraia, taking on local housing solutions for Te Puni Kōkiri was a natural fit with the NGO's kaupapa. Their history of working with whānau like Helen Kiri's had taken them into many homes where they'd seen the effects on health of damp, drafty houses.
"We started engaging with TPK in 2015. They'd done a lot of work with papakāinga and this was a chance to trial something in an urban setting. All the whānau we see come with a health need and that's our way in," says Marion.
From the 1950s many Māori families living in slum-like conditions in the inner-city suburbs of Auckland and Wellington were re-housed in the outer suburbs in new Māori Affairs Department state houses like the Kiri whānau's.
These houses typically used quality building materials and those that have been maintained are still in reasonable condition today.
Restoring long life to homes for future generations
Where house repairs haven't been done for any number of reasons, Te Puni Kōkiri Māori Housing Network funding is available for the very focussed purpose of restoring and fixing the "envelope" of the home.  This includes roofing, insulation, leaking windows and doors.
"Once we start working with whānau we can see why they're not keeping up with the maintenance. Often the first thing that needs fixing is the electrical wiring. It's often life threatening because of the age of the house and not having it checked.
"The wet rooms – toilet, bathrooms, wash-house – are often badly damaged and unhealthy. Most houses have had their bathrooms fixed as a priority," she says.
"These aren't renovations. We work with whānau on plans for the rest of the house – painting or simple DIY work – and small things they can do themselves. But even though we're not doing everything the change in whānau is great."
Marion recalls one project that had been rocky. Then she grins as she remembers the day the bathroom was finished.
"The moko there sat in that bathroom and said 'I don't want to move from here because it's the flashest bathroom ever. I never knew our house could have a bathroom like that.'
"I was teary-eyed. The whole afternoon he sat there, did his homework, got his friends to see it. That lifted him and lifted all of them," she says.
Government support for the South Auckland programme
Te Hononga o Tamaki Me Hoturoa has so far identified and carried out repairs on 28 homes in South Auckland and provided planning and DIY support.
They received $1,505,000 to co-ordinate 30 urgent housing repairs, help 30 whānau prepare plans for follow-up maintenance, and co-ordinate 15 DIY workshops. The NGO is now co-ordinating at least eight housing repairs with additional funding of $320,000. And they have received $520,000 in this year's Budget to complete 23 more repairs and 15 DIY workshops.
Three and a half months after starting the repairs on the Kiri whānau home the work was done. That was more than two years ago but you get the feeling Cynthia is still stoked.
"Taa daa, here we are today. With a beautiful kitchen, beautiful bathroom, all done for nothing. But the best part is it gave Mum's home a new lease of life, and it gave her a new lease too," she says.
"She's walking around and there's no damp smells anymore, she can hop in her shower without any help and she couldn't do that before."
Carol Te Kaioro and Peter Manukau  
A health visit from a Te Hononga o Tamaki Me Hoturoa nurse got things moving at another South Auckland house, owned by kaumātua Carol Te Kaioro and Peter Manukau. Her report back on the dangerous state of the electrical wiring led to an inspection and repairs to the bathroom.
Like many of their neighbours at the time Carol and Peter moved to the area in the 1960s when jobs at nearby factories were plentiful.
"He was working at a glass works in Penrose, then at Fisher and Paykel. Heaps of families lived here. Now they've all gone, moved on and we've had to watch all the neighbours change over the years," says Carol.
That sense of disconnection and loss echoes through Carol's words as she talks about their mokopuna.
"We have six daughters and I've lost count of the mokopuna. There's lots of them, they're all over the place, and they hardly come back.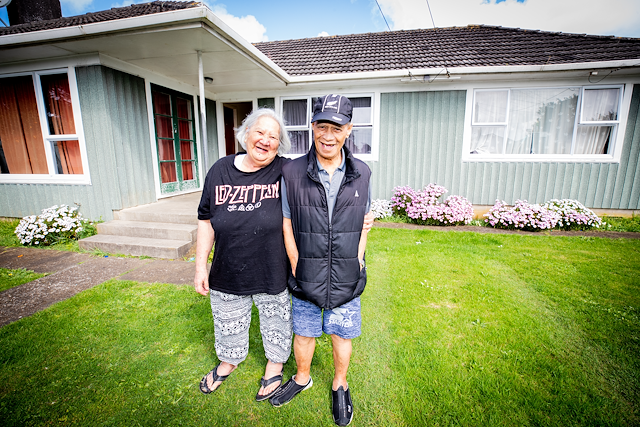 "I say 'when we're not here anymore the house is yours so it's up to fellas to look after it now'. A grandson comes out from Papakura once a fortnight to mow the lawns, otherwise we struggle along."
Despite being scattered everywhere, the whānau all come home at Christmas. Whānau getting together provides an opportunity to draft a plan for upkeep on the house, for doing those other DIY jobs that aren't covered by the funding.
Marion Hakaraia says this is the next big step – for whānau to fix up their parents' house because they want to have it forever.
"The biggest challenge for whānau is not having enough support so we've been testing what they need most. We want them to stay in their own homes and since our criteria is health those houses need to be warm and dry."
Promoting financial and housing literacy
One gap that has surfaced through the scheme is basic financial and housing literacy. It can be as simple as knowing to open windows to air wet rooms or repainting when it's needed. DIY workshops which whānau are asked to attend go some way to addressing this and so does having the right builder on site to pass on tips.
Helen Kiri's daughter Cynthia was sceptical of the project until their builder's good manners and punctuality won her over. Now she can't speak highly enough of the whole team.
"Honestly lovely people. Right from Tasha (a social worker from Te Hononga o Tamaki Me Hoturoa) down to the workers, the inspector. They ended up being family. You know, we'd come home from somewhere and they'd made us a cup of tea, and they'd have a few biscuits on the table," she remembers with a smile.  
Helen still can't quite get over the new breath of life in her old home. She feels it in her very being, in the simplest of daily routines.
"Sometimes when I'm sitting in the shower I'm thinking to myself 'man this is choice', those little moments when you start to compare what it was like, it's so warm, it's awesome," she says.  
Cynthia and Helen join other households in genuinely appreciating the support they've received.
"When the work was finished and we had feedback with TPK each one of us who had our homes done stood up to say something. Being able to say to somebody 'thank you, you don't know what a difference you've made' is awesome!"