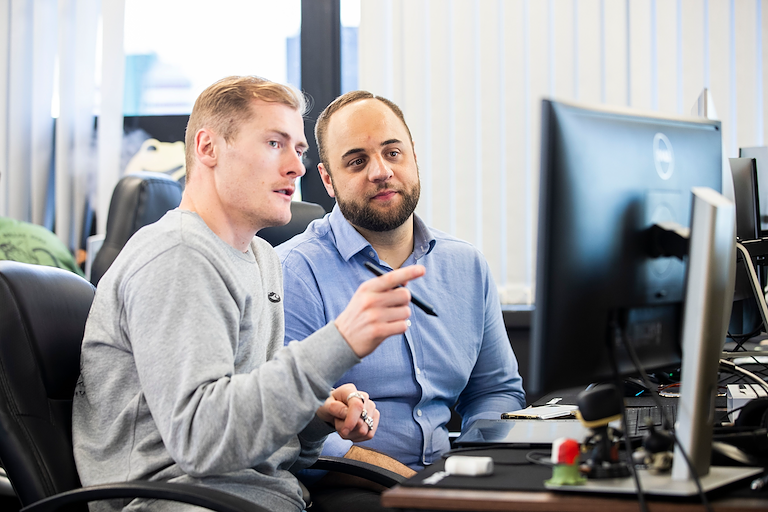 "The spirit of innovation our tūpuna harnessed to navigate the Pacific Ocean inspires our business today. We want to bring Māori cadets with us on that journey into the future".
In the post-COVID 19 economy, small business owners with sights on the future are recognising the value of collaboration. Through the Te Puni Kōkiri Cadetship programme, three creative companies are sharing their baskets of knowledge, so their kaimahi and businesses can thrive. Watch this video about their collaboration. 
Jesse (Ngāti Hine, Waikato-Tainui) has teamed up with web design agency, Psychoactive Studios and photography business Soldiers Rd Portraits. Each is on the brink of expansion and ready to take the next step.
Upskill to upscale  
'Hyper growth mode' is how Jesse describes the state of his cultural storytelling technology and innovation company. VAKA was born in 2016 and is poised to go global.
"We've been wanting to scale up our product globally. To do that, I need to understand the basics of effective user experiences - taking something complex on the web and making it user friendly for everyday people. Luckily Psychoactive Studios are masters at that".
So Jesse, Psychoactive Studios founder Andrew Hillstead and Te Puni Kōkiri are collaborating to further Jesse's skills. The Cadetship programme supports employers to develop and mentor promising Māori employees so they can extend their skills and grow as leaders. All while strengthening the organisation they work for and the wider industry. 
"I didn't realise I could be a cadet," smiles Jesse, "then I realised it makes sense because nobody knows everything. CEOs who believe they do, stifle growth in their company.  Even if you're at the top, you need to keep growing your own skills and knowledge. Otherwise you will get left behind."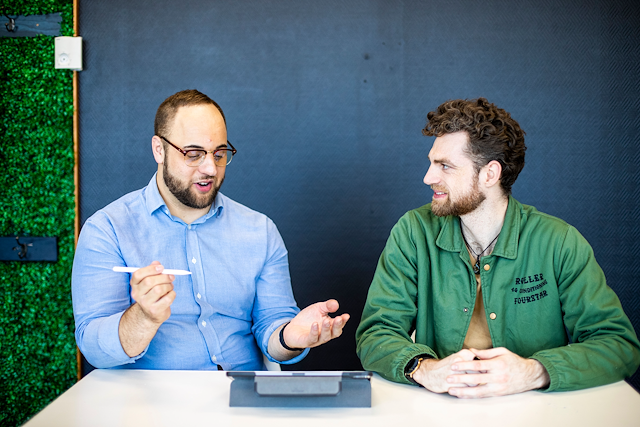 Nā tō rourou, nā taku rourou
While Jesse gets guidance from Andrew, he is reciprocating by mentoring one of Andrew's employees. Callum Mudgway (Rangitāne o Wairau, Ngāi Tahu) is getting help to expand his technical, leadership and communication skills.
"Callum is an amazing designer," says Andrew "he now needs to be able to articulate his knowledge to gain the full confidence of our clients from day one".   
Andrew, who is not Māori himself, believes having a Māori cadet is a huge asset to his business.
"We work with a lot of Māori companies and organisations, so having Callum and now Jesse in this space as well, will really help my company connect better to Māori culture. Jesse has already run Māori pronunciation classes for all of us. It's awesome".
Jesse says one of the best things about the programme is that it is open to both Māori and non-Māori business owners, who have Māori staff of any age, that they want to develop.  
Framing up the future
Jesse is also helping out a third company in the collaboration as it prepares for nationwide expansion.
For nearly eight years, sisters in law Taaniko and Vienna Nordstrom as Soldiers Rd Portraits have been styling customers in Māori regalia for an indigenous inspired vintage portrait sitting.
"We deliver an experience around cultural identity. You leave with a portrait obviously but it's more than that, you leave with a seed to figure out more about who you are" says Taaniko (Ngāti Hine, Ngāti Kahungunu ki Te Wairoa, Rongomaiwahine, Waikato-Tainui).
Vienna Nordstrom (Ngāti Porou) says the business has reached a point where it doesn't have enough manpower to meet demand or reach the women's goals.
"Jesse's business know-how and the way he helps us focus on the bigger picture of expansion, it's just perfect for what we need at this time. Plus we get to collaborate with other like-minded Māori."
Paying it forward
Jesse believes the cadetship kaupapa is a continuation of something ancient.  
"When we started, we had no background in tech at all. We relied on knowledge being passed down from mentors. As Māori, that's a principle we've practised for centuries. So we are carrying it forward in our business."
Jesse and VAKA's co-founder Andrea Fua feel a deep sense of duty to support more Polynesians to enter the tech sector. 
"Our people are huge minorities in this space, but that will change if companies like us open our doors. This Cadetship will help us to grow so we can offer more opportunities for our people."
"Tech is high paying too, so if we get more Māori and Pasifika involved, they get high paying jobs and pay it forward. It's all part of the cycle." 
To find out more about how your business can benefit from the Cadetships programme contact your nearest Te Puni Kōkiri office.
Photo caption: Jesse with his mentor, Andrew Hillstead from Psychoactive Studios. Jess says at first he didn't realise he could be a cadet on the programme.