The three finalist farms competition for the 2015 Ahuwhenua Trophy BNZ Māori Excellence in Farming Award for sheep and beef farming have each hosted their field days.
Published: Friday, 8 May 2015 | Rāmere, 08 Haratua, 2015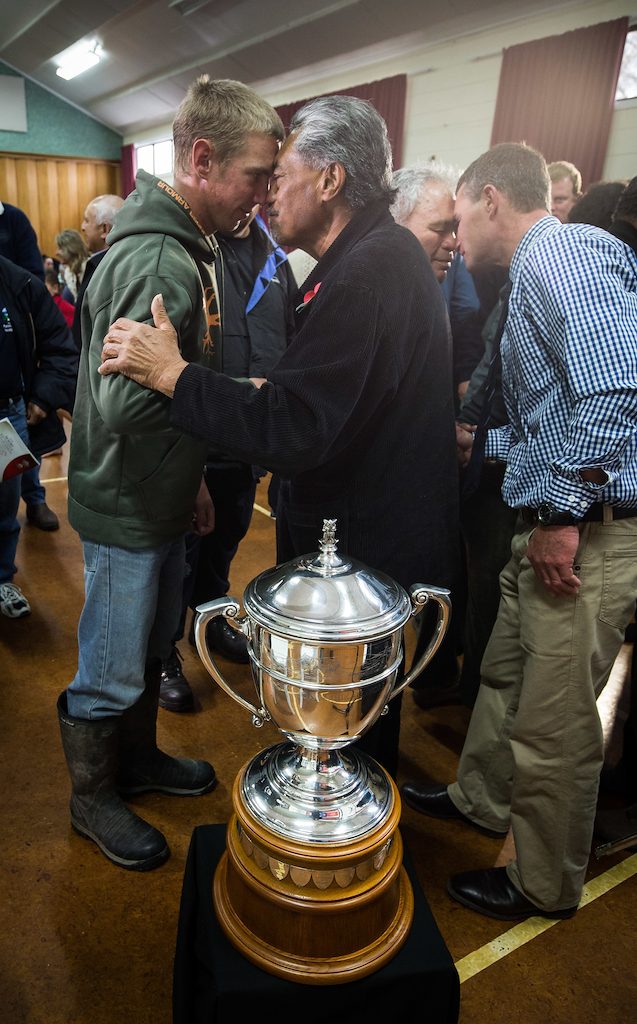 The field day is the second part of the judging process for the competition. It is also an opportunity for members of the public and others in the agricultural sector to see first-hand the nature of the property and why it was selected as a finalist in the awards.
The Chairman of the Ahuwhenua Trophy Management Committee, Kingi Smiler says all three farms are worthy finalists who have demonstrated a commitment and determination to create successful farming operations that will not only benefit them but also their whānau. He says it is great to see whānau farms being rewarded for their hard work.
The winner will be announced at the Ahuwhenua Trophy Awards Dinner in Whanganui, Friday 29th May 2015. 
Mangaroa Station is in the Ruakaituri Valley, about an hour's drive north west of Wairoa, and is typical hill country with virtually no flat land. The farm consists of 1,506 ha (1,250 effective) on which Bart and Nuku Hadfield run 6,200 Romney Perendale ewes, 2,000 replacement ewe lambs and 70 rams. They also run 500 Angus breeding cows and 400 heifers. 
Bart Hadfield, who with wife Nukuhia own Mangaroa Station, says the field day exceeded his expectations. He said entering the competition has been a mind blowing experience and they learned a lot and have enjoyed the process. 
Paua Station is located about 80 km north of Kaitaia and 40 km south of the top of New Zealand's Cape Reinga. It is owned by the Parengarenga Incorporation which is based in the small community of Te Kao. Paua Station consists of 2,430 ha of easy rolling coastal sand country on which are run 2,800 mainly Angus cattle and 7,000 sheep of which 6,100 are ewes with a 118% lambing percentage. 
The Chairman of Parengarenga Incorporation, Chad Paraone, says for Paua Station entering the Ahuwhenua Trophy competition had helped lift their own performance and they greatly valued the feedback they have received from the judges. He says one of the key goals is to get young people back on their land and to help shape the economic future of the Far North. 
Maranga Station is a typical East Coast hill country sheep and beef property and lies about 30 km south west of Gisborne and is owned by Marty and Janice Charteris. The station consists of 850 ha (effective) on which are run 6,000 Romdale sheep and 1,200 Angus cattle plus 600 goats, which are mustered annually. 
Kingi Smiler says the Ahuwhenua Trophy has been a significant contributing factor in raising the profile of Māori agribusiness. He says the fact that consultants and investors have started chasing Māori agribusiness is a sign that we are on the right track. 
"The Ahuwhenua Trophy has helped lift the bar behind the farm gate and we are seeing some amazing innovation taking place. The technology of many Māori farms is leading edge and they benchmark more than favourably with other farming operations in Aotearoa New Zealand. We are seeing much improved governance and leadership on our whānau businesses and this has led to top people being employed as advisors, managers and general staff," he says. 
Kingi Smiler says he takes great pride in what has happened and is sure that Sir Apirana Ngata and Lord Bledisloe who had the vision to create these awards would feel a similar sense of satisfaction. "Their goal was to unlock and unleash the potential of Māori farmers and it's happening now on a daily basis," he says.