The Ahuwhenua Trophy continues its long tradition of upholding Māori excellence in farming, and for many incorporations, trusts, and whānau – it remains the pre-eminent accolade to win in farming.
Published: Monday, 29 June 2015 | Rāhina, 29 Pipiri, 2015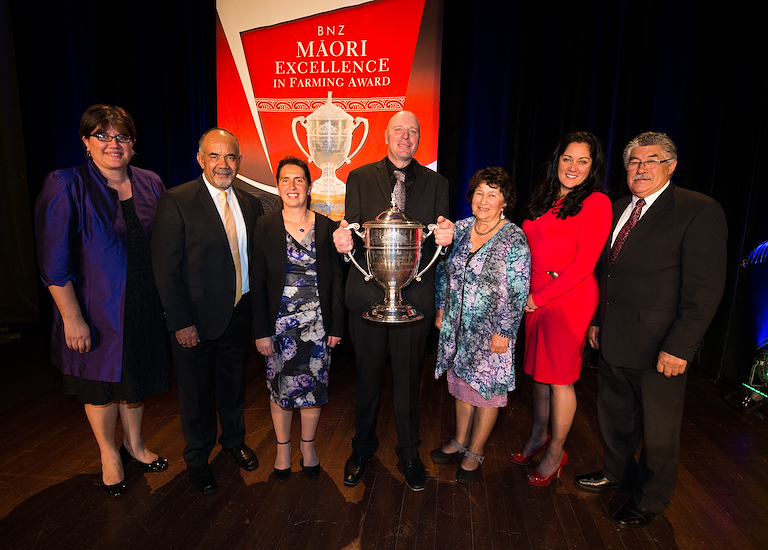 Mangaroa Station was presented with the 2015 Ahuwhenua Trophy BNZ Māori Excellence in Farming award; and Hannah Wallace from Wairoa was announced the 2015 Young Māori Sheep and Beef Farmer of the Year.
Mangaroa Station is owned by Barton and Nukuhia Hadfield. The couple farm in the Ruakituri Valley, about an hour's drive North-West of Wairoa on the East Coast of the North Island.
Mangaroa station consists of 1,506 ha (1,250 effective) rising to 620m at its highest point on which Barton and Nukuhia Hadfield run 6,200 Romney Perendale ewes, 2,000 replacement ewe lambs and 70 rams. They also run 500 Angus breeding cows and 400 heifers.
The Hadfields were chosen from two other finalists, Paua Station owned by Paerengarenga Incorporation based at Te Kao in the Far North, and Maranga Station owned by Marty and Janice Charteris who farm at Tiniroto, southwest of Gisborne.
Twenty-two year old Hannah is the first female to ever win the Young Māori Farmer competition. She works as a Shepherd General and splits her time between two sheep and beef properties. On a typical week she works three days on the family property which is owned and managed by her parents Richard and Harmony Wallace. It runs 5600 stock units across 1500 hectares. The rest of her time is spent managing Rotanui Station, a part of farm incorporation Te Whakaari, with her partner Jeremy.
In a joint-statement Primary Industries Minister Nathan Guy and Māori Development Minister Te Ururoa Flavell congratulated Mangaroa Station: "The Ahuwhenua Trophy competition is a great way to celebrate the significant contribution Māori make to New Zealand's economy."
At the Ahuwhenua Trophy awards dinner, held at Whanganui, Māori Development Minister Hon Te Ururoa Flavell told around 650 guests: "This is why this event is important, to ensure that we have custodians, and people who can realise the potential to progress us further. Ahuwhenua is a training ground to fulfil the potential that is ours.
The primary industry is one of the core contributors to this nation's cultural and economic asset. This sector alone continues to be the single highest contributor to the Māori economy."
The Ahuwhenua Trophy competition, which is now in its 82nd year, celebrates excellence in farming and the pursuit of innovation and new approaches by Māori farmers committed to tapping the full potential of their holdings.
Photo caption: 2015 Ahuwhenua Trophy BNZ Māori Excellence in Farming award winners Barton and Nukuhia Hadfield of Mangaroa Station (centre) are flanked by Te Puni Kōkiri Toihautū Michelle Hippolite (far left) and Māori Development Minister Hon Te Ururoa Flavell (second from left), and Te Puni Kōkiri staff Regional Manager Mere Pohatu (third from right), Economic Wealth Manager Taria Tahana (second from right), and Kaitohu Ian Peters (far right).