Nineteen Kaumatua from Ōrongomai Marae took on Kaumatua IronMaori through the Matika Fund.
Published: Wednesday, 30 November 2016 | Rāapa, 30 Whiringa ā-rangi, 2016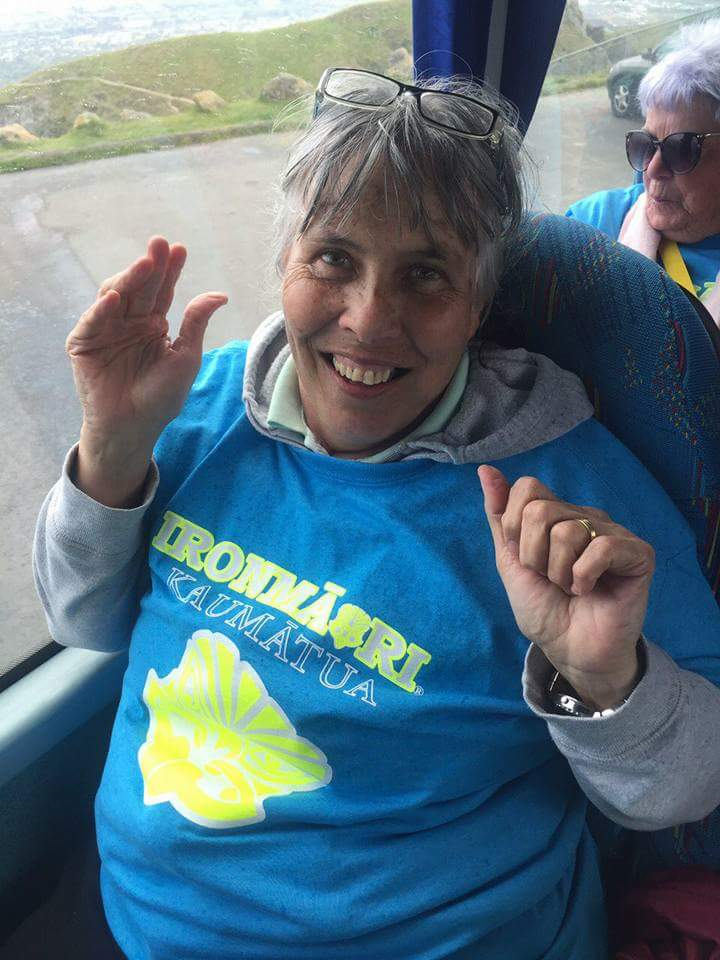 Nineteen kaumatua from Ōrongomai Marae in Upper Hutt took on Kaumatua IronMāori Napier in November this year thanks to the new Matika - Moving the Maori Nation contestable fund.
 "We raised the idea of taking a rōpū to participate in Kaumatua IronMaori at a Kaumatua Activity Group hui and there was immediate interest", said Linda Pahi, Ōrongomai Marae Manager.
 "We wanted to put our best foot forward as they say so we looked at ways to help improve fitness without being too strenuous for our kaumatua, like Tai Chi, Aquarobics, and utilising Dalton's Gym which is just across the road from Ōrongomai Marae."
 "It's great that the rōpū took part in Kaumatua IronMāori.  Crete comes and works out regularly on the treadmill and rower but he also grabs the battle ropes some days.  He is such a great inspiration for our kaumatua who can come and join him free if over 65 years of age," said Manuel Dalton, Founder of Dalton's Gym.
 "Enthusiasm was high amongst everyone, even those not participating but who were joining the rōpū as supporters.  Regular walks were scheduled and some would even carry on at Dalton's Gym if they wanted a bit more of a work out.  But afterwards they would arrive back at the Ōrongomai Health Clinic to rest and recover," said Linda.
 "The bus came and picked everyone up and after a karakia we were off.  Some comfort stops along the way but many musical instruments onboard, singing and laughing made short work of the journey," said Linda.
 "Dinner was arranged and then it was free time to carry on singing or retire early for a good night's sleep before the event in the morning."
 More than 150 kaumatua took part in Kaumatua IronMaori at Pandora Pond in Napier this year proving that age means nothing.
 This was the second time kaumatua from Ōrongomai participated but for five of the rōpū it was their first time.  All nineteen of the rōpū actually participated and everybody received a commemoration medal.
 Ōrongomai's kaumatua rōpū seemed to bring out that extra something in everyone as every time Ōrongomai was mentioned a resounding cheer would follow and not just during the main event.
 "A dancing competition followed the prize giving and Nanny Hakirere won the kuia section and her husband and two others from Ōrongomai each took prizes in the koroua section," said Linda.
 Afterwards the rōpū headed to Hawkes Bay Seafoods shop for lunch which is apparently becoming a tradition. While in the Hawkes Bay the rōpū went sightseeing from Te Mata Peak, enjoyed Rush Munroes ice cream and soaked up the beautiful weather. 
 Before leaving for home they passed by the IronMaori Quarter Triathlon which attracted 2,000 eager competitors.  The atmosphere was enchanting and had some of the rōpū seriously thinking about giving it a go next year.
 "Although everyone contributed to the overall costs, the support provided through Matika helped us considerably.  We needed to make sure all of our kaumatua were looked after.  Some have ailments and other such things so making sure they could take part and be comfortable was our priority," said Lois Kaiawha, Ōrongomai Marae event co-cordinator.
 The purpose of the Matika – Moving the Māori Nation fund is to improve the lives and wellbeing of whānau, hapū and iwi Māori through active participation and healthier lifestyles. Moving the Māori Nation is a contestable fund to promote whānau ora through whakapakari tinana.